I am gonna whine a little bit today. Something new and different…
Hubby and I have owned this house for eight years now. We did a lot of work on it the spring before we got married in 2006, and very little since then – a half bath that was still from the 70s and the most used "public area" bathroom was redone, we had the marble foyer floor updated, and of course the entire inside has been painted at least once. But, not much else has changed in the interior prior to this year.
My last house was built in 1925, and my ex-husband and I rehabbed that house from top to bottom. There was not a room that wasn't touched, not a piece of woodwork that was not stripped, not a floor that wasn't refinished.
So, I have not only lived through the renovation process, I have done the renovations myself.
Today my first-world-problem is that we decide to have new hardwood floors installed in the living room, office and family room replacing carpet and parquet, and it is taking a bit longer than expected. The three rooms flow into one another, but the office can be closed, and so can the living room. This process was started while we were away last month. We were gone for five days, and had high expectations on how much of the process would be completed while we were gone. Let's just say the TV home shows are edited by Pinocchio.
We have a large house. In my opinion, it is a very large house. Our home has 10 rooms. Right now, four of the 10 are torn apart, and five of the other six rooms are full of furnishings from those four rooms. It is like living in a rabbit warren.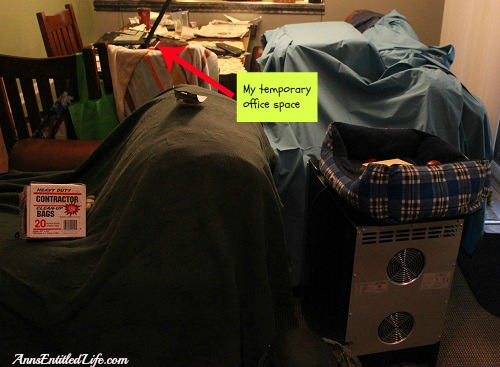 It honestly wasn't terrible until the family room furniture had to be moved out before the living room and office furniture could be returned. That picture above has been my desk area for a week. To say I am getting a bit claustrophobic, is a colossal understatement.
My nephew came over yesterday and helped me move some furniture around. This benefited Hubby far more than me, but now I can open the dining room up and allow light in, and that helps mentally. Then too this entire process is almost finished, and my rabbit warren should be a thing of the past in just a day or two. Looks for a lot of pictures, ideas and stories about this undertaking. I have taken over 200 pictures, so all that is left is the sorting and resizing.
Do you have renovations, painting, updating planned for your house this year? If so, what projects are you undertaking and how are they coming along?