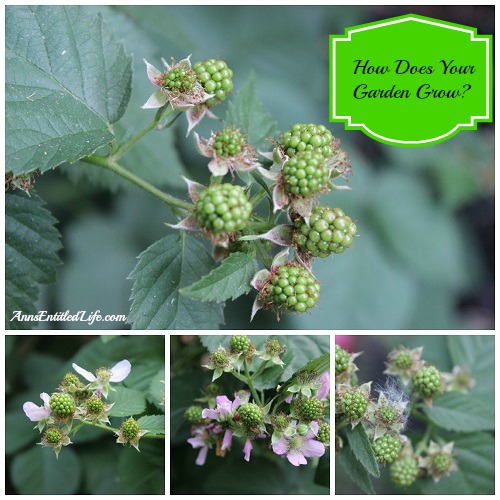 The last two weeks have been interesting – more rain, more heat – sometimes it feels like a steam bath outside. I might not be thrilled with this weather, but my greenery is having a fine time! While I have nothing new flowering except the thornless blackberry bush above, all my green shrubs look like they have taken to mainlining-miracle-grow! I went out to weed this past weekend, and noticed not as many weeds as I expected with all this rain (a lot of mushrooms though), but my greenery looks so overgrown!
We had landscapers come in in May to tidy everything up, and they also cut the green bushes shaping them. I have never seen these bushes in need of another shaping during the growing season, let alone less than two month later! So, while I may not be thrilled with this wacky summer weather, I can say that my green plants are happy as can be!
That gives me hope that the produce won't be as big a washout in this area as I had first surmised.
So, except for blackberry fruit, I really don't have much new to report… I have flowers ready to bloom – maybe I'll have more to report during the next How Does Your Garden Grow? installment in 2 weeks.
So, how does your garden grow? Are you planting one this year? Sticking with a CSA? A flower or herb garden perhaps? What's happening in your green-world?