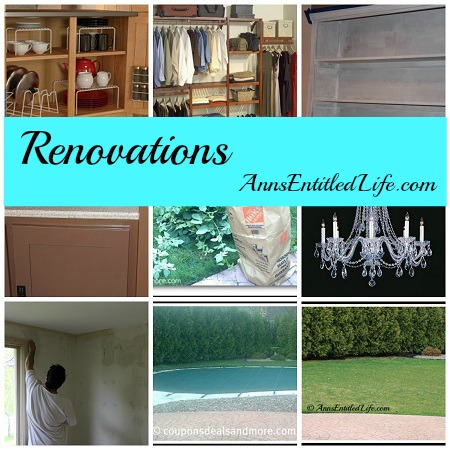 I have made mention that Hubby and I are doing house renovations this year. I plan on blogging about a good deal of the process, mostly because I love to look back and read what we have done. And, if someone can learn from our mistakes, that is awesome!
On my interior list I have:
● Do something with the built-ins in the family room
● Get Hubby to do something with the built-ins in his office
● Install hardwood flooring in the living room, family room and Hubby's office
● Paint Sonny-boy's old room
● Replace the window in Sonny-boy's old bathroom
● Replace carpet in Sonny-boy's room, hallway, and if necessary, our bedroom
● New dining room chandelier
And that's just the inside! We are in discussions on what to do about the roof (which Hubby discovered has a class action suit against the materials), and the gutters. We will have at least some gutter work done if Hubby decides he can't take another roof project this year (two of his rentals are getting new roofs).
So far, what has been accomplished:
● The built-ins in the family room are finished. I will have a lovely post about that cool process tomorrow!
● The rug is pulled up in Sonny-boy's old room, the walls are primed, and Hubby has sprayed the woodwork. I took a few pics, and may share – but I'm not sure anyone really cares about the painting process. Eh, I may do it for my own records.
● The carpet in our bedroom was cleaned, and is does not need replacing! This is fabulous since we love that carpet, and the guys that cleaned it got out stains the last two cleaners could not. Needless to say, we found a new rug cleaners.
● The chandelier has been purchased. I scheduled an install, and there will be plenty of before and after pictures of this project!
My father used to complain to my mother that they "just" did a room or a project. My mother took to keeping a notebook as to what year what room was redone (painted, wall papered, etc) just to prove to him that it really had been 10 or 15 or 20 years since a particular room had been touched.
I said to Hubby the other day I now understood why my mother kept track. Hubby and I bought this house nearly eight years ago. The outside landscape and hardscape is unrecognizable from when we purchased, but the interior has only slowly changed. We painted everything the first two years, and now seven years later it is time to decide what rooms need more attention. I can definitely see why my father used to claim a room was "just" done – seven years later I feel the same about most of the rooms in this house!
Do you have renovations, painting, updating planned for your house this year? If so, what projects are you undertaking?