When we moved into our house, there was a chandelier in the dining room, and in the foyer hallway. Me, being one who pays no attention to details, didn't mind either chandelier. Hubby, who pays great attention to details, never commented on either chandelier in a negative way, so why would I, Miss-Big-Picture, bother to look closely?
Well, my mother bothered to look closely. Apparently very closely. She noticed that rather than crystals, the dangling particles were plastic thingamabobs and some were missing. And they were yellowing. And darn it, once she pointed these issues out, I noticed the problems too.
So, approximately three years ago my mother started campaigning for us to change our dining room light fixture. I guess she figured that the foyer fixture was either a lost cause, or she didn't want to overwhelm us.
And so my chandelier search began.
Hubby and I have looked: all over Western NY, in NYC, New Orleans, Miami, Chicago, and just about everywhere else we have traveled for the "perfect" chandelier. Now let me tell you that my version of a "perfect" chandelier and hubby's version is vastly different.
His likes include: cheap.
Oh, and then to he likes: cheap.
And while he was searching, he discovered he likes: cheap.
No matter how butt-ugly, if it is cheap he can get comfortable with the looks. Needless to say whatever I choose is either too ornate for his taste, too smooth for his taste, has a tube and will not work, or costs more than $47.62.
But, this year I am on a mission to finish off whatever outstanding projects in the house we have. Our living room hasn't had base molding in at least five years. The doors for the built-ins in both the family room and Hubby's office need attention, the living room needs hardwood floors (Denise from Coupons for your Family is a Shaw's rep, and her help and expertise has been invaluable), and with that baseboards and shoe molding, and the parquet in the family room – which is next to the formal living room – may also be replaced. On my wish list, a gas insert because we haven't built a fire in four years – because I am too lazy to dust afterward, and I hate cleaning out the fireplace – and then we will be done. Oh we should replace the railing going upstairs, it is definitely a 70s marvel and in no way would meet today's code if not grandfathered in, but it is unique and interesting and the $17,000 we were quoted to replace it seven years ago makes us really, really love it!
Here are a few of the chandeliers we have zoned in on knowing that the search will end in the next month or two. I would like your opinions on them, and, if you have any suggestions, I am all ears. The only requirement is the fixture has to be 24″ – 28″ in height (no taller), and approximately 24″ across.
These two are probably what I have liked the best: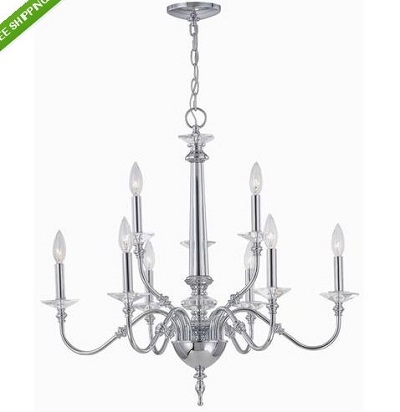 Manica Chandelier Lamp The biggest problem is the size. It is way too big and definitely will not work – have you seen anything similar?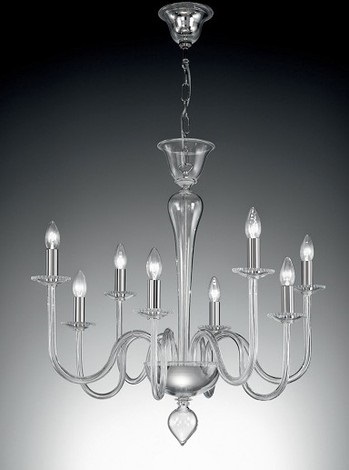 TOPDOMUS genuine Murano chandelier This is by far my favorite.
And this is the only one we have quasi-agreed upon, but it is very different from anything else I have ever liked: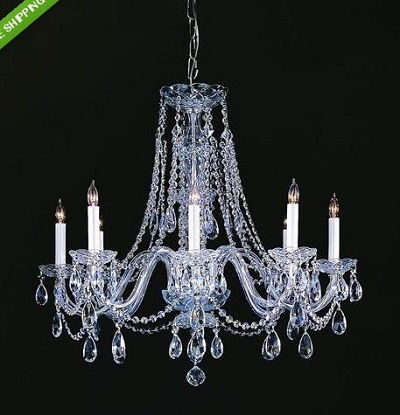 Polished Chrome Crystal Candle Chandelier
So, I need a little help, please! Where did you buy your chandelier? Would you recommend the place? This is a formal dining room and needs an appropriately formal fixture to match.