Hubby and I went to Joe's Crab Shack last week. If you've ever been to Joe's, you are familiar with various managers coming to the table either during or after the meal to see if everything went well, and to solicit feedback. Well, we had two different managers stop by, one during our meal, and one as we were chatting at the end of our luncheon.
Hubby being hubby had to give the guy a hard time, and Hubby of course asked for a coupon.
The manager was great, gave Hubby a coupon off our next visit and told us about an offer that Joe's was starting April 1st with Austim Speaks. Joe's was selling coupons for future meals, and the cost of these coupons would be donated to Autism Speaks. While the manager gave details, I wasn't certain I had everything correct, so I contacted the PR firm for Joe's Crab Shack for details. She got back to me yesterday, and these are the full details: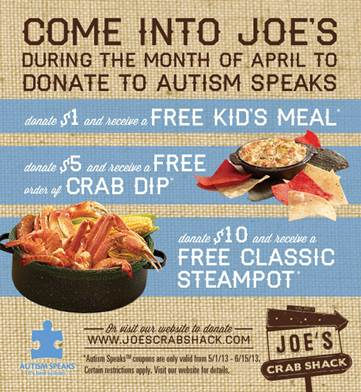 During this month guests will have the opportunity to donate to Autism Speaks while they dine at Joe's Crab Shack and, in return, will receive valuable coupons for free food on their next visit.
For every $1 donation, guests receive a free kids meal entree; with a $5 donation, a free order of Crazy Good Crab Dip; and with a $10 donation, a free Classic Steampot. Guests can also visit the Joe's Crab Shack website to donate electronically and download their coupons.
Coupons are redeemable May 1 – June 15, 2013.
IMO this is a great way to not only support a worthy cause, but eat at Joe's Crab Shack for less. I bought mine yesterday, and these are the details and restrictions:
PRINT THIS COUPON TO REDEEM. Only valid with purchase of an adult entree. Not valid on To-Go or with any other offer or discount. One coupon per check. Tax and gratuity are not included. This coupon is non-exchangeable
• Link to Austim Speaks
• Link to Joe's Crab Shack website
• Link to Joe's Crab Shack locator