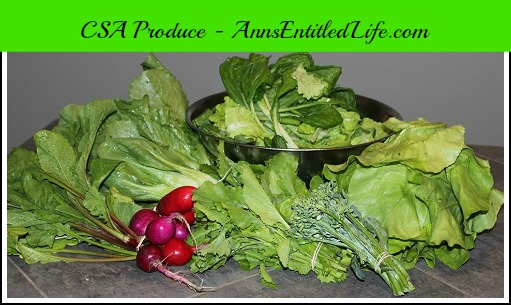 Last year, I named my CSA diary "What's In The Bag?" Every week we would pick up a bag full of produce from our local CSA. This year, we joined a new CSA. Yesterday was our first pick-up, and there were no bags of produce. Everything is nicely displayed in bins (I'll see later in the season if they will allow me to take some pictures). They harvest the morning of pick-up for best freshness. The produce is bundled and washed, and the leafy greens are placed in bins, and anything bundled (like radishes) is then placed in a bin. It resembles a small produce stand, but with greater variety and it is in a barn.
Since we pick and choose what we would like (see below), I couldn't name it "What's In The Bag"… "What's In The Bin"? might have worked, but I just titled this what it is: Our CSA Share.
Our CSA Share
● Bok Choy
● Head Lettuce – this looked like bib lettuce to me
● Kale
● Radishes
● Red Leaf Lettuce
● Romaine (I think)
● Salad Turnips
● Sprouting Broccoli
● Various Greens – including Arugula, Tot Soi, vitamin greens (??), and there were several other choices I didn't note
I am going to have to make better notes at pick-up. My old CSA would not list on their blog everything in the bag that week, but they also sent us home with a sheet of bag items list, farm news and recipes.
When you walk in, there is a board that lists what you can take for a full or half share, and you may not get everything. For instance there were three types of lettuce available, but a full share received two lettuce bunches (a 1/2 share one). In some ways this is fabulous – no more produce that we will never eat, but on the other hand what about the weeks we'd really like all the choices?
And for the greens… there were plastic-produce-bag like you would find in the produce department in a grocery store – that you filled, and you could choose any/all of the five greens available, and take as much or as little (or none at all) of each type as you wanted, up to filling your plastic-produce-bag. Now someone could have filled an entire plastic-produce-bag with arugula if they chose! That would have certainly more than paid for this week's share. A full share person received a full plastic-produce-bag (your choice), a 1/2 share person; half a plastic-produce-bag (your choice). These produce bags hold so many leafy greens that even though I took more than we can eat, I still didn't fill my plastic-produce-bag!
The cost of a full share is $545 for 22 weeks (this CSA offers a winter share) which will bring us to the last week in October, and works out to $24.75 per week. Western New York weather is such that June is lightest CSA month. September and October will be more than abundant! Usually I feel I don't get my money's worth the first few weeks (which will be predominantly lettuces), but the fall bags more than make up for that.
This first week with our new CSA? Well as I mentioned above a plastic-produce-bag full of arugula could bring you pretty close to covering the entire cost of this week's share. There were different items available. I think we may benefit more from Hubby picking up than from my picking up as he is the food-adventurous one in this household! I'll see if he would be willing to go with me next week.
Do you belong to a CSA? If so, what type? How much? Do you find it as worthwhile as I do?
● Find a CSA
● NYS Fruit and Vegetable Harvest Calendar
● US Agricultural Data