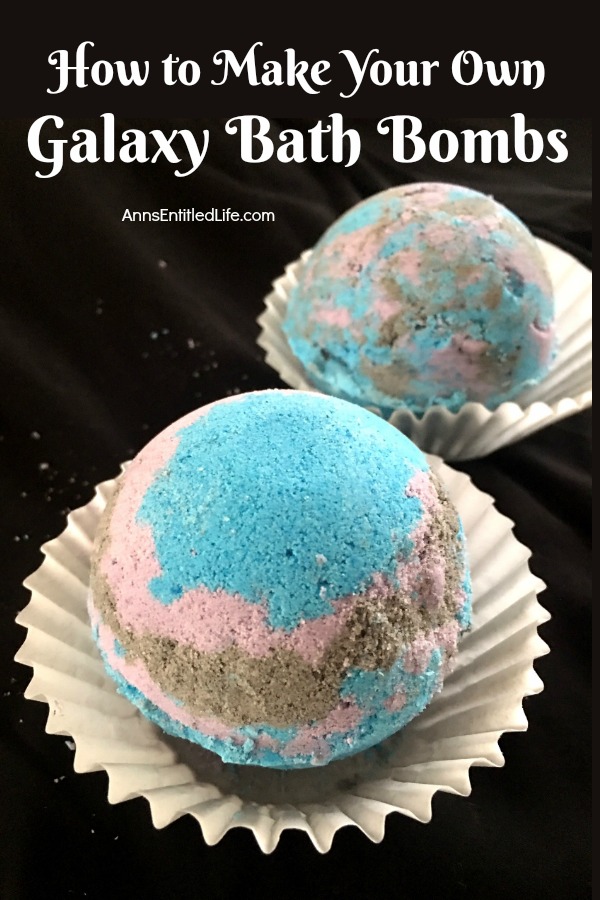 How to Make Your Own Galaxy Bath Bombs
These how to make your own galaxy bath bombs instructions are an easy to follow, step by step tutorial. If you would like to learn how to make bath bombs, simple directions will have you enjoying a wonderful soak in no time. Make these fun galaxy bath bombs today!
I love bath bombs! There are so many variations in recipes, and so many variations in colors and looks. If you also enjoy new, different, and easy to make bath bombs (bath fizzies), you may want to try one or more of these bath bomb recipes:
● Eucalyptus Bath Bombs Recipe – these are my personal favorite. I always have a bowl full of them near our soaking tub!
● Easy DIY Peppermint Bath Bombs Recipe – invigorating and refreshing, these bath bombs smell great!
● Make Your Own Lavender Bath Bombs – a light, and elegant scent!
● Homemade Rose Bath Bombs – another of my favorites, these smell awesome!!
● DIY Easter Egg Bath Bombs – this is a fun, Easter-centric bath bomb recipe!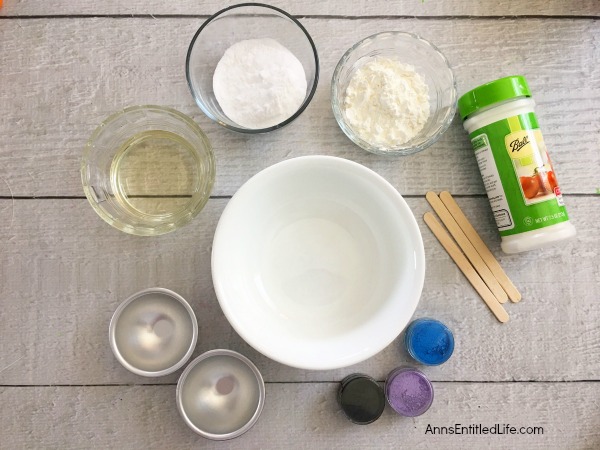 Galaxy Bath Bombs Materials:
● ½ cup Baking Soda
● ½ cup Citric Acid
● ¼ cup Cornstarch
● ¼ cup melted Coconut Oil

● Cosmetic Grade Mica pPowder: blue, black, and purple
● 4 drops Lavender Essential Oil – Try and use therapeutic grade essential oils as non-therapeutic grade essential oils may cause skin irritation.
● 1 medium Mixing Bowl
● 3 Small Bowls
● Bath Bomb Mold
● Craft Sticks (for mixing)
● Measuring Cup

● Microwave
● .15 cc Scoop
● Disposable Face Mask – mixing the dry ingredients may irritate your eyes/nose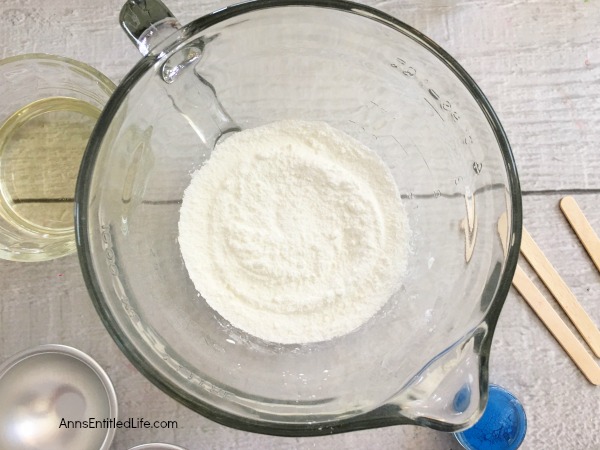 Galaxy Bath Bombs Directions:
● In a medium sized mixing bowl combine baking soda, citric acid, and cornstarch; mix well.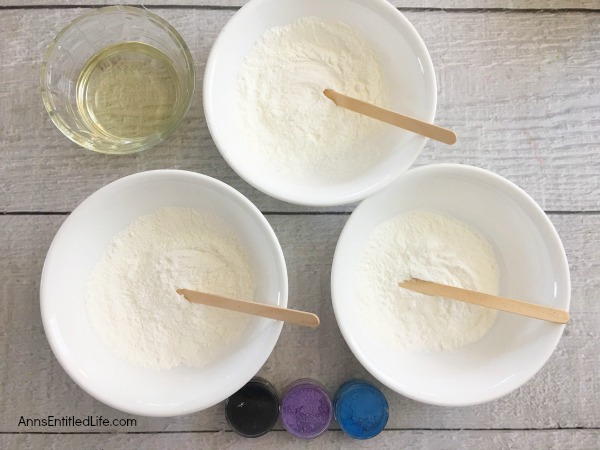 ● Separate the mixed dry ingredients evenly into 3 separate, small bowls.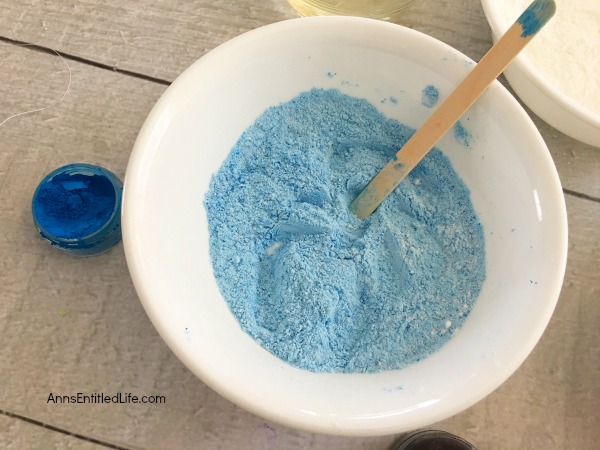 ● Using the .15 cc scoop, a scoop one scoop of blue color mica powder into a small; mix well.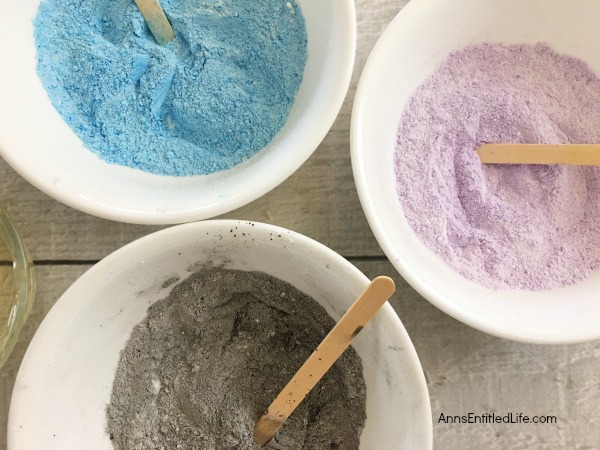 ● Using the .15 cc scoop, a scoop one scoop of black color mica powder into a small; mix well.
● Using the .15 cc scoop, a scoop one scoop of purple color mica powder into a small; mix well.
● At this point, you have three separate small bowls of color: blue, black and purple.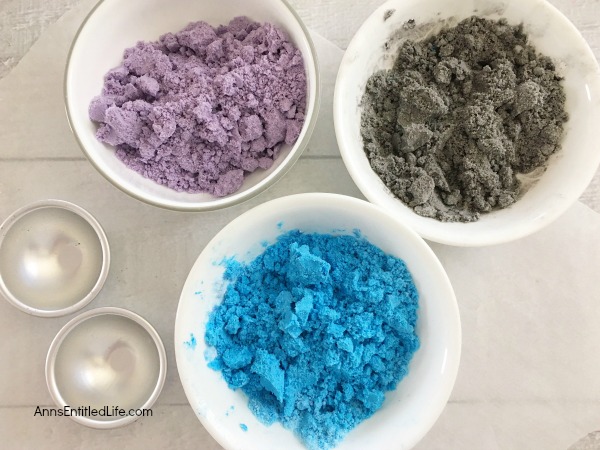 ● Heat ¼ cup coconut oil in the microwave for about 30-40 seconds or until melted (be careful as this gets very hot quickly)
● Add the Lavender Essential Oil (feel free to use a different scent if you prefer it) to your melted coconut oil and stir.
● Slowly add a teaspoon at a time of melted coconut oil to each colored bowl and mix, repeat – distributing evenly (each bowl gets the same amount) until you have used all the coconut oil.
● Once all of the coconut oil is added, your mixtures should feel like damp sand.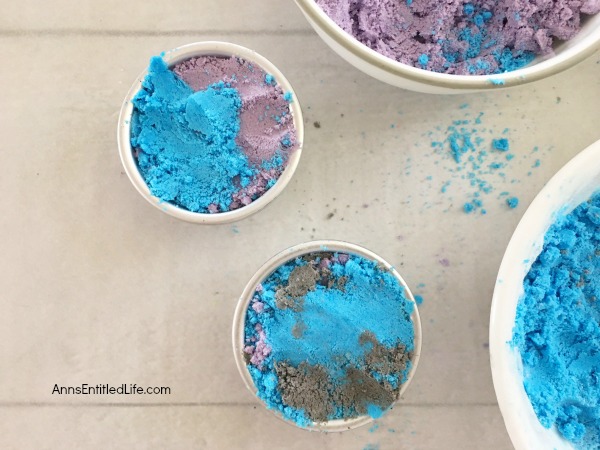 ● Start filling each side of the molds with your bath bomb mixture and press each mold together.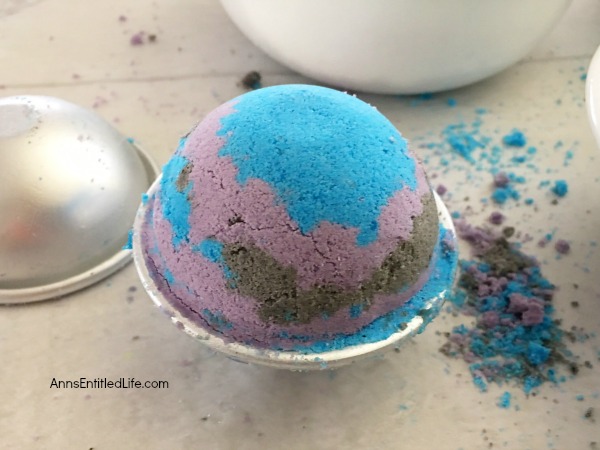 ● Let dry for about 12 hours then carefully remove from your molds.
● Store in a dry place or in an airtight container (I honestly set mine out at the tub for decor – just do not let the bath bombs get damp or wet).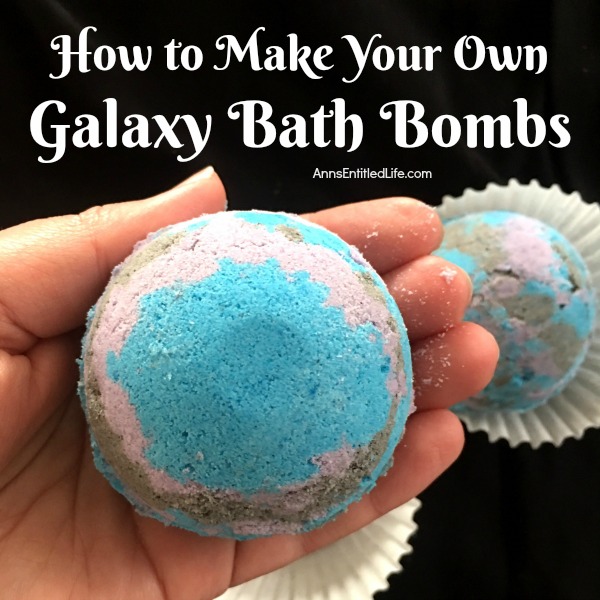 To Use the Galaxy Bath Bombs:
● Place one Galaxy Bath Bomb in the bottom of your shower or in your warm bath tub to release your bath bomb. Do not rub your eyes during/after use.
● To print the Galaxy Bath Bombs instructions, click here.
Note: None of this is meant as medical advice. I am not a doctor, and do not play one on the internet. Please consult a physician if you have any questions about using essential oils so your doctor can better explain to you the benefits, possible side effects, and any warnings about essential oils.
---
● Disclosure: the links in this post may be affiliate links.
● For more DIY Beauty posts on Ann's Entitled Life, click here.
● If you enjoyed this post, be sure to sign up for the Ann's Entitled Life weekly newsletter, and never miss another article!
---