As I mentioned before, I am not the most crafty of people. I'm actually more of an anti-crafty person. For me, the easier the better. I probably shouldn't be allowed within 50 yards of a glue gun – I'd end up gluing my fingers together or something. Because of my limitations, I've learned over the years that proper placement, simplicity, and multiple individual pieces can add up to a great looking arrangement, table top decor, or holiday decoration.
My holiday table is set up with many, many individual pieces. I call it my gift table! Over the years I have purchased small, decorative gift box decor everywhere from Target to Dollar Tree to Pier One to Macy's. If I like it, I buy it. None of the pieces are very expensive, and like all collections adding one or two pieces per year helps keep the decor fresh.
This year I decided to add a floral piece instead of a new gift box. I went to JoAnn's and bought winter white floral feathers and accessories. They were marketed as "winter bridal", but since I have a thing for sparkly and over-the-top during the holidays, they fit right in with what I was trying to accomplish.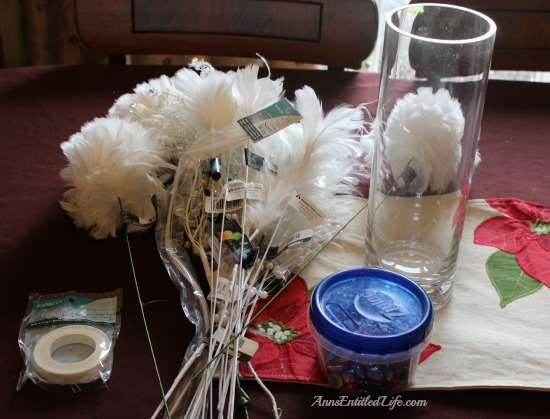 I started with a cutter, some stems, and some white tape in addition to a variety of feather floral, pearls, and crystals and an old vase.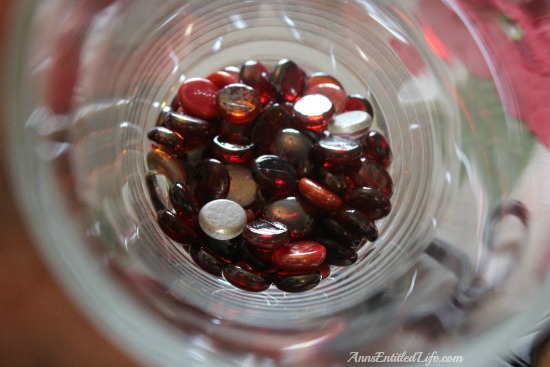 At the bottom of my clear vase, I added a small amount of red and clear crystals that I bought at Big Lots a few years ago. This holds my floral pieces in place, but allows me the ability to move the stems around easily.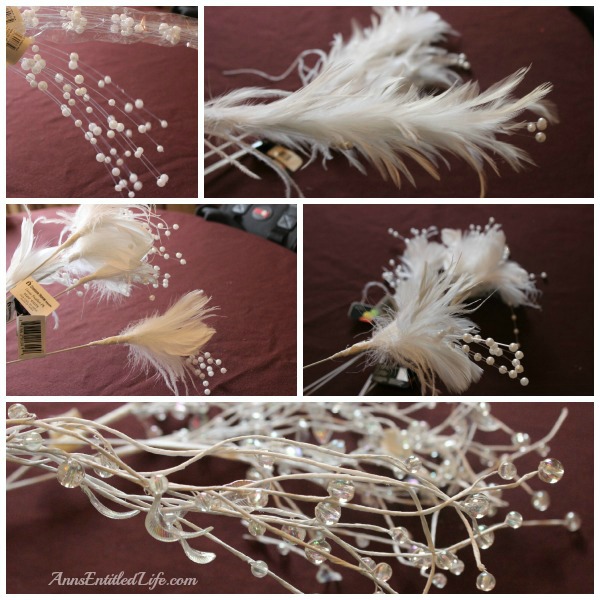 These were the pieces I ended up using.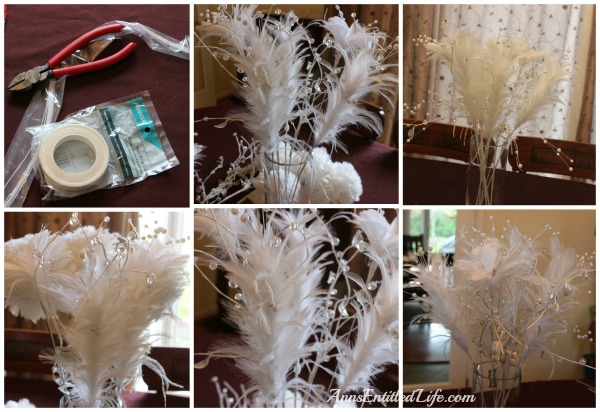 Because I am not using a Styrofoam anchor, I have a the ability to add or take away as the piece pleases – or displeases – my eye. I had big white pom-poms to start with, but they just didn't work. Instead of holes in my green Styrofoam, I just pulled them out and tried again. I did wrap the stems with white tape for uniformity. The extra-wire ended up being unnecessary the wire stems were strong on their own. If you do not like the look of bare wire, just fill your vase to the top with crystals, Styrofoam balls or rice. You can still move your stems around at will, but the wire stems will not be visible in the final product.
As I am a "big picture" person, I take frequent steps back to see how the arrangement is coming together. As frequently as every new addition or subtraction. It helps tremendously to have an idea of some sort in mind when buying, and arranging flowers, although sometimes what is in my head in no way looks like the finished product! And that isn't necessarily a bad thing – the finished product usually ends up looking better.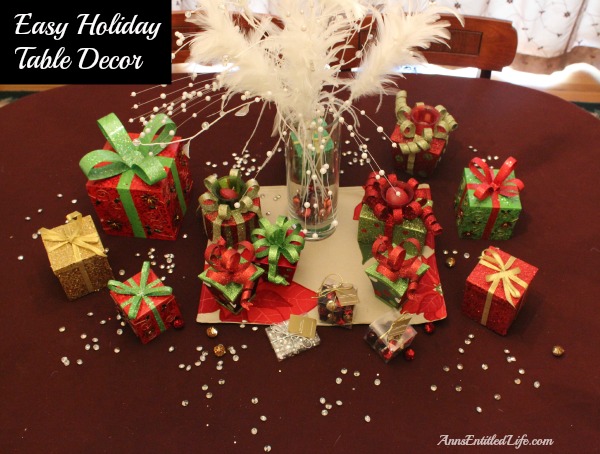 I then arranged my gift boxes, some diamond table confetti (for added sparkle), but I skipped the teeny-tiny confetti this year. I am always changing-up the decor.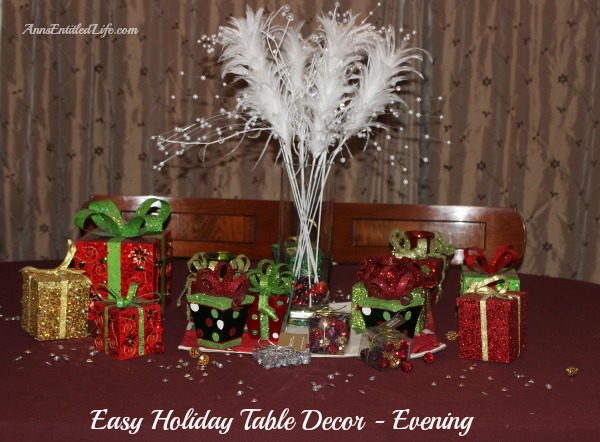 This is how it looks in the evening. It is fun, sparkly, and a very easy holiday table decoration idea!
---
● For more holiday posts, click here.
---