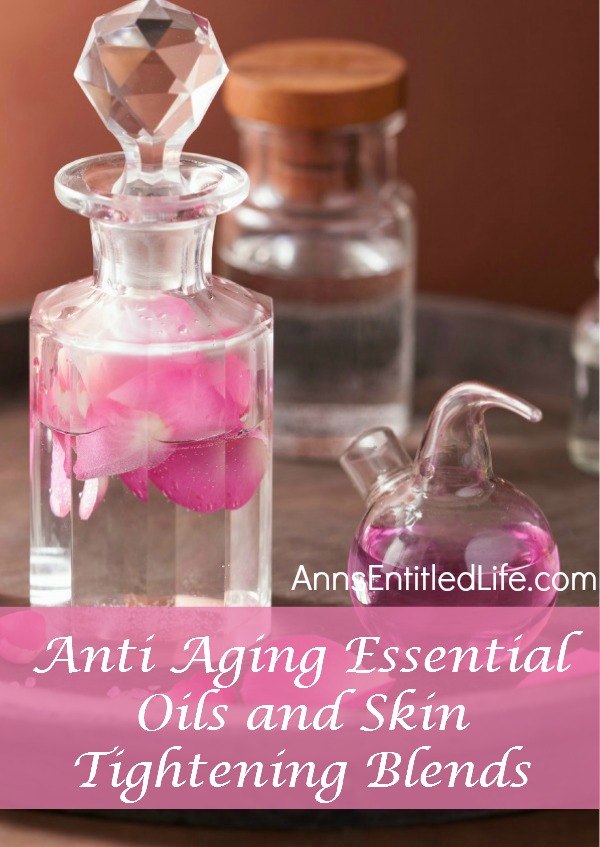 Whether it be through television ads, magazine articles, internet pop-ups, and more we are constantly bombarded with the next miracle anti-aging solution that is going to make us look 20 years younger. I wish! The truth is many of these formulas are very expensive and ultimately do little to help your skin look younger. The good news is that there are many anti-aging essential oils that will work to rebuild, tighten and restore your youthful glow.
Anti Aging Essential Oils and Skin Tightening Blends
All anti aging essential oils need to be used with a carrier oil and these have some impressive health benefits as well. You can choose your favorite carrier oil and blend in your favorite anti aging essential oils. This is what I love about essential oils, there are so many options and you can tailor blends to fit your needs.
Carrier Oils:
● Apricot Kernel Oil< – is one of the top carrier oils when creating anti aging essential oil blends, its high in omega 6, vitamin A and E. Apricot Kernel Oil nourishes and hydrates skin and encourages skin cell regeneration, it also boosts collagen production and helps to reduce wrinkles and fine lines.
● Sweet Almond Oil – is packed with vitamins E and K, which means not only does this oil help with skin regeneration and elasticity but it also promotes improved circulation. It also naturally blocks UV rays so it's a great natural sunscreen for every day use. Sweet Almond Oil is very light and absorbs into the skin very quickly.
● Coconut Oil – Organic Virgin Coconut oil is packed full of vitamin E and anti oxidants which makes it one of the top carrier oils when it comes to using anti aging essential oils. Not only can Coconut Oil reduce the signs of aging but it also protects the epidermis against cellulite, stretch marks and helps to eliminate Keratosis pilaris.
Anti Aging Essential Oils:
● Carrot Seed Oil – Carrot Seed Oil is full of carotenoids, which help prevent and block UV rays and rejuvenate the skin cells it also works to naturally get rid of eczema and psoriasis.
● Geranium Essential Oil – is a powerful anti-inflammatory and helps to even out skin tone and lighten age spots.
● Frankincense Essential Oil – Frankincense Essential Oil is one of my favorites! It reduces the appearances of wrinkles, fine lines and scars. It's also wonderful for balancing the pH level of the skin and works to even skin tone and tighten up sagging or loose skin.
● Myrrh Essential Oil – Myrrh Essential Oil boosts the skins strength to smooth skin and helps to give a youthful glow appearance.
● Rosemary Essential Oil: – Rosemary oil is another one of the top anti aging essential oils by promoting tightness of the skin, reducing wrinkles and fine lines.
Using any of the above mentioned essential oils with a carrier oil on a daily basis is going to greatly improve the look of your skin and strengthen it in the process. Here are a couple of my most favorite anti aging and skin tightening blends. I hope you all enjoy them just as much as I do!!
Skin Toning Blend:
● 8 oz of Coconut Oil
● 150 drops of Copaiba Oil
● 100 drops of Geranium Essential Oil:
● 50 drops of Ylang Ylang Oil
Melt Coconut Oil into its liquid state and blend all contents gently in a glass jar. Use on affected skin twice daily.
Note: None of this is meant as medical advice. I am not a doctor, and do not play one on the internet. Please consult a physician if you have any questions about using essential oils so your doctor can better explain to you the benefits, possible side effects, and any warnings about essential oils.
---
● For more DIY Beauty posts on Ann's Entitled Life, click here.
● Click here for more Library Topics on Ann's Entitled Life.
● If you enjoyed this post, be sure to sign up for the Ann's Entitled Life weekly newsletter, and never miss another article!
---