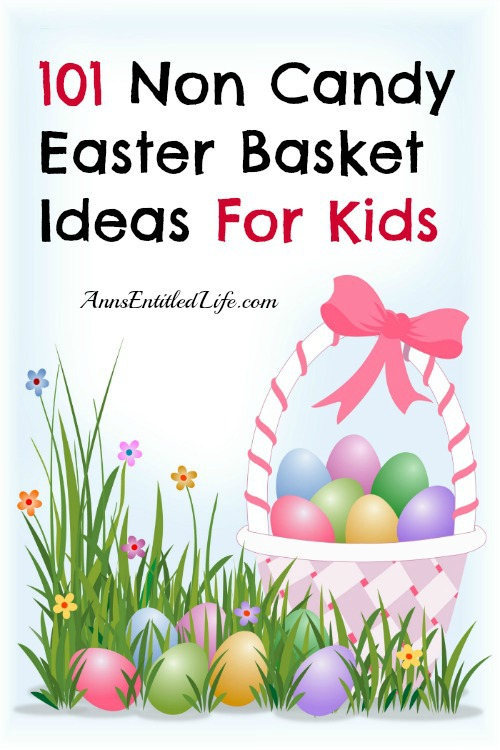 101 Non Candy Easter Basket Ideas For Kids
Easter gift ideas!! Easter is fast approaching and many people give their children an Easter Basket on Easter Sunday. Sugar overload is a real concern for many families. If you are looking for non candy Easter basket ideas for your child's east basket, here are 101 Non Candy Easter Basket Ideas For Kids!
If you are looking for no candy Easter basket ideas, you've come to the right place! This list of non candy Easter basket ideas has something for everyone! Toddlers, small children to pre-teens are covered with these wonderful ideas.
I did so love to get something other than candy for Easter. I know we all think kids are candy! candy! candy! – and it is true, a chocolate bunny or Easter Peeps
(and boy do I love Peeps!) are Easter Basket staples, but there are so many other ideas your child(ren) will appreciate in their Easter Basket that will last longer than a piece of chocolate. This list is just a start. Think outside the box, and have a wonderful holiday!
Note these Easter Basket gift ideas are not appropriate for all age groups. Take into account your child's age and motor function before purchasing your Easter Basket gifts.
● Activity Books
● Animal Books (Happy Easter, Mouse!
looks like a great choice!)
● Army Men
● Balloons

● Balls
● Barbie
● Barbie Accessories
● Barrettes
● Bath Toys
● Bathtub Crayons

● Beach Toys
● Bubbles
● Bucket and Pail

● Building Blocks
● Bunny Slippers

● Butterfly Garden

● Cards (standard deck, old maid, go fish, UNO, etc)
● CD
● Children's Bible

● Chuck E. Cheese Tokens
● Coins
● Colored Pencils
● Coloring Books

● Construction Paper
● Craft Kit
● Crayons
● Dollar Bills
● Drawing Pad
● Dripstik Ice Cream and Popsicle Holder

● DVD
● Earrings
● Etch-A-Sketch (small)
● Flashlight
● Finger Puppets
● Frisbee
● Fruit Snacks
● Gardener In Training Apron and Tool Set
● Glitter (Wow that would make you the best mom on the block! Or it would be "For Grandma's House")
● Glitter Glue
● Glow Rings
● Goldfish Crackers
● Granola
● Headband
● Ink Pad and Stamps
(bunny, eggs, chicks, etc)
● Jacks and a Ball
● Jelly Bracelets
● Juice or Milk Boxes
● Jump Rope
● Kazoo
● Kite
● LeapFrog Readers or Games
● Legos
(Easter)
● Lip Gloss
● Magic Grow Capsules

● Magic Grow Toys
● Magic Treasure Rocks
● Magnets
● Marbles
● Markers
● Matchbox Cars
● Melissa & Doug Deluxe Magnetic Letters & Numbers in a Box Bundle

● Mini Water Gun
● Modeling Clay
● Movie Tickets
● My Little Pony
● Nail Polish
● Necklaces
● Nesting Eggs

● Nuts
● Paint Book
● Paint Kit
● Peek N Peep Eggs

● Photo Album (filled or empty depends on whether you want to load it with family photos or allow your child to choose pictures)
● Plastic Gardening Tools
● Play-Doh

● Pretzels
● Punch Balloon
● Puzzles

● Raisins
● Rory's Story Cubes

● Safety Scissors
● Sidewalk Chalk

● Silly Putty (who else transferred the Sunday comics!?)
● Slime
● Slinky Jr.
● Socks (frilly socks, bright colors, fun socks!)
● Sports Cards (baseball, basketball, football, hockey)
● Stuffed Animal
● Sunglasses
● Teddy Grahams
● Teenage Mutant Ninja Turtles Products
● Temporary Tattoos

● Themed (Character) Band Aids
● Travel Games
● Travel Magnadoodle

● Treasure
● Two Dollar Bill
● Water Color Kit (I always got these as a kid!)
● Whistle
● Wind-up Toys (chicky, ducks, etc)
● Yo-Yo
---
● Disclosure: the links in this post may be affiliate links.
● For more Library Topics on Ann's Entitled Life, click here.
● For more Holiday posts on Ann's Entitled Life, click here.
● If you enjoyed this post, be sure to sign up for the Ann's Entitled Life weekly newsletter, and never miss another article!
---