A list of indispensable, useful tools and products every crafter needs to have in their craft box. Whether you are just beginning to make your own crafts, are a special occasion crafter, or a crafting veteran, this list of must-haves crafting products is important to getting the crafting job done!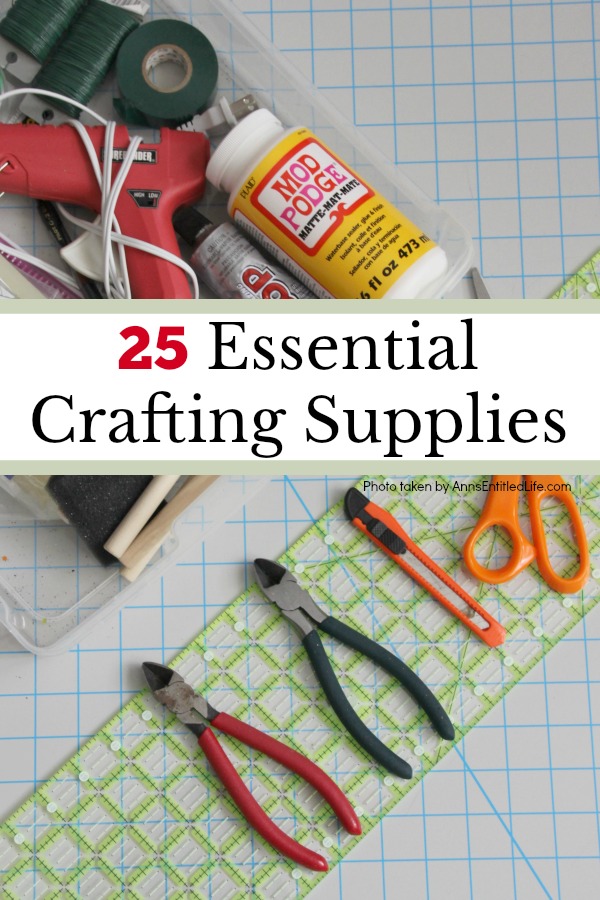 I love DIY projects. But before you get started, you need to be certain you have all of the essential crafting tools on hand to get your projects done right. Note: lot on this list will make a great gift for the crafter in your life! This is a list of craft supplies for adults or older teens, not toddlers (so no safety scissors or other items that benefit small hands).
25 Essential Crafting Supplies
I recently went through my craft supplies (oy!) because we are in the midst of a planned move. I kept a box of essentials so I would not have to start from scratch. One thing I did not dwell on much on this list is portable craft storage containers. These are a few I have that made sorting, storing, and moving much easier:
● Clear scrapbook cases – I use these primarily for papers, construction paper, felt. It keeps them not only organized, but flat. Very important.
● Latchmate+ Mint Storage Box with Tray – I love this because I can separate my lighter weight, delicate, or sharp items on top. I have quite a few of these, and they come in handy for allowing me to move craft supplies from place to place.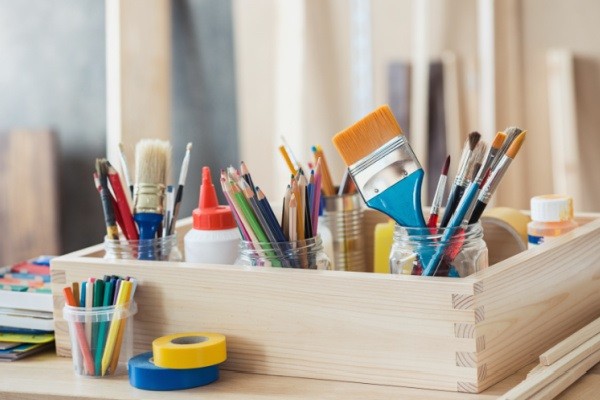 Below is a list of my must-have crafter's tools. Let's get crafting with the help of these essential craft supplies.
The best prices for these supplies may vary from area to area. You can find them at Joann, Michaels, Hobby Lobby in-store, your local craft store, or online at Amazon. If you are starting from scratch, I advise you to look around a bit before buying. Sometimes, I am stuck and need that item NOW, and so I pay up. Having a box of essential crafting supplies will help mitigate costs in the long run.
Regardless of the type of crafts you do, there are some craft supplies you will always need and use.
General Crafting Supplies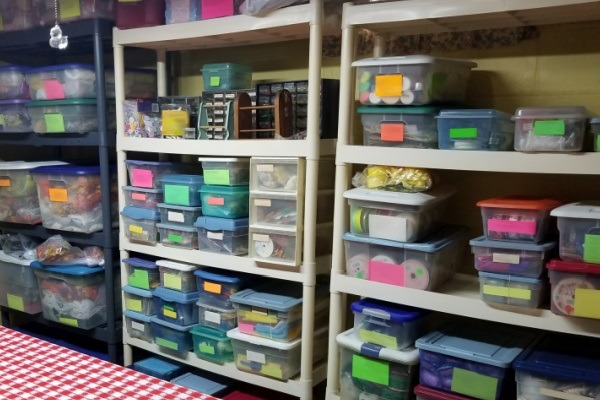 Crafting Storage: Depending on the volume of crafting supplies you have on hand, there are a few different bins, trays, and even toolboxes available to keep all of your supplies in place. Here are some of my favorites:
Now to get to the good part… crafting! For some inspiration, take a look at a few of these craft projects I know you would love.
For even more crafting inspiration and project ideas, visit the Craft Section of my website.
If you are on the hunt for crafting gifts, any of these items are a great place to start. Instead of packaging them inside of a gift box, use a Tool Box instead.
What essential craft tools do you keep on hand?
---