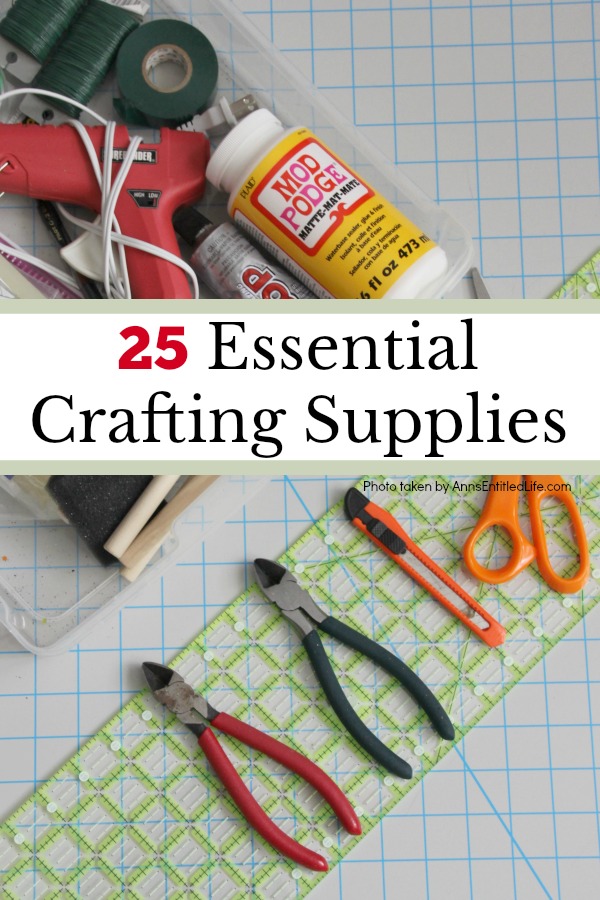 A list of indispensable, useful tools and products every crafter needs to have in their craft box. Whether you are just beginning to make your own crafts, are a special occasion crafter, or a crafting veteran, this list of must-haves crafting products are important to getting the crafting-job done!
25 Essential Crafting Supplies
I love DIY projects. But before you get started, you need to be certain you have all of the right tools on hand to get your projects done right. Note: lot on this list will make a great gift for the crafter in your life!
Below is a list of my must-have crafter's tools. Let's get crafting with the help of these essential craft supplies.
General Crafting Supplies
Now to get to the good part… crafting! For some inspiration, take a look at a few of these craft projects I know you would love.
For even more crafting inspiration and project ideas, visit the Craft Section of my website.
If you are on the hunt for crafting gifts, any of these items are a great place to start. Instead of packaging them inside of a gift box, use a Tool Box instead.
What essential craft tools do you keep on hand?
---
● Disclosure: the links in this post may be affiliate links.
● For more Craft posts on Ann's Entitled Life, click here.
● If you enjoyed this post, be sure to sign up for the Ann's Entitled Life weekly newsletter, and never miss another article!
---