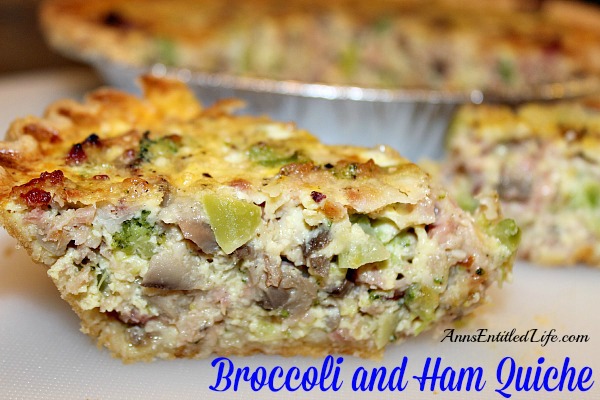 Broccoli and Ham Quiche
By Ann
Broccoli, ham, cheese and mushrooms combine for an easy to make this flavorful, delicious and satisfying Broccoli and Ham Quiche. Breakfast, lunch or dinner, this versatile quiche dish is sure to please your entire family.
Prep Time:15 minutes
Cook time:50 minutes
Ingredients:
• 1 prepared 9″ Pie Shell
• 1 cup fresh Mushrooms, sliced
• 1 Garlic Clove, minced
• 2 tsp Butter
• 1 cup Swiss Cheese, shredded and divided
• 1 1/2 cups Ham, diced
• 1 cup Broccoli, cooked (if using frozen broccoli, only cook for 1/2 the recommended time, and drain
• 4 Eggs
• 3/4 cup Milk
• 2 tsp Flour
• 1/4 tsp White Pepper
Directions:

• Preheat oven to 350°.
• Pierce the bottom of your pie shell with a fork; bake 10 minutes. Remove from oven and allow to cool.
• Sprinkle 1/4 cup Swiss cheese in cooled pie crust.
• In a separate bowl, combine mushroom mixture, ham and broccoli, 1/2 cup Swiss cheese; mix well.
• Pour broccoli and ham mixture into the pie shell, flatten top of mixture.
• In the (now empty) bowl, beat together eggs, milk, flour, white pepper; pour into pie shell.
• Sprinkle remaining 1/4 cup of Swiss cheese on top of the filled pie shell.
• Place filled pie shell on top of a baking sheet.
• Bake in oven 35-40 minutes at 350° or until inserted knife (at center) comes out clean; rotate quiche after 20 minutes of baking to promote even browning.
• Let stand for 15 minutes before serving.
• Refrigerate leftovers.
Makes 1 Broccoli, Ham and Cheese Quiche, serves 6-8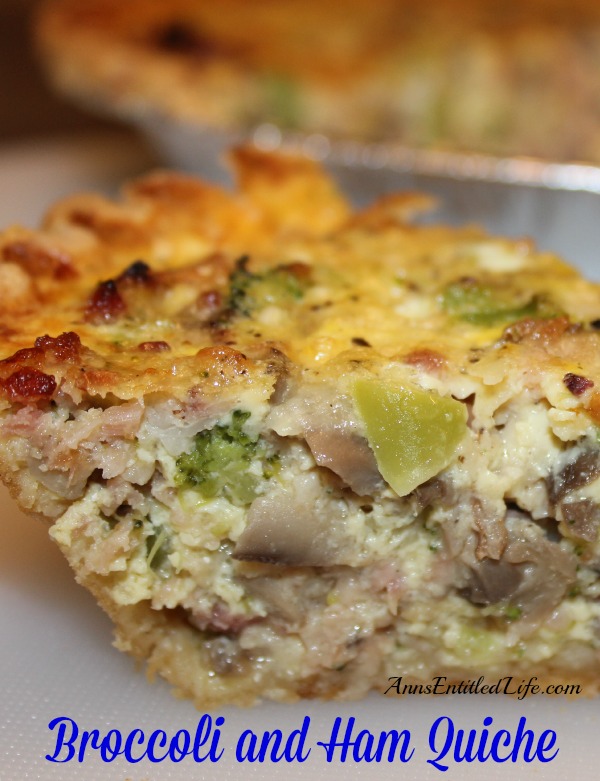 ---
• For a list of all recipes available on Ann's Entitled Life, click here.
---
---
FOLLOW US ON: