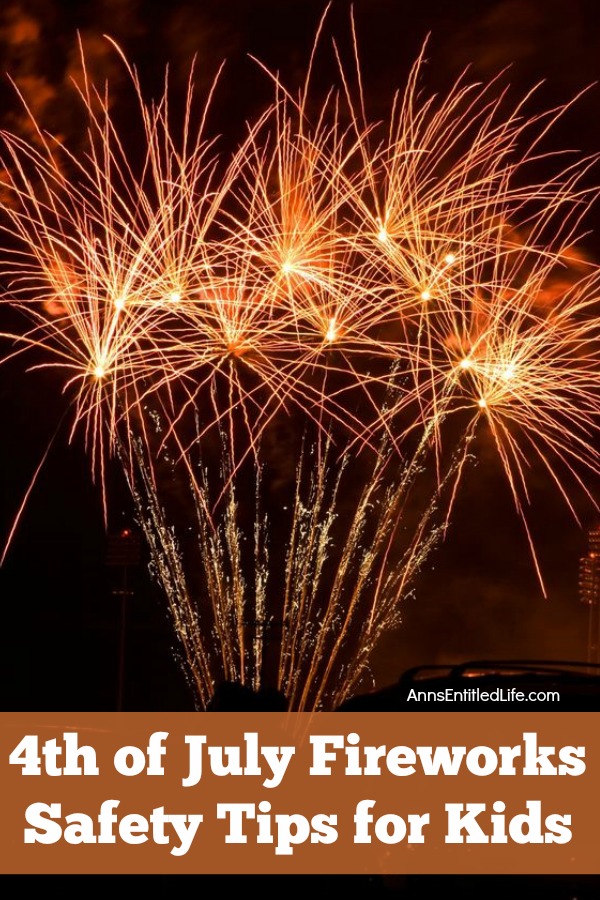 4th of July Fireworks Safety Tips for Kids
As you prepare for a fun-filled holiday celebration, remember to practice 4th of July fireworks safety tips for kids to ensure a safe and happy event. Children and fireworks go hand in hand around Independence Day celebrations, but there are often injuries due to carelessness and inattention. Here are a few reminders to help begin your fireworks safety discussion with your children for the upcoming Independence day holiday.
● Never allow very small children to use fireworks of any kind.
● Wear safety glasses when shooting fireworks.
"You'll shoot your eye out" is more than a BB gun warning on Christmas day, it is a very real possibility when working with fireworks on Independence Day (or anytime you use fireworks).
● Teach children proper handling techniques.
This may seem like an obvious tip, yet many individuals – adults as well as children – do not realize the extreme danger involved with fireworks. While fireworks can be fun and are wonderful to look at, you should focus on the real danger involved in handling fireworks and make certain your children understand that while fireworks can be a lot of fun, they are also very dangerous.
Here are a few ideas to cover when you discuss fireworks safety with your children:
● Fireworks are not a toy and should not be played with.
● Fireworks can burn you and cause other things to catch on fire so should only be shot in clear open areas without dry brush, papers or leaves nearby.
● Fireworks can make you sick and should never be put into your mouth for any reason (yes, some children want to taste everything and this is a real concern)
● Looking directly at bright fireworks up close can cause damage to your eyes (sparklers, etc.) so use caution.
● Never allow children to use any type of fireworks on their own.
One of the most popular things about the 4th of July when I was a child was the chance to light sparklers. My great-grandparents lived in Ohio, and if we weren't there for Independence day, we were at my grandparent's house where a ready supply of sparklers were available.
Many parents do not realize how hot sparklers can burn – up to 3000 degrees! Sparklers are responsible for 16 percent of legal firework-related injuries in the United States according to the U.S. Consumer Product Safety Commission.
Here are more tips from the U.S. Consumer Product Safety Commission regarding sparkler use:
● Children under the age of 12 should not use sparklers without very close adult supervision.
● Always remain standing while using sparklers.
● Never hold a child in your arms while using sparklers.
● Never hold, or light, more than one sparkler at a time.
● Sparklers and bare feet can be a painful combination. Always wear closed-toe shoes when using sparklers.
● Sparkler wire and stick remain hot long after the flame has gone out. Be sure to drop the spent sparklers directly in a bucket of water.
● Never hand a lighted sparkler to another person. Give them the unlit sparkler and then light it.
● Always stand at least 6 feet from another person while using sparklers.
● Never throw sparklers.
● Show children how to hold sparklers away from their body and at arm's length.
● Teach children not to wave sparklers, especially wooden stick sparklers, or run while holding sparklers.
● Only shoot fireworks in approved areas.
Make certain your child understands is that fireworks are not safe for use everywhere. Shooting fireworks indoors is not only dangerous, but could result in fatality. Fireworks should only be shot outdoors, but more than that – only in approved locations. Many cities have ordinances against fireworks within city limits without proper licensing. Find out the rules and regulations in your municipality for shooting-off fireworks. Remember to make clear to your children how important it is that all fireworks should be shot clear of trees, brush, homes, cars or people.
● Keep water and a fire extinguisher nearby.
For the safety of all concerned, this is an added fireworks safety tip for kids and adults. Any time you are working with fireworks, you need to make sure you keep water and a fire extinguisher nearby just in case something goes wrong. Even the most well-prepared individuals can find themselves with a small fire unexpectedly.
● Light only one firework at a time and never attempt to relight a dud.
Teach children not to pick up or handle spent fireworks or duds. You never know when that dud will explode in a hand, or if that spent fireworks is still hot.
For some families allowing kids to help with their fireworks display is a tradition, but all parents should be very careful, very cautious and very aware of their individual children and their ability to understand the dangers involved with handling any and all fireworks (including sparklers!). No child should be allowed to play with or use fireworks without adult supervision.
These 4th of July fireworks safety tips for kids are really for the entire family. It's all about using common sense. Teach your children responsibility and how to enjoy the beauty of fireworks while being careful and safe.
For more fireworks safety tips, guidelines and practices, check out the source links below:
Sources
● U.S. Consumer Product Safety Commission
● The National Council on Fireworks Safety, Inc
● The Red Cross
---
● For more Holidayson Ann's Entitled Life, click here.
● If you enjoyed this post, be sure to sign up for the Ann's Entitled Life weekly newsletter, and never miss another article!
---