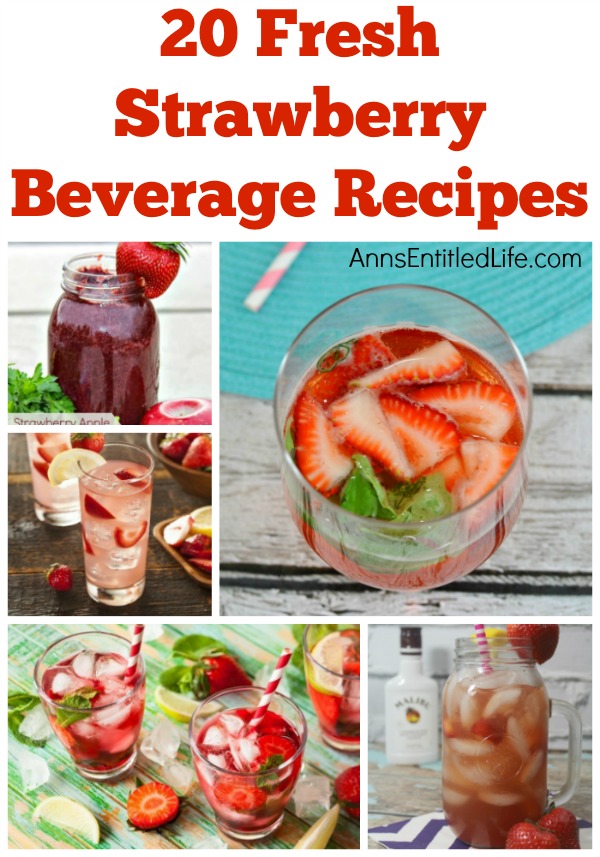 20 Fresh Strawberry Beverage Recipes
Fresh, juicy, delicious strawberries! Nothing tastes sweeter. Strawberries can be made into some wonderful beverages. From smoothies to sangrias, to milkshakes and teas, try one of these 20 Fresh Strawberry Beverages today!
The first garden strawberry was grown in Brittany, France during the 1750. Before that, wild strawberries were the common source of the fruit. The United States is the number one source of world strawberry production, producing well over a million tons of strawberries per year – five times as much as the next closest producer (which is Turkey).
Strawberries are a great source of Vitamin C and Magnesium. A cup of strawberries is low in calories, and also a good source of dietary fiber. A large portion of the calories in strawberries come from natural sugars.
If you enjoy fresh strawberries, you are in for a real treat. These 20 Fresh Strawberry Beverage Recipes utilize fresh, garden, farmstand or store bought strawberries for a real tasty treat. From breakfast smoothies to late -night cocktails, there is something on this list for everyone!
● Basil-Strawberry Smoothie Recipe | Vegetarian Gourmet
● Homemade Strawberry Lemonade Recipe | Dishes and Dust Bunnies
● Low Carb Strawberry Cheesecake Smoothie Recipe | Thrifty DIY Diva
● Southern Strawberry Sweet Tea Recipe |Cincy Shopper
● Strawberry and Pineapple Protein Smoothie Recipe | Reuse Grow Enjoy
● Strawberry Apple Smoothie Recipe
● Strawberry Coconut Milkshake Recipe | Lavende & Lemonade
● Spiked Strawberry Iced Tea Recipe Recipe
● Strawberry Basil Sangria Recipe
● Strawberry Gin and Tonic Recipe | Dining with Alice
● Strawberry Limoncello Lemonade Recipe | A Nest Full of New
● Strawberry Oatmeal Smoothy Recipe | Mama Likes to Cook
● Strawberry Rhubarb Lemonade Recipe | Mom Foodie
● Strawberry Rhubarb Milkshake Recipe | Suburbia Unwrapped
● Strawberry Smoothie Recipe | My Heavenly Recipes
● Sunburned Strawberry Margarita Recipe
Bonus:
● How To Grow Your Very Own Strawberry Patch
---
● Disclosure: the links in this post may be affiliate links.
● For more Recipes on Ann's Entitled Life, click here.
● If you enjoyed this post, be sure to sign up for the Ann's Entitled Life weekly newsletter, and never miss another article!
---