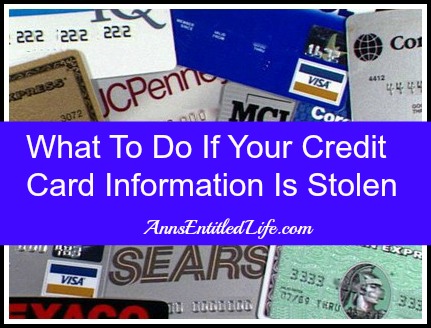 Here are some steps to take if your credit card information is stolen to help protect yourself from unwanted consequences.
What To Do If Your Credit Card Information Is Stolen
Last year, my credit card information was stolen twice! The first time my CC company called me about suspicious activity, and the account was immediately closed without any fraudulent activity ever being added to my account. I was then sent new cards, and all was good.
Or so I thought.
Thereafter at least once a month I would get a call from the fraud alert department of my credit card company asking me if this-or-that charge was authorized. This was a giant PITA because Sonny-boy uses my card, and while some items were easily recognizable, other items I had to call back about later. Inevitably, every fraud alert call was a waste of my time … until it wasn't.
While down in Florida in February of 2012, I received another call from my credit card company. Some inner sense must have kicked in, because instead of getting testy with another useless call, I was very pleasant to the rep calling.
The fraud agent asked me about some charges that were coming from somewhere in Europe. They were not mine, so all three were denied, and never hit the account. I thought all was well, when two weeks later I received yet another call. This time, over $1600 in charges that were not mine had been placed on my card in just a few days.
My credit card company emailed me a fraud statement that I had to sign. When I checked it to return, the dates did not match-up. I was looking at my paper statement, and the fraudulent charges started 2/8/12 not the 2/15/12 listed in the email.
After placing another call to my credit card company, we figured out another $2400 in fraudulent charges had been added to this card. Everything from adult websites to clothing stores to auto part retailers, and nearly all charges were from Europe or South America.
I saw a great deal of irony in the fact that so many of my valid charges were called upon for verification in the eight months prior, but a week long spat of overseas charges for adult entertainment was completely missed by my credit card company.
So what can you do to protect yourself from a cyber thief?
● While most major retailer websites have secure check-outs, always check for a secure feature (remember the lock on ie?)
● Try and use a credit card online that offers a one-time-use feature. Citibank is the only card I know of that currently has this feature, and is what hubby and I use for online purchases. You can be sure Sonny-boy will be applying when he gets home from spring break.
● Some credit cards allow you to receive an email alert for every charge to your card. It is a great way to keep tabs on your account activity.
● Many websites now accept paypal as payment. If your credit card is attached to your paypal account, it is another layer of protection against internet thieves.
● Know where your credit card is at all times. Sometimes you can't keep the server that is swiping your card at a restaurant in sight at all times, but do try.
● Shred your old statements if you still receive paper ones. Make sure you shred your receipts too once you compare them to your bill for proper account reconciliation.
And what do you do if your information is stolen, and fraudulent charges are placed on your card?
● If you suspect your card has been compromised, contact the fraud department of your credit card to report the charge. Some credit cards accept verbal confirmation of an unauthorized charge, and will email you a form to email back to confirm you did not make these charges. Other credit card companies may require written verification. It is best to ask when you call the fraud department exactly what they want.
● Here are the federal guidelines on stolen credit cards.
● Close your credit card and have a new one reissued. Yes, it is a pain, but so is never knowing when the next bad charge will arrive.
● And remember, if a website looks iffy, don't buy there. Better safe than sorry.
And sometimes, there is nothing you can do. Very secure websites are compromised. Someone swipes the credit card image and you never saw it. There are all types of thieves out there that would rather use their talents for evil instead of good. Just remember that you are not liable for unauthorized charges, and while inconvenient, waiting for a new credit card is better than the alternatives.
Do you have any other thoughts on what to do if your credit card information is stolen?
Note: this post originally appeared on my old blog, Coupons, Deals and More.
---
For more Library reading on Ann's Entitled Life, click here.
---