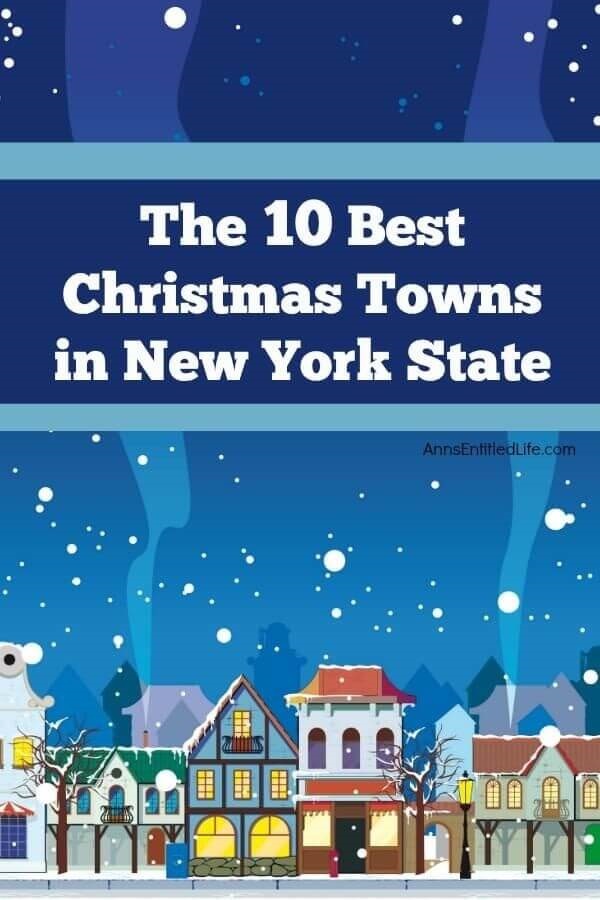 While we may take it for granted sometimes, those of us who live in New York State know that it is a magical place to live during the holidays. Whether you are a New York resident, or you are visiting for the holidays, you can find some pretty amazing places to visit here in the Empire State.
10 Best Christmas Towns in New York State
Live in New York State and looking for a day trip, or weekend trip to enjoy with your significant other? How about Christmassy events with the kids? Or perhaps you live south of the Mason-Dixon and would like to experience a great northern Christmas season?
If you are ready to have a magical holiday, here are the top Christmas Towns in New York State to visit this year:
1. North Pole, New York
North Pole, home of Santa's Workshop! Just to be clear, North Pole isn't an actual town, but a hamlet (a community within a town) in the town of Wilmington. North Pole is one of the best places for snow on Christmas though, as historical data will show, North Pole has a 96% chance of snow each Christmas! Oh, and in case you did not know it, Santa's Workshop is an actual place, an amusement park, which happens to be one of the oldest amusement parks in the country. I remember thinking about licking the ice pole as a kid when we visited in the summer (until I saw some kid with his tongue stuck to it) … North Pole, NY is a fabulous Christmas-destination all year round!
2. Cooperstown, New York
More than just the baseball hall of fame, Cooperstown looks like it may have been an inspiration for many of your favorite Christmas movies. Historic, 18th-century buildings are decorated along the towns main street with a backdrop of snow-covered hillsides. There is a village with a horse-drawn wagon a production of Charles Dickens' A Christmas Carol. You can even enjoy breakfast with Santa or ride on the nearby Santa Express Christmas Train.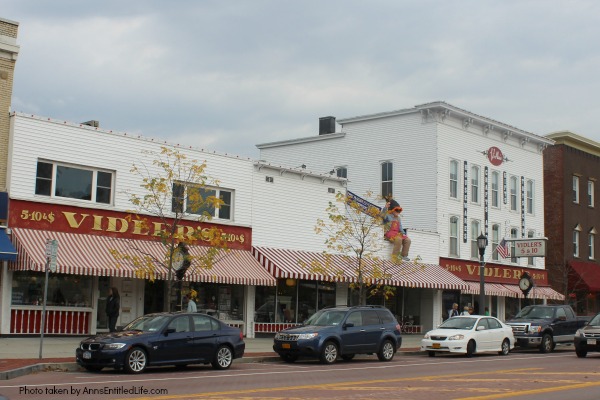 3. East Aurora
The holidays bring out an old world, nostalgic vibe of East Aurora with its light displays and decor. However, the shops here are really worth the visit during the holidays. Not only are there many fine shops throughout the town, but it is in East Aurora that you will find Vidler's 5 & 10 Variety Store, which has been called "America's Department Store" we locals simply call it "Vidler's") and takes up a good portion of a block (you can stroll store-to-store inside, and don't forget to go downstairs!). Some New Yorkers claim that Christmas Shopping is not complete without a stop here. The Village of East Aurora works hard at quaint, and oh are they successful!
4. Kingston
Is it just me or is there something extra magical about spending Christmas in a historical town? Kingston is one such town. Founded by Dutch settlers in 1652, it takes great pride in the strong Dutch traditions that have long been a part of the town's history. Kingston offers an annual Snowflake Festival. Check out the Hudson River holiday cruises, children's parade, the Polar Express Train, light displays on Santa Claus Lane and more!
5. Lake Placid
Lake Placid is a Christmas lover's paradise. Surrounded by the Adirondack mountains, a ski area, the famous Lake Placid Toboggan Chute and more, the location cannot be beat. Here you can the Lake Placid Holiday Village Stroll, go ice skating at the Olympic Center's outdoor rink, or take a sleigh ride through the snow.
6. New York City
Okay, I hate to be obvious, and it is definitely not a town, but New York City is one of the most traditional Christmas places in the country. Think about it. How many Christmas movies have you seen that feature Rockefeller Center or Central Park? There are plenty of over the top holiday destinations in the city.
7. Rhinebeck
Rhinebeck may be the smallest town on our list with a population of less than 500, however, during the holidays you would never guess it to be this size with the busy streets, popular restaurants and boutiques and the tourist-filled historic sites, such as the Beekman Arms, which is the oldest inn in America. Enjoy the Sinterklaas Festival lead by Old St. Nick himself!
8. Skaneateles
This is an amazing little town! How many of you picture a Norman Rockwell type of town when you think of the perfect Christmas town? Skaneateles is truly picture perfect for the holidays and boy oh boy does the town go out of its way to celebrate the season! Light displays throughout, horse and wagon rides, roasted chestnuts, Christmas carol sing-along. Check out the Dickens Calendar of Events!
Plus, many of the town's high-end stores are tastefully, yet elaborately decorated to suit the season (I just bought hubby a custom-made holster at a leather goods store in Skaneateles when we were there last month. They make custom leather projects for movies! Skaneateles has a lot of great shops and restaurants.)
9. Syracuse
Syracuse is a favorite of many during the holidays. Not only does it almost always have ample snowfall during the month of December, but the entire town turns into a winter wonderland during the month as well. The Lights on the Lake Festival offers many light displays to enjoy, the classic Victorian Village brings memories of Christmas past, you can enjoy seeing elaborately decorated gingerbread houses, listen to a beautiful holiday concert or cut down your own tree, among many other holiday activities you can enjoy.
10. Troy
In this quaint town near Albany, you will find the Annual Troy Victorian Stroll, which is a sprawling holiday festival that the town puts on every year during the holidays. The locals put on their best Dickensian (did you know that was a thing?) apparel for the full holiday festival activities, including holiday craft shopping, cocoa, carolers, food, music, and more.
If you are looking for more things to do in New York State, check out these posts:
● 15 Family Friendly Spooky Places in New York State – Halloween is a spooktacular time of year! Ghosts and goblins abound everywhere – and most especially in New York State. Spooky and fun family attractions your entire clan will love abound in this great state, so I have gotten together a list of my favorite 15 Family Friendly Spooky Places in NYS for you to visit and explore. Have a haunting good time.
● 300 Things To Do In Niagara Falls and Buffalo, NY – This is a long list of events, places, and things to do in Buffalo, and Niagara Falls, New York. This includes things to do in all of the 8 counties of Western New York. From touristy things to do, to things only locals know about, this great list of 300 Things to do in Niagara Falls and Buffalo, NY has something for everyone on it!
● Estate Wineries on Seneca Lake – Hubby and I visit a lot of New York State wineries. These are a few of the estate winery stops we made on Seneca Lake!
---
● Disclosure: the links in this post may be affiliate links.
● For more New York State Travel posts on Ann's Entitled Life, click here.
● If you enjoyed this post, be sure to sign up for the Ann's Entitled Life weekly newsletter, and never miss another article!
---