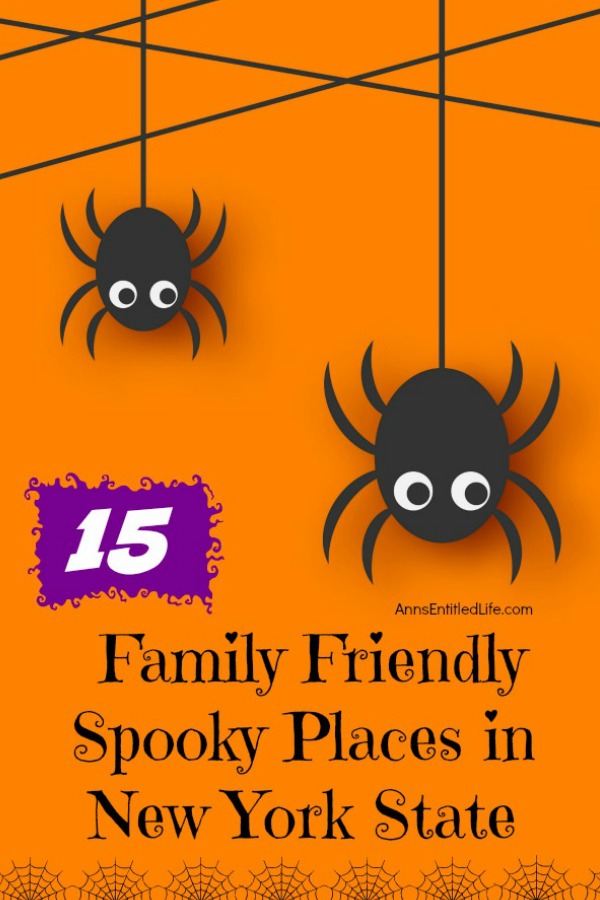 Halloween is a spooktacular time of year! Ghosts and goblins abound everywhere – and most especially in New York State. Spooky and fun family attractions your entire clan will love abound in this great state, so I have gotten together a list of my favorite 15 Family Friendly Spooky Places in NYS for you to visit and explore. Have a haunting good time.
15 Family Friendly Spooky Places in New York State
Halloween season is fast approaching. As summer gives way to cooler temps, leaves abandon their trees and stories of ghouls and goblins patrolling the night are being told over apple cider and hot cocoa. If you are in the mood for spooky Halloween sites but do not want to frighten your own little ghouls and goblins too much, here are some suggestions for Family Friendly Spooky Places in New York State!
New York State is one spooky place! Stories abound of ghouls and ghosts at Indian burial sights, haunted mansions, and early colonial spirits. Some stories are of mere hauntings, while other specter sightings are much more elaborate. This list includes those places that are spooky but may still be appropriate for children. Please use your best discretion as to what level of fright you believe that your children will be to handle – and not have nightmares.
Whether it is Halloween-themed pumpkin decorations, haunted walks or train rides, New York offers a variety of activities and attractions for families to celebrate a friendly and safe Halloween season. Stay warm and have fun trick or treating!
● Beardslee Manor & Castle – 123 Old State Rd, Little Falls, NY
Another beautifully restored home that is now a restaurant, Beardsley Manor hosts weddings and receptions – and maybe a few ghosts as well. During the 1700s, the home served as the storage depot for munitions. Stories are told of some Native American warriors who broke into the home who set off the munitions with the flames from their torches. Their spirits are now seen wandering through the dining and ballrooms. There also have been numerous reports of rainbow-colored and bright lights showing up at various places on the estate where there is no reason for those to occur. More spirits wandering perhaps?
● Explore & More's Not So Scary Halloween Spooktacular – Buffalo area
Dress your little ghosts and goblins in their favorite costumer and head to Buffalo's Explore & More Children's Museum for the Not So Scary Spooktacular Oct. 28. The two-hour event (noon-2 p.m.) features indoor trick or treating, games, and activities.
300 Gleed Ave, East Aurora, NY 14052
● Ghosts of NYC Walking Tours – New York, New York
There are a multitude of places that are haunted or having spooky connotations in New York City. The best way to see them is on a walking tour. Each tour covers less than a mile of walking and takes about 90 minutes. There are ghost tours, tours celebrating Edgar Allen Poe, and even George Washington.
● Great Jack O'Lantern Blaze – Croton-On-Hudson
You may not see the Headless Horseman, but you'll encounter lots of carved pumpkin faces at the Great Jack O'Lantern Blaze. Located an hour's drive north of New York City, the Hudson Valley is home to about 7,000 decorated jack-o-lanterns waiting to entertain your family. The Great Jack O'Lantern Blaze invites your family to tour the pumpkins, including light shows choreographed to music. Pumpkins feature a variety of displays, each designed to entertain visitors. The event runs nightly Oct. 4-31, after opening the weekend of Sept. 28. It also four weekend dates in November. An added bonus – children three and younger get in for free.
● Grimsley's Gorge Haunted Walk – Oswego
Prepare for a chillingly good time for the entire family as Grimsley's Gorge hosts its annual Haunted Walk Oct. 26-28. While older kids and adults may enjoy a walk in the darkness, unaware of the fear waiting to envelop them, younger children are encouraged to visit during the day, when monster-less paths can be safely followed.
376 SW 8th St, Oswego, New York 13126
● Headless Horseman Hayrides and Haunted Houses – Ulster Park, New York
There are all kinds of opportunities for scary family fun here. There are a mile-long haystack ride and six separate haunted houses. There is also a corn maze and a walk-through adventure! There is elaborate staging in each house and there is a story to follow for each one as well.
● Kingsbury Cemetery Haunted House
Galleria of Shops, 100 Victory Highway, Painted Post, New York – The theme for this haunted house changes from year to year. This Haunted House is not recommended for children under 12, although they will not deny entry to younger children. Special "not so scary" Sunday Kids Matinee event.
● Monster Mash and Bash New York State Museum, Cultural Education Center 260 Madison Avenue, Albany, NY
2-4 p.m. 4th Floor Terrace, Free
Join the New York State Museum for the new Halloween Spooktacular filled with tricks and treats for everyone! This event will feature crafts, games, dancing, story-telling, and spooky science. Costumes are encouraged—we will have a children's costume parade at 3 pm. A special appearance by Pumpkin Head will add fun and excitement to the festivities! Come out for a Spooktacular time!
● The Old Bermuda Inn – 301 Veterans Rd West, Staten Island, New York
This is an old house that has been renovated to house a restaurant. The house is said to be haunted by the spirit of a young woman. She has been seen walking through the dining room and walking up the staircase in the main entry. Those eating have reported feeling cold breezes and pressure on their arms and shoulders.
● Old Fort Niagara – Youngstown, NY
Old Fort Niagara is famous for its many ghost stories. Encounter them firsthand as you take our Lanterns and Lore Ghost Tour. Walk the dark rooms and corridors of the French Castle and other buildings illuminated only by lantern light and hear about the headless ghost, the spectral count and the hobgoblin. Discover other more recent unexplained phenomena such as phantom soldiers and ghostly orbs.
Groups leave at 7:30 p.m. and 8:30 p.m. Tickets are $20.00 per person and must be purchased in advance by calling (716) 745-7611. Group size is limited. Tickets go on sale September 4. There will be no tickets available at the door.
● Spook Hill Newell Road, Middlesex, NY
Starting this list off with a place called "spooky hill" seems fitting. Legend has it that if you put your car in neutral at a certain spot on Newell Road in Middlesex, Native American spirits will push your car back up the hill. Drive to the top of the big hill, sit and be spooked as your car rolls backward up the hill! Here are the exact coordinates.
Note: beware as oncoming traffic will not see you.
● Smith-Ely Mansion – 39 W. Genesee St, Clyde, New York – This house has been converted into a bed and breakfast, but it is said to have multiple ghosts. The spirits of many of the former residents have been seen by locals and visitors alike. During renovations, there were so many people who stopped by to tell their stories of hauntings that one worker declined to work on the project any longer.
● Trick or Treat Train Rides – Rochester
All aboard! Ride the rails for some Halloween fun with the Rochester & Genessee Valley Railroad Museum's Trick or Treat Train Rides on Oct. 27. Children are encouraged to wear their favorite Halloween costumes as they participate in trick or treating among the museum's attractions. Ride tickets can be purchased for trips between and 2-7 p.m. Train tickets also allow time to tour the museum's displays. Families can enjoy complimentary apple cider and cookies during the event.
● USS Sullivans Canalside, Buffalo, New York – Five brothers of the U.S. family, the Sullivans, were stationed on the USS Juneau during WWII. The ship was sunk and all five brothers died. To honor the family's service, the Navy commissioned the building of the USS Sullivans. It was eventually retired and brought to Buffalo for its permanent home. George Sullivan is said to wander the decks looking for his lost brothers who were below deck when they were all killed.
● ZooBoo at Seneca Park Zoo – Rochester
Creatures that go bump in the light of day will haunt Seneca Park Zoo during ZooBoo weekends in October. Young visitors are encouraged to dress in their favorite Halloween costumes and participate in the costume contests on Oct. 13-14, 20-21, and 27-28. Visitors can meet zoo staffers wearing their favorite costumes, as well as participate in Halloween-themed games, crafts, and activities, including face painting. Tour the conservation graveyard during your visit. Participants can also take part in animal enrichment programs. ZooBoo tickets ($6.50) are in addition to the regular zoo admission for people participating in the activities. While children under two get into the zoo for free, they will need a ZooBoo ticket if parents are going to have them participate in the activities.
2222 St. Paul Street Rochester, NY 14621
● Looking for more spooktacular places to go in New York State? Here my list of Top 10 Spooky Places to Visit in New York State. Be warned, they are not for the faint of heart, and most likely not for young children.
● For more spooktacular spots to visit in New York State, check out the haunted history trail!
● 101 Non Candy Halloween Treat Ideas –
Need alternatives to candy this Halloween for school or house parties or to hand out to trick or treaters? This list of 101 Non-Candy Halloween Treat Ideas has something for everyone.
---
● For more Halloween posts on Ann's Entitled Life, click here.
● For more Travel posts on Ann's Entitled Life, click here.
● If you enjoyed this post, be sure to sign up for the Ann's Entitled Life weekly newsletter, and never miss another article!
---