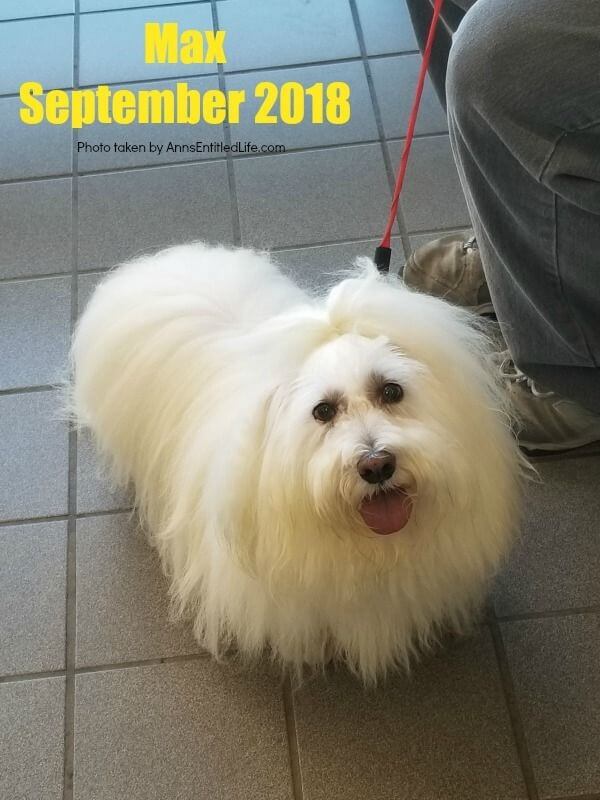 Our dog, Max, suffers from GME – Granulomatous meningoencephalomyelitis. He was diagnosed with this terrible disease in July 2014 and continues treatment to keep the symptoms at bay. GME is incurable, so managing the symptoms for a good quality of life is the best that can be done with the poor dogs with this disease.
For those of you unfamiliar with Granulomatous meningoencephalomyelitis (GME), it is a canine disease where the white blood cells attack the central nervous system. Max is well past historic long-term prognosis for this terrible disease. When he was diagnosed we were told his chances were "not leaving the hospital" – to – "up to three years".
We were back in Ithaca last week to go to Cornell for chemotherapy treatment for Max. We had five weeks in between visits this time due to a scheduling issue with his neurologist. That was fine with us because since starting chemo back in January, we needed to see if he could space out his treatments (as he did in the original protocol).
Hubby has been away a lot this summer dealing with some personal issues. Hubby is Max's favorite person in the world! A small example would be when they released Max into the room at Cornell where we were waiting to pick Max up last week, he saw me and made a beeline straight towards me… until he saw Hubby to my left. Then it was a hard turn, plus swishy tail, and a bunch of noise indicating how happy he was to see Hubby. I am chopped liver when Hubby is in the room (well, not a good analogy because Max would probably investigate the chopped liver before me).
Why do I mention this?
Max was circling a lot this past month.
A whole lot.
Now, Max will circle more when he is tired or anxious. We had hoped that it was because he was missing Hubby this was feeding his anxiety causing him to circle more, and less of a GME increase. (Circling is one of the main GME symptom.) I could still call him out of the circling, but such a major increase in circling is worrisome.
At PT two weeks ago, the PT noticed he was tight and showing pain across his neck and shoulder areas. We know this may also be a GME symptom.
His neurologist agreed that is possible to explain away the increased circling as being due to anxiety. However, the increased neck and shoulder pain is most likely GME related. With that in mind, Max is now back to an every four weeks schedule for chemo.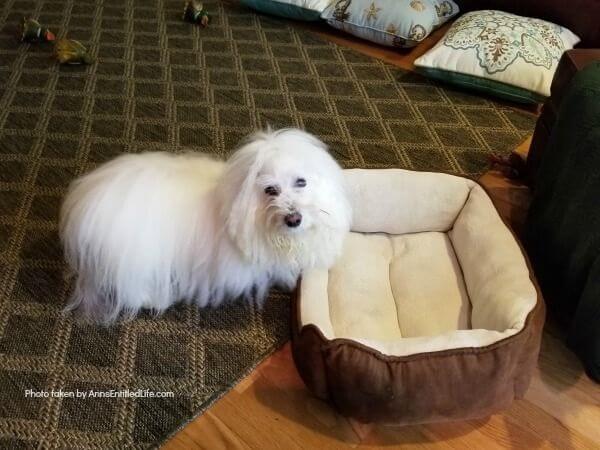 The world is Max's playground – or at least the family room is.
Other news… back in February we were told that there were four dogs at Cornell who had currently survived 3 years after a GME diagnosis. After some back and forth with his neurologist, we found out that the only surving dog over the three-year diagnosis mark that they still have at Cornell is Max. And at four years – let's just say he's beat some very, very long odds.
On to the sonogram results!
Last month we did not speak to his neurologist. Normally we drop Max off the evening before chemo (it is a 3 hours drive from our home to Cornell). IF they can get his bloodwork done (the lab closes at 5) he can start chemo right away. If he starts chemo right away (so within an hour or two of drop-off), he is done by the next morning, they get the sonogram in, and we can bring him home later the next day. In the normal course of things though, we drop-off, they draw blood, results are returned first thing in the morning, chemo starts, they unhook him for a sonogram, re-hook him, and we pick him up the following day.
Why the story? Max's gallbladder had gotten smaller again last month (YAY!). There appeared to be more sludge in the gallbladder (BOO!), but the student we spoke to did not know if that meant more sludge in the gallbladder, or the same amount of sludge that was condensed in a smaller space, so it looked like more volume. This month, when we spoke to Dr. Stephan she confirmed the later – same amount of sludge in a smaller space. His gallbladder did not get any smaller this month.
After two months of "perfect" liver numbers (which were a shock!), his liver numbers were "slightly elevated" this month. The liver and gallbladder are always something to watch closely.
If you are interested in the medications Max is currently taking, click here. They did not change this month.
So, we head back to Cornell in four weeks for more chemotherapy. Max is continuing to beat some very long odds. This little guy is truly a tough one.
---
Previous Max posts (read in order from the bottom up to follow his whole story):
● Chemo Round 8 for Max
● FOUR YEARS!!
● Chemo Round 6 For Max
● Chemo Round 5 For Max
● Chemo Round 4 For Max
● Chemo Round 2 For Max
● Max is Back to Chemo for His GME
● Max Had a Relapse
● Mr. Max April 2016 Update
● Max March 2016 Update
● Mr. Max Post Cornell Visit Information
● Max's Latest GME Update
● Max's GME Update, One Year Later
● Max's GME Update, Month 11
● Max's GME Update
● An Update on Mr Max, March 2015
● Updating Max's GME
● An Update On Mr. Max
● Last 2014 Trip To Cornell For Max
● Back To Cornell
● Max's First Cornell Follow-up Visit
● Max Exercises More Than I Do!
● Updating the Mr. Max Situation
● A Mr. Max Update
● Mr. Max, Mr. Max, Mr. Max
● It's A Mr. Max Post!
---
● Disclosure the links in this post may be affiliate links.
● If you enjoyed this post, be sure to sign up for the Ann's Entitled Life weekly newsletter, and never miss another article!
---