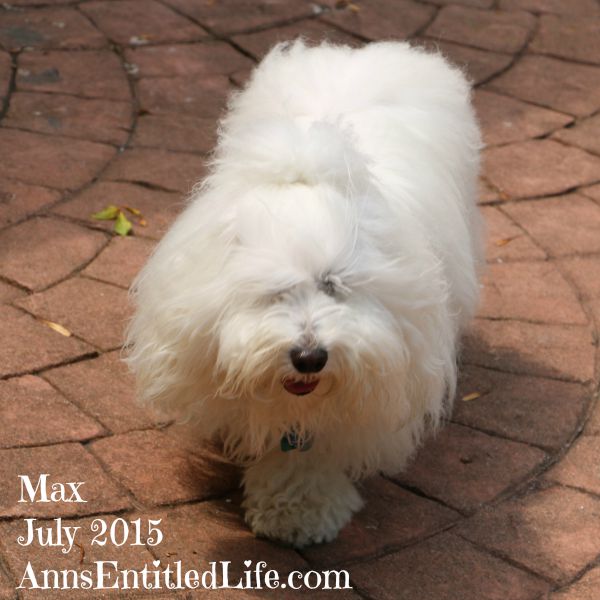 In July of 2014 Max, our (now) seven year old Coton de Tulear was diagnosed with GME. I've written about his progress extensively, here and here and here and here and here. This is the original post where I detailed the trail to diagnoses and recovery.
After Max's last chemo treatment September 1st, we had a follow up visit scheduled for Cornell in 5 weeks. We went to Cornell last Monday – leaving at 7am for the drive, arriving at 10:30am. As always, we were taken in right away when we showed up at Cornell even though we were half an hour early.
Max had a neurological exam from Dr. Slanina, his neurologist at Cornell.
Right now, all is well. As of right now, Max is done with chemotherapy. He will be weened slowly off the cyclosporine oral and Prednisone, eventually staying on a low dose of the Prednisone. This is different than what was decided last April, and I am not sure how I feel about that. His weight is down to 15#, but he really should be a pound lighter. Still, he is now seven years old and we all gain a little but of weight as we age. *cough* I guess whatever it takes to keep the little guy happy and healthy.
We were given the ok to go ahead and schedule a teeth cleaning, and Max has a small growth on his leg that will be taken care of at the same time. He did have a rabies titer test, and we should have results next week. Max cannot have any shots as the whole idea is to suppress his immune system, not ramp it up (so no kennel cough either). We will receive a sheet (of some sort) that he is exempt from a rabies shot (because he is immune from rabies) assuming the test comes back showing this, and he will be licensed with that.
No blood test schedule was given, just a "call us in two months" (for the ween schedule). Max is scheduled to be checked out again at Cornell next April after we return from Florida.
On the way back home from Cornell, Hubby and I stopped and bought a couple of cases of wine at Kings Garden Vineyards, and we stopped and bought some Red Jacket Apple Juice at their farmstand store (this stuff is soooooo good!). We did this as a day trip, and all I have to say is man are we OLD!
Honestly, we are at a place that is much better than I would have ever thought last July 4th! I never expected Max to live after that week, and with all the changes to his personality the first 6 months into the disease, I never expected the little booger to be back to his typical-Max-ways (I gotta admit I miss the listening skills that were present during the early part of his recovery). It has been a long road. Between the chemo, the meds, the rehab, the various doctors we have gone to here and in Florida and the mental and physical toll on Max (the mental toll on us has not been insignificant), I have to say that while I am happy with the results, and happy Mr. Max is back to his funny, quirky, autocratic, PITA ways, this has not been an easy journey. GME is a sucky disease. It robs many a dog of their lives. Many an owner loses their best canine friend. And while I am glad Max is better, if someone asked me if I would do it all again …. well, let's just say I will not be able to answer that until we see his quality, and longevity, of life afterward.
For now, Max is doing very well. And we are very grateful.
---
Previous Max posts (read in order from the bottom up):
● Max's Latest GME Update
● Max's GME Update, One Year Later
● Max's GME Update, Month 11
● Max's GME Update
● An Update on Mr Max, March 2015
● Updating Max's GME
● An Update On Mr. Max
● Last 2014 Trip To Cornell For Max
● Back To Cornell
● Max's First Cornell Follow-up Visit
● Max Exercises More Than I Do!
● Updating the Mr. Max Situation
● A Mr. Max Update
● Mr. Max, Mr. Max, Mr. Max
● It's A Mr. Max Post!
---