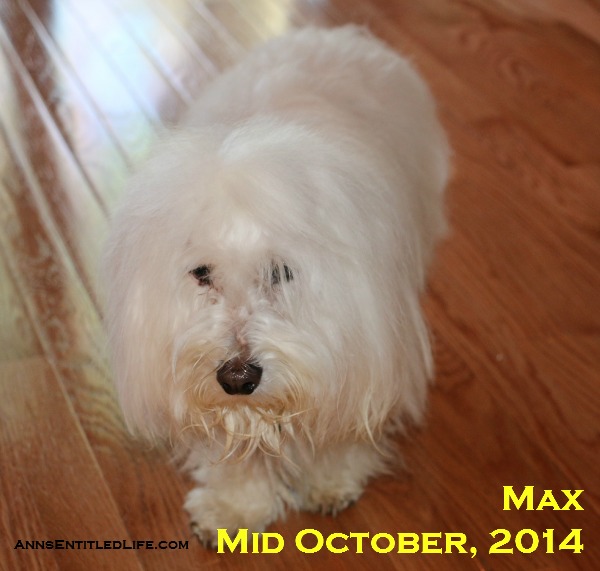 This past July, Max, our six year old Coton de Tulear was diagnosed with GME. I've written about his progress extensively, here and here and here and here. This is the original post where I detailed the trail to diagnoses and recovery.
When I lasted updated about Max, it was mid October (I gotta take a new picture of the Canine-Wonder). He was doing fairly well all things considered.
Since then, he did two more chemo treatments locally. One of the local animal hospitals (Orchard Park) was willing to administer his chemo and coordinate with the Cornell neurologist. The first session went very well except for a little after chemo nausea. He then developed a terrible pooping habit that included in the kitchen, in my car, in the living room and foyer. This was completely un-Max-like, so we asked the doc on our return in December what she thought. She felt his rectal clenching was not as tight as it should be, and Max might be suffering from some lesions on the brain that interfere with the receptors in that part of his body. He now has a droopy tail (instead of the beautiful plume he used to have), so it makes sense. Max's main vet disagrees he's loosened his clench, and since Max has not has any accidents since his last chemo (knock on wood), maybe he just has a bad session that left him… poopie?
His December session went well, except that his white blood cells were elevated after his chemo treatment. We received this news at 6pm on the 23rd, and Hubby spent a number of hours trying to find out if we should rush off to Cornell with him for treatment. The answer first came from the neurologist Max will be using in Jacksonville this month. Cornell had a discussion with the practice about Max's chemo, and had sent along all his notes, so the Jacksonville neurologist was able to answer Hubby's question. Hubby later heard from the neurologist on call at Cornell who said the same thing as the Jacksonville neurologist, only in much more detailed, medical terms.
Basically it turns out that there are "bad" white blood cells and "not bad" white blood cells, and the "not bad" white blood cells are what are elevated. I am sure Hubby will follow up this week with Max's neurologist at Cornell when she returns this week.
Max is all set for his Florida chemo appointments. He has a vet i the St Austine area so that is where the follow up blood test will be done. The number of medical record faxes that have been sent between New York and Florida is astounding!
Since Max's Prednisone was cut back in October, he has lost half a pound. He still needs to lose three more pounds, but baby steps. His hair isn't as thin either. Apparently Prednisone is a big hair-loss culprit! Hubby still got him doggie sunscreen for Florida (I think it is doggie specific) as he has a big pink line where his hair parts on his back, and we are concerned about sunburn.
He is finished with rehab for now. He goes on 4-6 walks a day when we are in Florida, so that is enough exercise. If we take him down to the beach at least once a week, that will be good balance in the sand. I just hope it is warmer than last year! It was so cold until the end of February in 2014 that the last place any of us wanted to be was on the beach.
All-in-all Max is doing fairly well. He no longer feels like he has to eat everything in sight (which helps his weight), he is stronger due to rehab, and he appears to be holding steady on his "bad" white blood cells. Hopefully 2015 brings Mr. Max more good news as he works hard on his recovery.
---
Previous Max posts:
● Last 2014 Trip To Cornell For Max
● Back To Cornell
● Max's First Cornell Follow-up Visit
● Max Exercises More Than I Do!
● Updating the Mr. Max Situation
● A Mr. Max Update
● Mr. Max, Mr. Max, Mr. Max
● It's A Mr. Max Post!
---