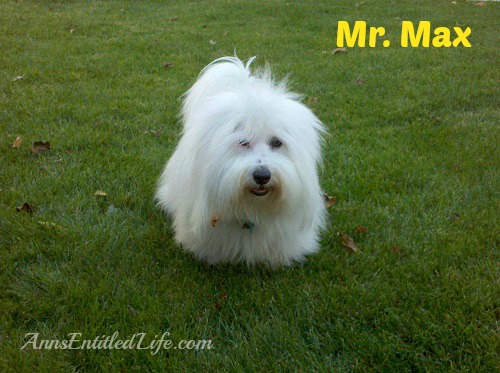 Max is our nearly-six-years-old Coton de Tulear. He is Hubby's first dog, and we have had Max since he was 8 weeks old. Mr. Max tolerates us living in his house, and actually likes Hubby!
Me? I am around to feed him, drive him around, walk him, play with him; I'm basically his personal servant.
I have written about Mr. Max's back troubles. He's the classic shape for doggie back distress: long body, short legs.
On July 3rd when I went out to get the CSA, I asked Mr. Max if he wanted to go for a ride. He looked at me, and flopped to his bed. A sign he was either tired (he'd been to the groomer the day before), or not feeling well.
He began arching his back later that night – a "sure" sign he was having back pain. We started his meds (RIMADYL and a muscle relaxer). By Friday morning, July 4th, we were concerned enough to take him to the pet emergency room.
The vet at the pet emergency room did a physical exam, he did yelp at the spine exam, and gave him a shot of RIMADYL, a few other shots and prescribed Gabapentin to help with any nerve pain.
Max didn't improve that weekend. Instead, he started to have trouble walking. He'd take a few steps and fall. Hubby described it as the two-part-fire-engine rounding the corner; one part was off from the other. Hubby took a video of his walking Sunday, and Max wasn't doing well at all. We took him for a walk in his stroller (which he thoroughly enjoyed), and decided that with no overnight improvement, we'd be at his vet's door in the morning.
At 7:30am on July 7th, we were indeed at Max's vet's door. They did an exam, and were concerned he's ruptured a disc. He had all the classic signs. They kept him for the day, and in late afternoon we picked him up and took him over to the veterinary surgeon's office for back surgery.
While at the surgical vet's, he had a myelogram and a spinal tap. This was done to confirm there was a rupture, and if so, where, and to make certain he didn't have any masses growing.
The myelogram came back clear, and he did not have back surgery, so we awaited the results of the spinal tap. When those came back, they showed irregularities… a very high white blood count, and blood where there should only be fluid.
The dog we picked up Wednesday in no way resembled the dog we dropped off Monday. Hubby described him as catatonic. We later learned the doggie-term is stuporous for how he looked.
Max couldn't motorize at all. He sat and span in circles. Constantly circling to the right, head tilting to the right, and whining, whining, whining. We later learned he was blind. He couldn't eat. He could find the water, but his head tilted so severely to the right, and he couldn't manage the bowl without help.
When we left the surgeon's office, he recommended an internist for Max stating that he (the surgeon) thought Max had GME based on the results of the spinal tap, and the clear myelogram. When Hubby mentioned a neurologist, that was poo-pooed.
An appointment with an internist was going to take two weeks. Max didn't have two weeks, he was that bad off. A back-door way to get a pet in to see a specialist is through an emergency room visit. So, the next morning we made an appointment with the Orchard Park Veterinary Medical Center. Hubby didn't think that was the right move. He wanted a neurologist for Max. Hubby had also been pushing for an MRI since the myelogram came back clear, because after the surgical vet mentioned GME, Hubby was in research mode for the correct course of treatment.
When we went to Orchard Park Veterinary Medical Center, Stacy Dralle, DVM checked Max out. When she came back with the estimate, we hesitated. I explained that we were leaning toward going to Cornell. You see there are approximately 200 board certified Pet Neurologists in the United States, and Cornell has 4-5 of them at any given time. Hubby went to Cornell and knew that Cornell was the #1 place in the United States to take your pet for care.
Dr. Dralle looked at us and said, "If you can get him to Cornell, take him to Cornell." She offered to facilitate that by calling and faxing over his records and a copy of his myelogram.
We are very grateful to her.
We packed a bag, put Max in his crate and made the three hour trip down to Ithaca on Thursday afternoon. They immediately took him in at emergency, and gave him an exam, and the emergency room vet recommended he be seen by a neurologist.
The next morning Max had an MRI. The results showed pressure, fluid and lesions on his brain. As I understood it, a lesion is a term for anything from a slight anomaly to a mass. We were told he was blind (and that his sight may never come back), that he has Granulomatous meningoencephalitis (GME), and that he may/may not respond to drugs.
I don't have the list of drugs they gave him (and continue to give him). He was on a drip of arabinoside (I think) for 20 hours. This was going to do the most immediate good if he responded. He was also given a steroid. There were several other drugs in the mix.
We last saw him Saturday morning. He seemed even worse to us. He did calm down when we petted him (with gloves on as the one drug in the drip is a type of chemo drug), he did not recognize us, he could not see. However, when the resident assigned to him set him down, he did (awkwardly) stand.
Hubby and I went home Saturday. We were assured that he wasn't in pain. I specifically asked, "Are we torturing him?" and the response was, "No, you are giving him a chance."
To say we were devastated is an understatement. Yes, I get he is "only a dog", but he is our dog. Mr. Max is a funny, quirky, autocratic, PITA, and we love him. We truly would do anything for him short of making him suffer. We left with him on a code red (do not resuscitate).
Our Saturday evening phone call from Cornell offered no hope. There was no change in Max. Hubby and I were mentally preparing ourselves for Max to be among the 33% of GME patients that sought treatment to not respond to treatment.
On Sunday morning, the 8am call came in from Cornell.
I started to cry.
Mr. Max had regained his sight!! His back motor function had improved, and he was showing awareness. Just 12 hours earlier all seemed lost and now we had some hope!
Dr. Slanina (his neurologist at Cornell) cautioned us that "He's not out of the woods yet", but did concede that these were all very good signs.
Sunday evening's call brought news that Max "picked a spot" and urinated on his own. This was an improvement as he has been incontinent since we brought him home from the surgical vet on Wednesday. He also ate by himself. His resident (Tyler) decided to put the bowl of food down and see if Max would recognize food (he hadn't since last Sunday), and if he could feed himself (as opposed to food off the tongue depressor and Tyler hand feeding him). He did feed himself!!
This morning's call was even more hopeful. Hubby and I had planned on driving to Cornell tomorrow to visit Max and see his progress ourselves. However, Dr. Slanina expects to discharge him Wednesday, and we will just go down then and pick him up (barring any setbacks). Dr. Slanina expects him to recognize us, which is amazing. He hasn't known who we are since we picked him up at the surgical vet last Wednesday.
Even if this doesn't turn out well for Max, Cornell has been outstanding. They are a teaching hospital, and I think that helps them communicate to us (and answer Hubby's 4000 daily questions) in terms we can understand. They also have a lot of staff, so there is always someone in the room to monitor the animals. Max also has his own resident on rotation to observe him, see that he eats, walks him, etc.
It is still a long, long road for Mr. Max. He will need to recover more (if he can). We will receive a physical therapy packet and a lot of instructions at pickup. We don't know when (if) he will be able to walk again on 4 legs (Hubby bought him a doggie "wheel-chair" already). We don't know how long he can survive on his GME cocktail. If he doesn't relapse, up to 3 years is what Hubby told me (Hubby has done more research than you can imagine the last 5 days). That is definitely a question for the doctors. I do know that every day we get with Mr. Max is a bonus. He's may only be 13 pounds, but he's clearly a fighter, and I suspect that is 13 pounds of pure heart.
To those of you who have been following this saga on facebook, I thank you for your words of encouragement and your support.
---
Previous Max posts:
● Mr. Max, Mr. Max, Mr. Max
● It's A Mr. Max Post!
---