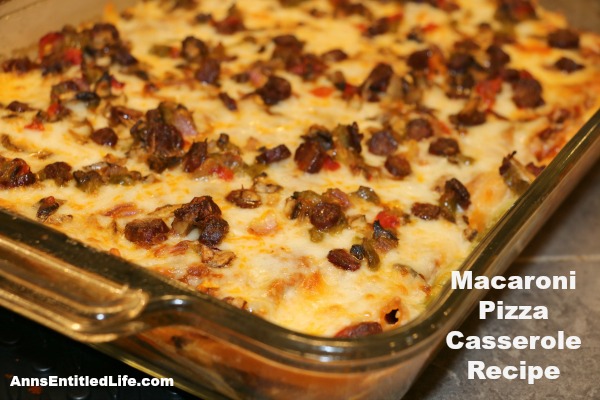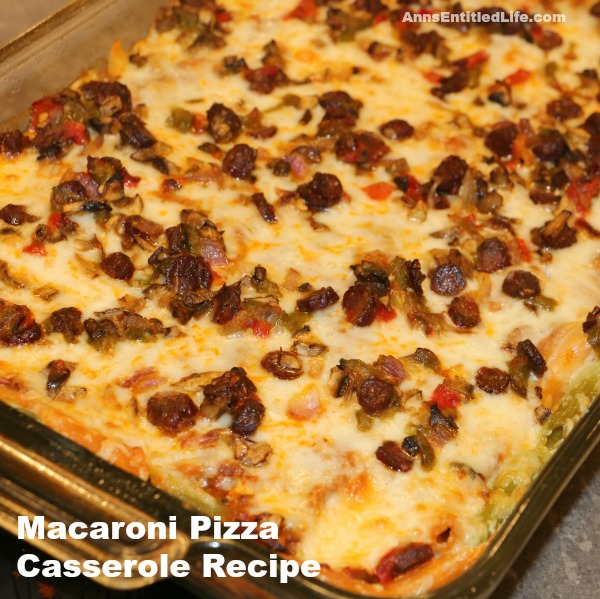 Macaroni Pizza Casserole Recipe
By Ann
This baked Macaroni Pizza Casserole Recipe is an easy to make, crowd-pleasing pizza-tasting casserole that is the ultimate in comfort food. Your whole family will love it!
Prep Time: 20 minutes
Cook time: 30 minutes
Ingredients:
• 1½ cups Macaroni (elbows, rigatoni, any type of macaroni except long noodles or spaghetti types)
• ½ lb Italian Sausage, diced
• 1 medium Onion, chopped
• 3 cloves Garlic, minced
• 1 Green Pepper, diced
• 2 cups Fresh Mushrooms, diced
• 16oz Pasta Sauce
• 1 tsp Dried Oregano
• 2 Eggs, beaten
• ¼ cup Grated Parmesan Cheese
• 1 cup Grated Mozzarella Cheese
Directions:

• Preheat oven to 350°.
• Grease a 13″x9″ casserole dish with a non-stick spray; set aside.
• Cook macaroni until just tender, drain well.
• In a large pan on the stove over a medium heat, sauté until brown sausage, onion, garlic, green pepper and mushrooms; drain off any fat.
• Remove one cup of the meat and vegetable mixture, reserve for later.
• Stir pasta sauce and oregano into the meat mixture left in the pan; simmer for 5 minutes.
• Combine macaroni, beaten eggs and Parmesan cheese.
• Cover the bottom of your greased 13″x9″ pan with the macaroni mixture.
• Spoon the meat sauce mixture from the pan on the stove evenly over the macaroni mixture.
• Top with mozzarella, and then the reserved cup of meat and vegetable mixture.
• Bake in a preheated 350° oven for 25-30 minutes until cheese is lightly browned.
• Remove Macaroni Pizza Casserole from the oven and allow to stand for 10 minutes before serving.
• Refrigerate leftovers.
• Note: you can vary the toppings if so desired.
Makes 12 servings Macaroni Pizza Casserole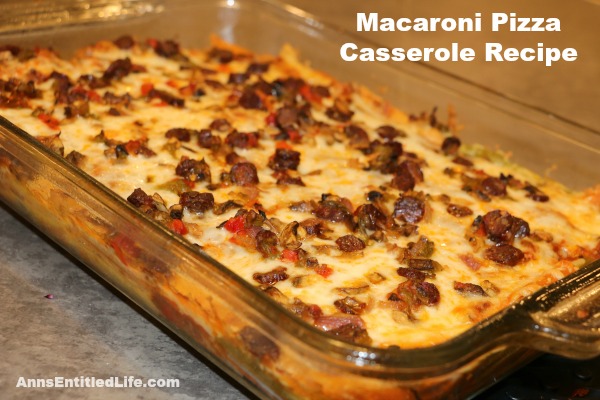 Hubby was telling me about this awesome dish his mom used to make when he was a kid: Macaroni Pizza Casserole last month. He continued to talk about it for a few weeks while he asked me if I had ever heard of it (I hadn't), if I was interested in trying it (I was) and if I would cook it if he got me the recipe (I would not).
After a few weeks of whining and cajoling and getting no where with me agreeing to cook a recipe I had never heard of nor concocted myself, Hubby finally broke down and made the Macaroni Pizza Casserole himself.
It was fabulous! He's welcome to make this Macaroni Pizza Casserole anytime! Heck, I may even make it myself next time. It does taste like a pizza! It holds up quite well in the fridge, and like so many pasta dishes, actually improved the next day.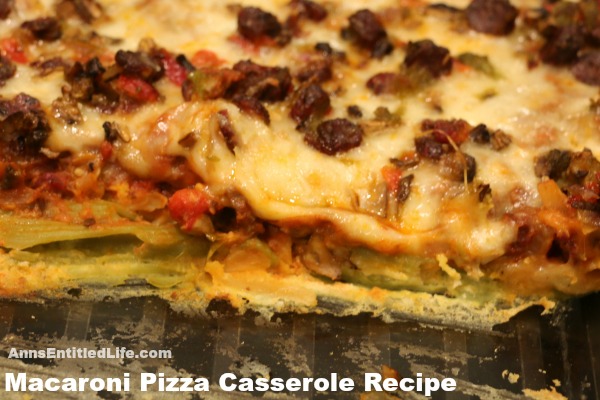 That is a cut-away view in the pan. It serves up easily out of the pan using a spatula.
Note: Hubby used gluten free noddles, but regular noodles will work just fine. His mom used regular elbow noodles when he was growing up.
• To print the Macaroni Pizza Casserole Recipe, click here.
---
• If you enjoyed this post, be sure to sign up for the Ann's Entitled Life weekly newsletter, and never miss another article!
• For more Recipes on Ann's Entitled Life, click here.
---
---
FOLLOW US ON: