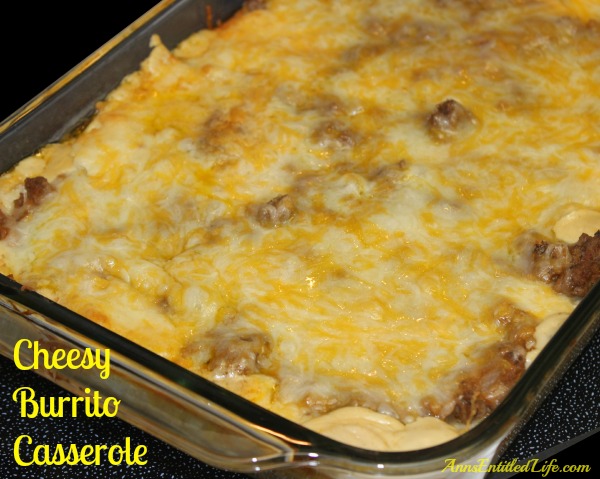 Cheesy Burrito Casserole
By Ann
A classic Mexican-American dish transformed into an easy to make casserole. Your entire family will love the cheesy, beefy goodness that is this Cheesy Burrito Casserole.
Prep Time:15 minutes
Cook time:25 minutes
Ingredients:
• 1 lb 90% Lean Ground Beef
• 1/2 Medium Onion, diced small
• 1 package (1.25oz) Taco Seasoning
• 6 Flour Tortillas
• 1 can (16oz) Refried Beans
• 4 cups Shredded Mexican Cheese
• 1 can (10.75oz) Condensed Cream of Mushroom Soup
• 6 oz Sour Cream
Directions:

• Preheat oven to 350°.
• Brown ground beef and diced onions over medium heat in a large pan.
• Add taco seasoning and stir in refried beans.
• Mix together mushroom soup and sour cream in a bowl.
• Spread half the sour cream mixture on the bottom of a 13″ x 9″ casserole dish.
• Tear 3 flour tortillas into medium size pieces, and place them over the sour cream mixture.
• Spread half the beef mixture over the tortillas.
• Layer 2 cups of shredded Mexican cheese over the beef mixture.
• Repeat the layers.
• Bake uncovered in a preheated 350° oven for 25 minutes.
• Remove casserole from the oven and allow to set 5-7 minutes before serving.
• Optional: top with salsa or hot sauce.
Makes 8 servings of Cheesy Burrito Casserole
• To print the Banana Cream Cones recipe click here.
---
• For more Recipes on Ann's Entitled Life, click here.
• If you enjoyed this post, be sure to sign up for the Ann's Entitled Life weekly newsletter, and never miss another article!
---
---
FOLLOW US ON: