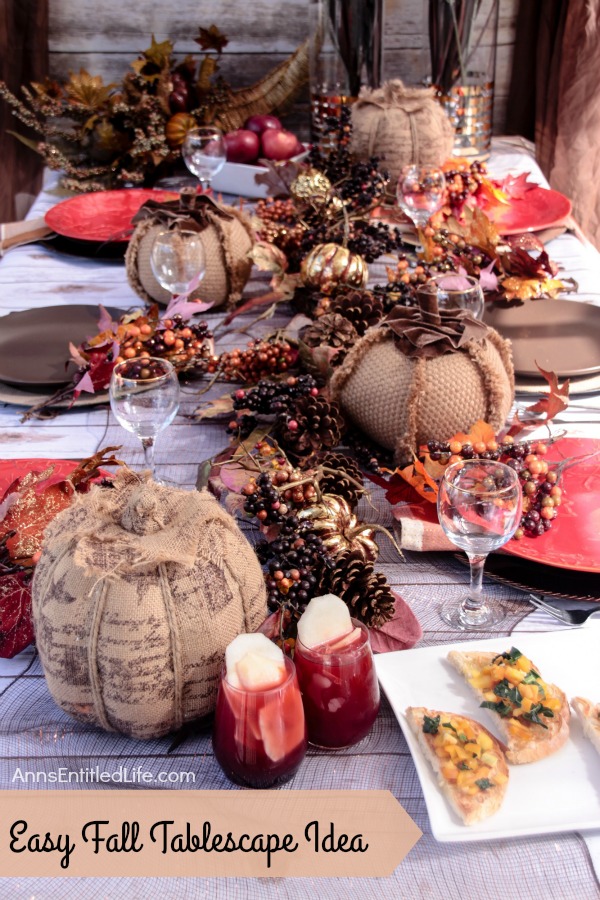 Looking to dress up your table for Fall and Thanksgiving. It is time to change out the decor around your house to all things Fall! Do you have plans to decorate your house this Autumn? Or maybe you're hosting a Fall Dinner or having friends and family over for a Thanksgiving celebration? If you would like some tips on how to decorate your table for Fall or Thanksgiving, I have a beautiful and easy Fall Tablescape Idea for you (note the source list below):
Easy Fall Tablescape Idea Supplies and Resources
Note: this is a setting for six. Adjust according to your specific needs!
This tablescape makes great use of the colors of the season: brown, orange, yellow, red, green and even purple! Gold and bronze (warm) are chosen over silver (cool).
● 6 Brown Chargers

● 4 Orange Plates

● 2 Brown Plates

● Assorted Fall Decor: pumpkins, leaves, pine cones, berries, etc from Hobby Lobby, Joann or Michaels
● 6 Silverware Settings
● 6 Fall Napkins (cloth)

● 6 Clear Glasses with Gold Rims
● Faux Wood Paper order here (instead of a tablecloth)

● Brown Mesh Fabric (order here Joann's or Michaels)
● Fall Garland (Gget more ideas here
or try your local Hobby Lobby)
● 4 Plush or Velvet Pumpkins (order here)
Easy Fall Tablescape Idea Directions
● Roll out the Faux Wood Paper
across your table. You could also substitute this for a tablecloth.
● Roll out the Brown Mesh Fabric on top of the Faux Wood Paper.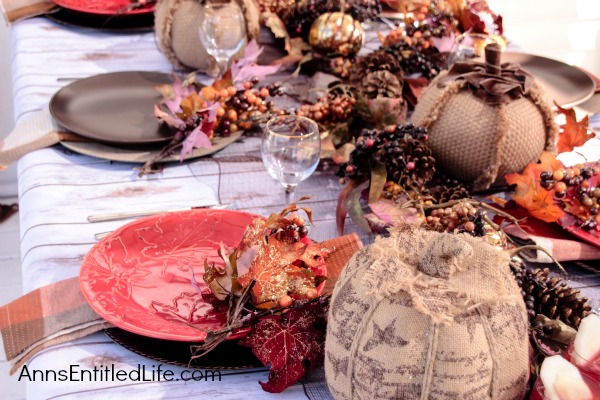 ● Set Six Table Settings: Start with the brown chargers. Add a dinner plate on top of each. If you are setting up your table so everyone sits across from one another, place the brown plates in the middle to break things up. If you are setting "heads" at the top and bottom of the table, set the brown plates there.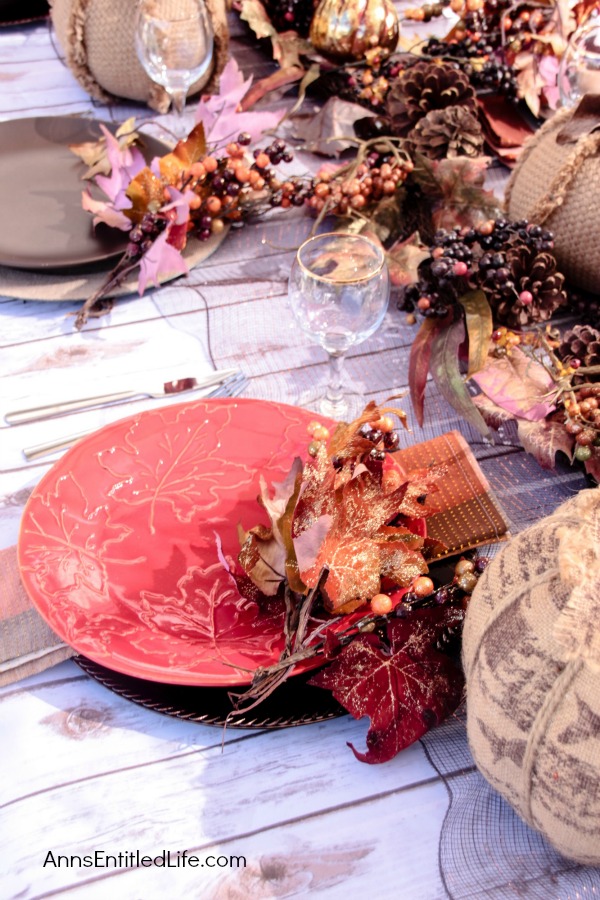 ● Set your silverware forks on top of the napkin on your left, or place your napkin between the charge and dinner plate draping forward and above, and place your forks to the left on top of the Faux Wood Paper. Set your spoons and knives to the right. Alternatively, you can wrap your silverware inside your napkin (closing with a napkin ring if desired), and place on top of your place settings.
● Add your glasses. If you are offering wine as well as a cold beverage and/or water, you will need an extra set of glasses appropriate for those beverages.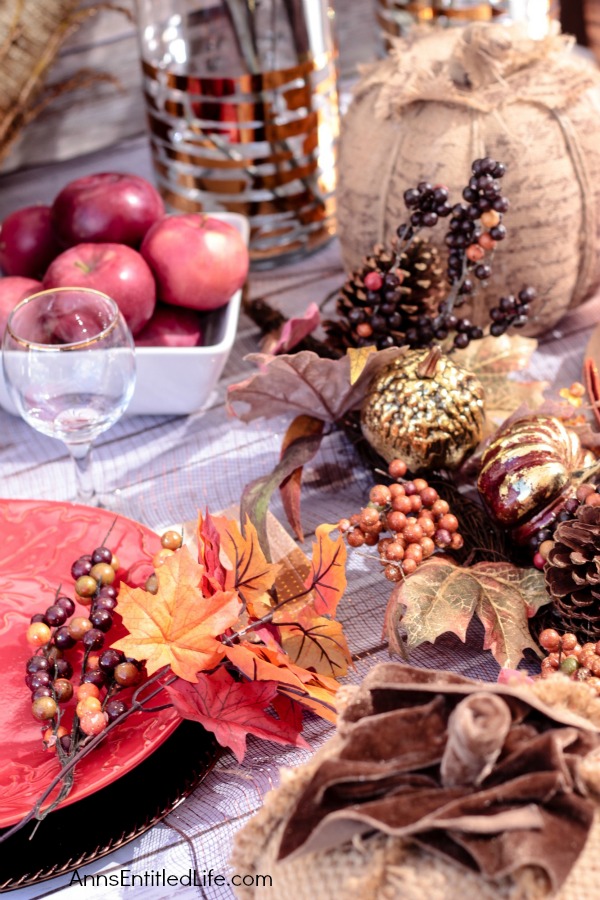 ● Set a small fall assortment to the right of each plate. This fall assortment is just fall colored leaves purchased at a local craft store. You could make your own assortment of Fall Colors, by picking up leaves here.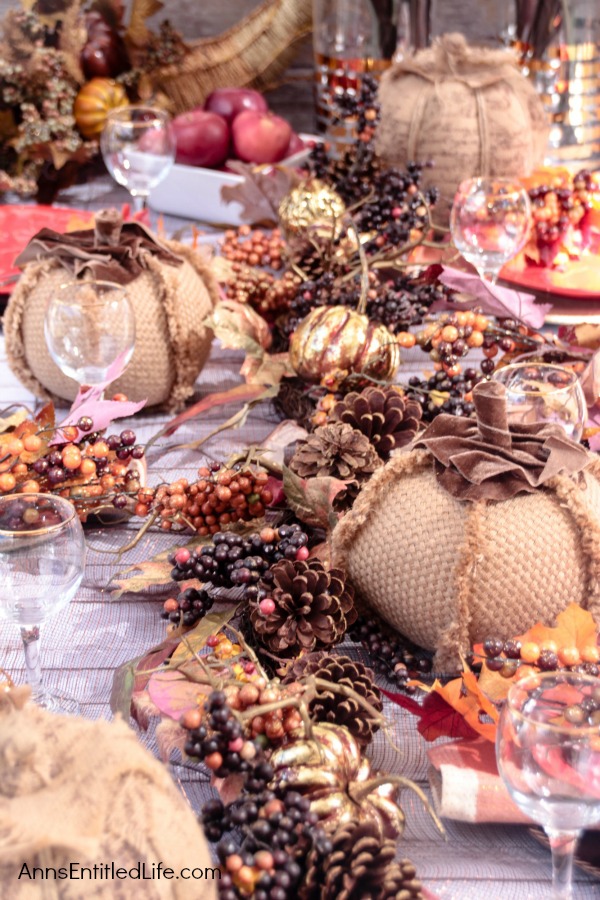 ● For the center of the table lay a fall garland across the table.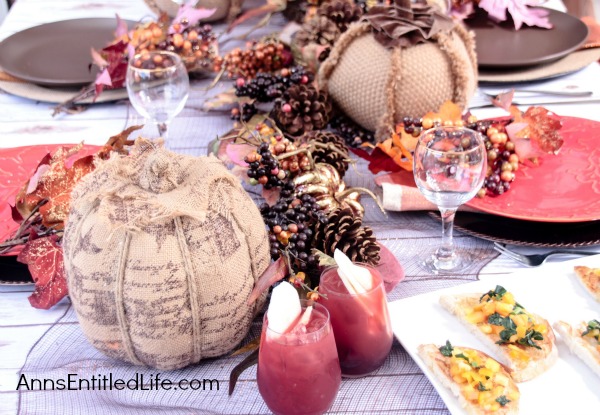 ● Plush Brown Pumpkins were placed across the table. Four were used and purchased at Hobby Lobby. You can find Velvet pumpkins here
if you cannot find pumpkin decor locally.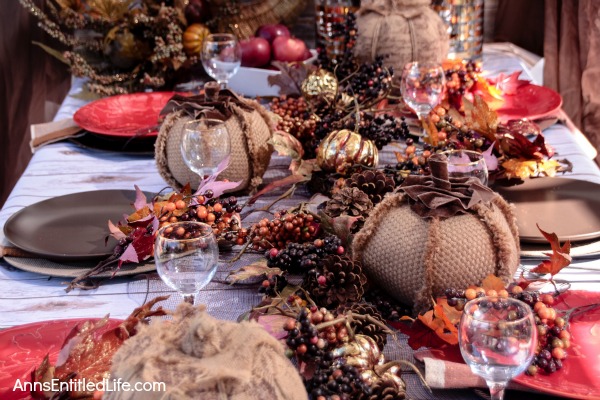 ● Complete the look by adding an assortment of Autumn related decorations around the table and as a centerpiece. In this setting, purple and brown flower assortments purchased at a craft store were placed in tall clear glasses. A horn of plenty can be set for Autumn (harvest time) through Thanksgiving. Real (or fake) apples in a Small Bowl for a pop of red color!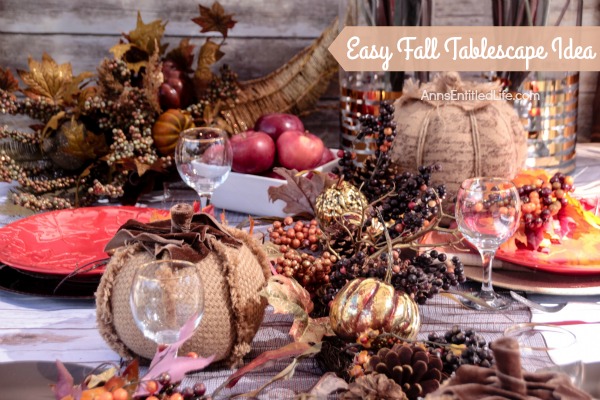 ● Adding items such as apples, pumpkins, cranberries (fake) or gourds in a small bowl, or is a great way to add color to your Fall Tablescape! You can place small pumpkins, pine cones, leaves as single items about your table. If you have a Micheals, JoAnn Fabrics, Hobby Lobby, Home Goods, Kirkland, Tuesday Morning or Pier 1 Imports, you can browse through these stores and find the items you need to replicate this look.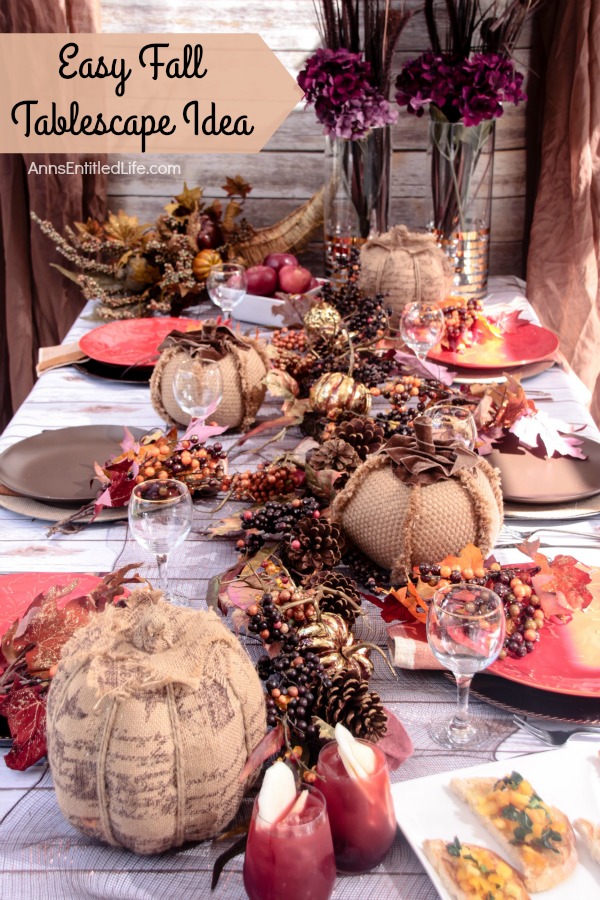 Creating a beautifully styled fall tablescape is easy and fun! Just let your imagination run wild on the autumn side of decor, and you will have a beautiful fall tablescape set up for decoration, for a party table, or to dress up Sunday dinners.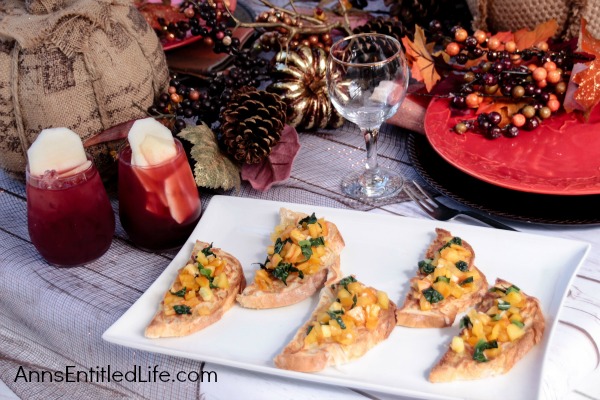 The two featured recipes shown in this tablescape:
● Autumn Punch! This is a delightful cocktail that fits perfectly in the fall and Thanksgiving season!
● Bruschetta made with Heirloom Tomatoes and Kale This bruschetta can be made anytime of the year by buying the produce from your local grocer. In the fall, take advantage of your backyard garden to mix up this delightful appetizer!
---
● Disclosure: the links in this post may be affiliate links.
● For more Holiday posts on Ann's Entitled Life, click here.
● For more Craft posts on Ann's Entitled Life, click here.
● If you enjoyed this post, be sure to sign up for the Ann's Entitled Life weekly newsletter, and never miss another article!
---