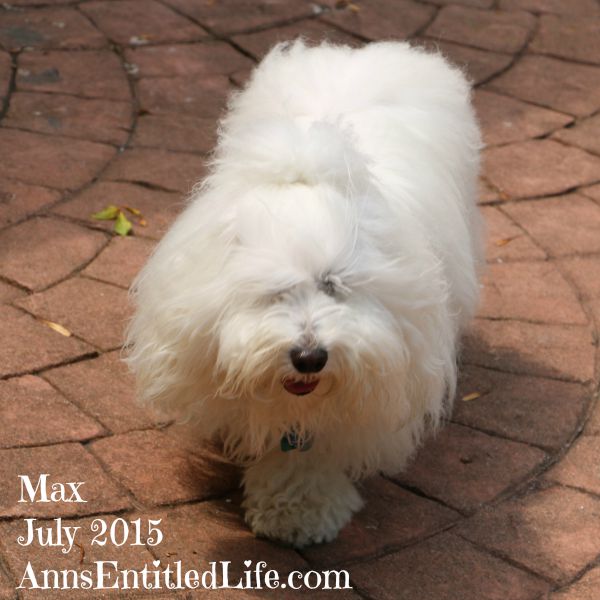 In July of 2014 Max, our six year old Coton de Tulear was diagnosed with GME. I've written about his progress extensively, here and here and here and here and here. This is the original post where I detailed the trail to diagnoses and recovery.
Max is now just past the one year mark of his Granulomatous meningoencephalitis diagnosis. He has come a long, long way in that year. He went from blind, catatonic, severely underweight, being unable to walk or basically move, with very thin hair to … Max.
He is back to playing kick the ball, his stamina is great for walking/running/playing, he hogs the bed (an amazing accomplishment for a bit over 14 pound dog in a king-sized bed!), doesn't listen unless bribed, his favorite TV shows are still westerns and Prince of Persia. In other words, he is PITA-Max from pre-GME diagnosis!
And Hubby and I couldn't be happier with that result.
As of now, Max is expected to have one more chemo treatment (bonus!), and he is still on cyclosporine oral (which we expect to be forever as I understand it) and prednisone. We are expecting (hoping) Dr. Slanina (his Cornell neurologist) will cut the prednisone again soon. Max has lost most of the weight he gained when on the "prednisone-diet" but still has one pound left to go (1.5 pounds from starting weight, but he was a tad underweight at that point). We are hoping with the next reduction in prednisone he can lose at least half a pound more. He is a much happier pooch now that he isn't extremely overweight, and I am sure his weight-loss accounts for at least some part of his improved energy levels.
While we don't know the prognosis for his life expectancy – the CycloSporine he is on was only introduced into the GME regime in 2012 so there are no clinical results with average life expectancies past the stated 3 year results of prednisone-alone treatments, we are still hopeful he will exceed that three year mark. Every day is a gift with Mr. Max, and we hope to have him around a long, long time.
---
Previous Max posts:
● Max's GME Update, Month 11
● Max's GME Update
● An Update on Mr Max, March 2015
● Updating Max's GME
● An Update On Mr. Max
● Last 2014 Trip To Cornell For Max
● Back To Cornell
● Max's First Cornell Follow-up Visit
● Max Exercises More Than I Do!
● Updating the Mr. Max Situation
● A Mr. Max Update
● Mr. Max, Mr. Max, Mr. Max
● It's A Mr. Max Post!
---