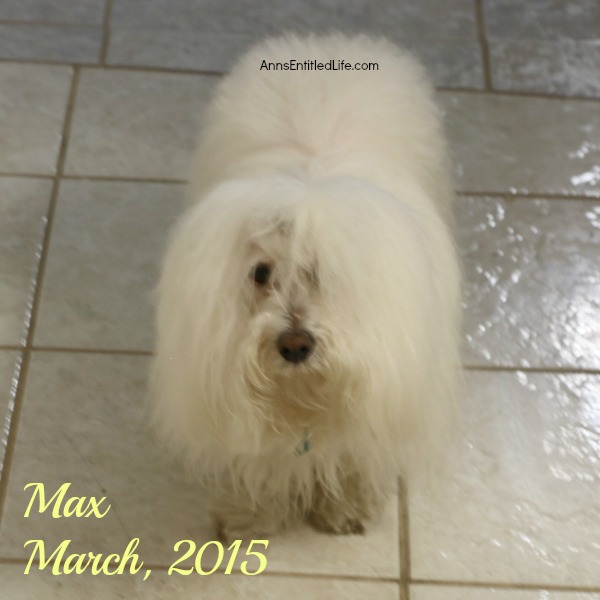 This past July, Max, our six year old Coton de Tulear was diagnosed with GME. I've written about his progress extensively, here and here and here and here and here. This is the original post where I detailed the trail to diagnoses and recovery.
February brought in pretty good news about Mr Max. Max's Prednisone was cut in half, he was able to stop taking his liver pills (YAY!!), and his chemotherapy treatment was stretched out to six weeks.
We returned to North Florida Neurology two weeks ago dreading the side effects of his series of chemo shots. The January shots brought with it diarrhea that had us all running outside all day and night for a week. Hubby and I brought Max in to the North Florida Neurology practice with some trepidation, but better prepared for the side effects the poor little guy might experience this time.
And there was nothing untoward that happened… well, except Max was very tired afterward. That we could live with.
The following week we took Max in to his local vet down here in St. Augustine, and they ran the regular blood work, as well as a liver work-up. Since he'd been off the liver pills for six weeks at that point, everyone wanted to be certain Max could tolerate his daily meds without liver damage.
The results were normal, so no more blue pills! YAY!
Since Max's Prednisone was cut in half six weeks ago, his hair has grown tremendously, he has a LOT more energy, he has better control of his back-end, and his tail is now up more than down. He is much more like old, pre GME Max (see grubby Max photo at the top of this post), which is good and bad. Bad because his listening skills have slid, and the stubborn has returned with a vengeance.
Max's next chemotherapy appointment is in April,so we decided to return home to New York State and have Dr Slanina check him out. He has not seen her since last September, so we feel it is time for him to return to Cornell so she can assess his progress. We feel she will be amazed.
Max is still a fat-boy though. This is a dog that weighed 13-13.5 pounds prior to GME and was 11 pounds when released from the hospital last July. He topped out at 18 pounds, but since the Prednisone was cut in half six weeks ago (are you sensing a theme?), he has lost a bit of weight and is now down to 17.2 pounds. His rehab vet has stated she would like to see him at 14-14.5 pounds, and his regular vet never minded him at 13.5 pounds, so he has a long way to go to get back down to those levels.
So this update includes a lot of good news again! We have no idea how long this forward progress will continue. My guess (just a guess) is the ending of the chemo in July as well as the next reduction in Prednisone will tell us a lot as to how Max will go on through the rest of his life.
---
Previous Max posts:
● Updating Max's GME
● An Update On Mr. Max
● Last 2014 Trip To Cornell For Max
● Back To Cornell
● Max's First Cornell Follow-up Visit
● Max Exercises More Than I Do!
● Updating the Mr. Max Situation
● A Mr. Max Update
● Mr. Max, Mr. Max, Mr. Max
● It's A Mr. Max Post!
---