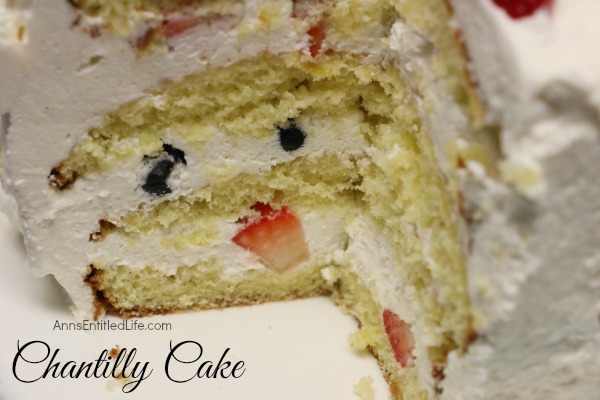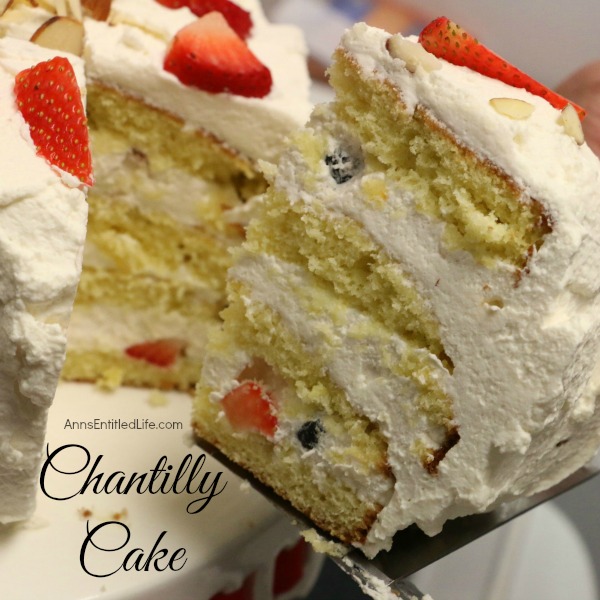 Chantilly Cake Recipe
By Ann
A very rich, dense, yet moist and sweet Chantilly Cake. Perfect for a special occasion, holiday treat, or simply an after dinner dessert, this Chantilly Cake Recipe will delight your taste buds.
Prep Time: 1 Hour
Cook time: 25 Minutes
Cake Ingredients:
● 8 Egg Yolks, large, room temperature
● 1 cup Unsalted Butter, room temperature
● ¾ cup Buttermilk, room temperature
● 2 cups Cake Flour
● 2 tsp Baking Powder
● 1½ cups White Sugar
● ½ tsp Salt
● 2 tsp Vanilla Extract
● 1 tsp Lemon Extract
● 1 TBSP Lemon Zest
Frosting and Filling Ingredients:
● 1 quart Heavy Whipping Cream
● 6 TBSP Sugar
● 4 tsp Vanilla Extract
● 1 pint Blueberries
● 1 quart Strawberries, hulled and sliced
● 2 TBSP Slivered Almonds
Directions:

● Preheat oven to 350°.
● Butter and flour two (2) 8″ baking pans. Line bottom with parchment paper; set aside.
● Sift together cake flour and baking powder; set aside.
● Using a stand mixer, beat butter until creamy, add sugar; mix until fluffy.
● Slowly add egg yolk (one at a time, use a spoon to get them from the bowl if you separate into a bowl), mix well in between each added yolk.
● Add sale, vanilla extract, lemon extract and lemon zest; beat until combined.
● Add 1/3 of cake flour mixture; mix until combined.
● Add 1/2 buttermilk; mix until smooth. Repeat until all the cake flour mixture and buttermilk are added, and batter is smooth.
● Divide batter equally into the two prepared cake pans. Bake at 350° for 20-25 minutes until an inserted cake pick comes out clean from the center.
● Remove cakes from oven and allow to sit 5 minutes. Then, turn upside down onto a smooth, plastic covered service and allow cakes to cool completely.
● Wash blueberries and strawberries. Hull and slice the strawberries. Allow both to dry. Remove 4-5 berries-worth of sliced berries for topping garnish.
● When the cakes are completely cool, slice in half horizontally.Slice one cake at a time (less to handle and possibly crack).
● Place one of the sliced cakes on the bottom of a cake plate. Prepare your frosting/filling.
● Prepare frosting/filling:
● In a cold stand-up mixer bowl, combine the heavy whipping cream, sugar and vanilla extract. Whip until peaks form.
● Remove and set aside half the whipped cream mixture to frost your cake.
● Fold in blueberries and all but a few (as noted above) strawberries into the remaining half of the whipped cream.
● Spread 1/3 of the berries and whipped cream mixture over the half cake on your cake plate.
● Place the other part of the cake on top of the berries and whipped cream mixture.
● Spread 1/3 of the berries and whipped cream mixture on top of that cake (you are layering the cake and frosting).
● Slice your second cake horizontally, place one half on top of the berries and whipped cream mixture.
● Spread 1/3 of the berries and whipped cream mixture on top of that cake.
● Place your final horizontally cut cake on top of that mixture.
● Using the other half of the whipped cream that was set aside, frost your cake completely.
● Garnish with almond slices and remaining strawberries.
● Refrigerate cake and any leftovers.
● Makes 12 servings Chantilly Cake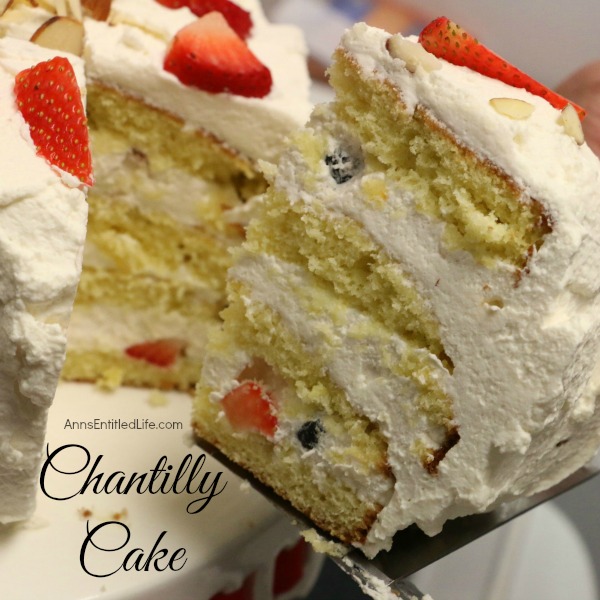 Publix was selling a Chantilly cake for twenty bucks last month, and Hubby asked if I could make one. I said, "Oh sure, no problem", and went on a hunt for a Chantilly cake recipe. It was not easy to find. I eventually found a Chantilly cake recipe that looked pretty darned close to what Publix was selling over at Imperial Sugar.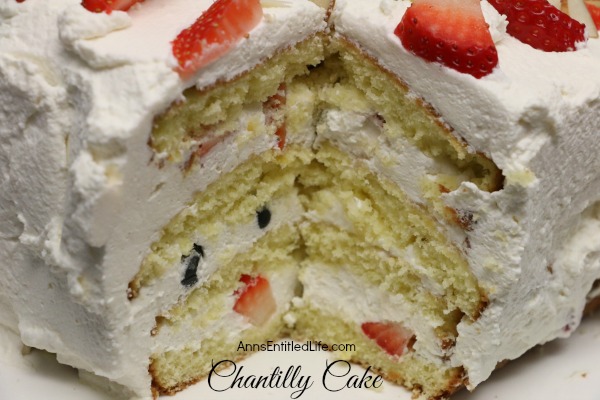 Far and away the most hilarious thing about the Imperial Sugar recipe was the frosting/filling amounts. I doubled them, and still was spreading the frosting pretty thin to cover the cake.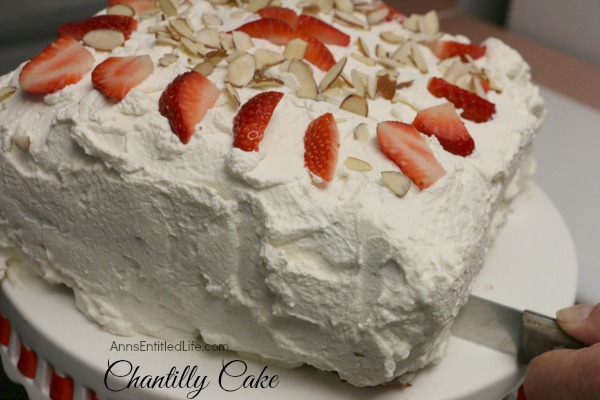 The lemon cake was great! I'd consider substituting all lemon extract instead of lemon and vanilla extract for the cake, if you like lemon and are making this cake at home. The cake and whipped cream frosting are fabulous! They do hold up for a few days in the refrigerator, the cake better than the frosting.
I have to say that while we enjoyed this Chantilly Cake thoroughly, it was a lot of money and time to make something that was available for $20 at Publix. Is the Publix cake as good? Debatable, but most would say probably not. The homemade cake is not cheap to make though, and it is time consuming. But ooooooohhhhh so good!
● To print the Chantilly Cake Recipe Recipe, click here.
---
● If you enjoyed this post, be sure to sign up for the Ann's Entitled Life weekly newsletter, and never miss another article!
● For more Recipes on Ann's Entitled Life, click here.
---