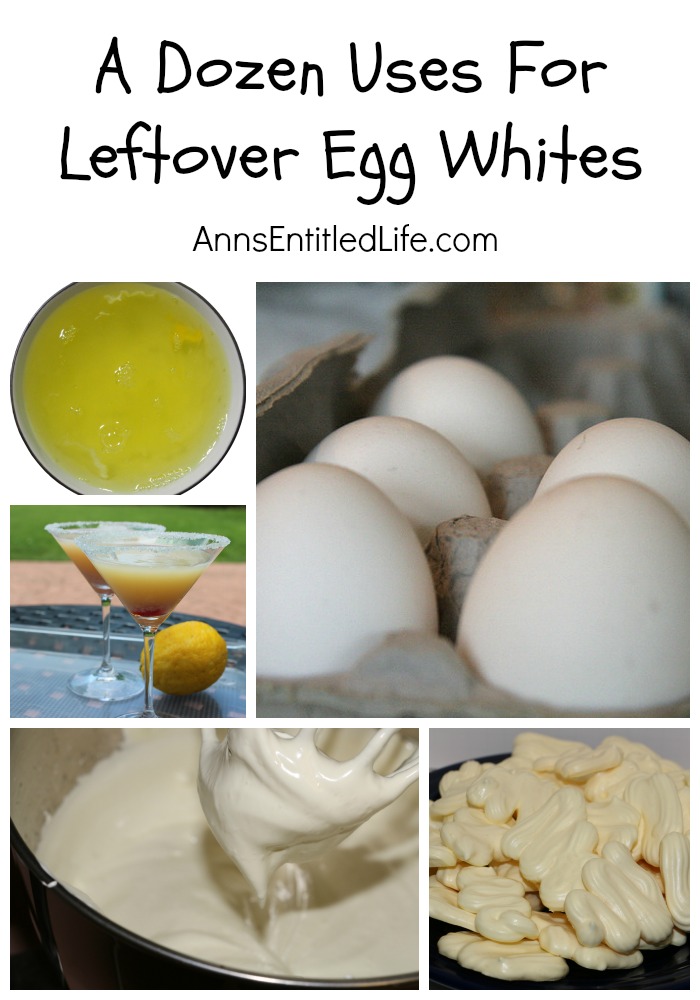 A Dozen Uses For Leftover Egg Whites
Have a lot of leftover egg whites from a baking project and don't want to throw them away? Here are a dozen amazing (and incredible) things you can do with leftover egg whites!
● You can Freeze Egg Whites to use later – use an ice cube tray to quick freeze, then store in a freezer container. Egg whites freeze very well! "Thawed egg whites will beat to better volume if you allow them to sit at room temperature for about 30 minutes. Use thawed frozen eggs only in dishes that are thoroughly cooked."
● Make Angel Food Cake! Yum! I adore angel food cake. One day I will post my recipe, but in the meantime this angel food cake recipe looks amazing!
● Lemon Meringue Cookies – A simple, sweet tart dessert!
● Homemade Marshmallow Fluff – remember back in the day when you had a peanut butter and fluff sandwich? My mom limited that lunch (can't say I blame her), but as a once in a while luncheon treat, we loved it!
● Which of course leads to marshmallows!! This recipe is not only for the marshmallows, but for S'mores
● Frosting – beautiful, white frosting for cakes and cupcakes!
● Make up some Egg White Mayonnaise – ok this one I want to try. Making your own mayo with a whole egg is simple, but just with egg whites? Must do!
● Fried Egg Whites – melt some butter in a skillet, add egg whites only, fry until the edges are crispy. Delicious! This is the only way I eat "eggs", unless it is an egg white Omelet! Which I also love.
● Cocktails!! The classic Whiskey Sour is my all time favorite drink!
● A Chocolate Soufflé Oh. My. Goodness!
● Plug a Car Radiator Leak – well, at least according to the Car Talk guys. I must admit, I wouldn't do it.
● As glue. – Medieval monks used glue made from egg whites extensively as binding material for books, and to illuminate cartouches with gold leaf. I can honestly say, I never knew that!
---
● For more Household Tips on Ann's Entitled Life, click here.
● For Recipes on Ann's Entitled Life, click here.
● Enjoy this post? Sign up for the Ann's Entitled Life FREE Weekly Newsletter to stay connected.