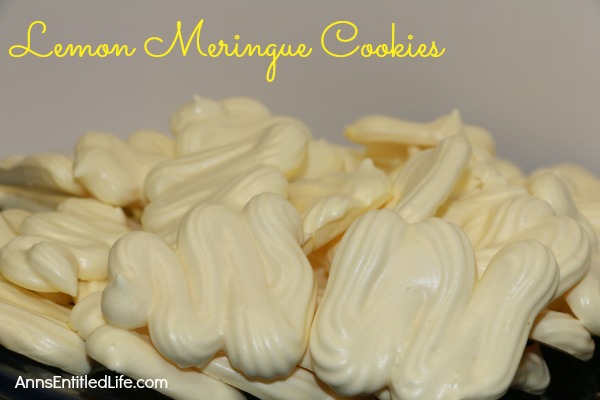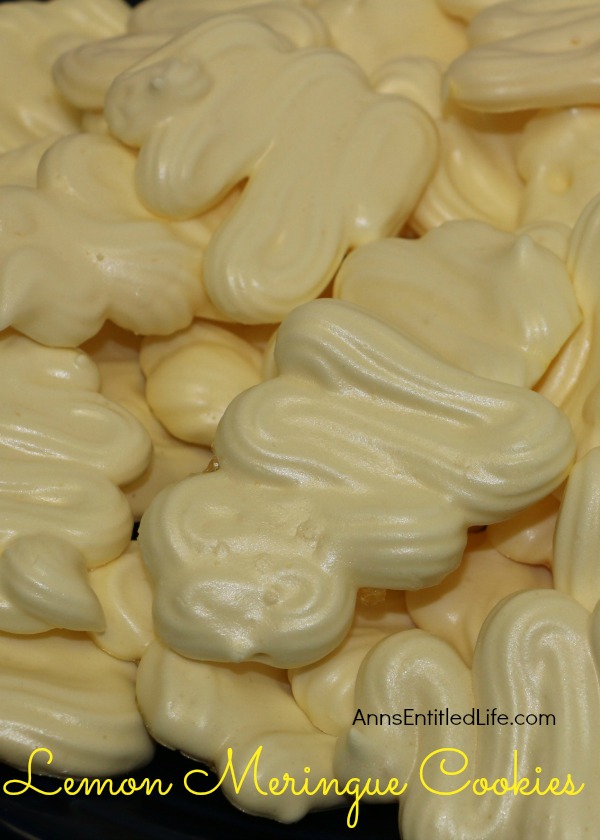 Lemon Meringue Cookies Recipe
By Ann
These Lemon Meringue Cookies are so simple to make, yet the sweet-tart flavor is complex, and very satisfying. Get the fresh, crisp, light taste of Lemon Meringue Pie in a cookie!
Prep Time: 15 Minutes
Cook time: 4 Hours
Ingredients:
● 8 large Egg Whites, at room temperature
● 2 tsp Fresh Lemon Juice
● Dash Salt
● 2 tsp Lemon Extract
● 3 drops Yellow Food Coloring
● 1½ cups White Sugar
Directions:

● Preheat oven to 175°.
● Line 2-3 cookie sheets with parchment paper.
● In a large mixing bowl, beat together the egg white, lemon juice and salt on medium speed until foamy.
● Add the lemon extract, then the 3 drops of food coloring.
● Slowly add the sugar, mix on medium until added.
● Increase your mixer speed to high, and beat until the egg whites form a stiff peak.
● Set up a large pastry bag with a star tip; fill with lemon meringue.
● Pipe the lemon meringue onto the parchment paper. Form swirls, s-shapes, dots, whatever shape you like.
● Bake cookies for 4 hours on 175° until cookies are completely dry.
● Transfer your cookies while still on the parchment paper (don't remove hot cookies from the parchment paper!) to wire racks to cool, approximately 30 minutes.
● Remove cookies from parchment paper when completely cool.
● Store in an airtight container for up to one week.
● Note: if stacking the Lemon Meringue Cookies in a container or bag, place parchment paper between stacked rows of cookies.
● Makes 72 Lemon Meringue Cookies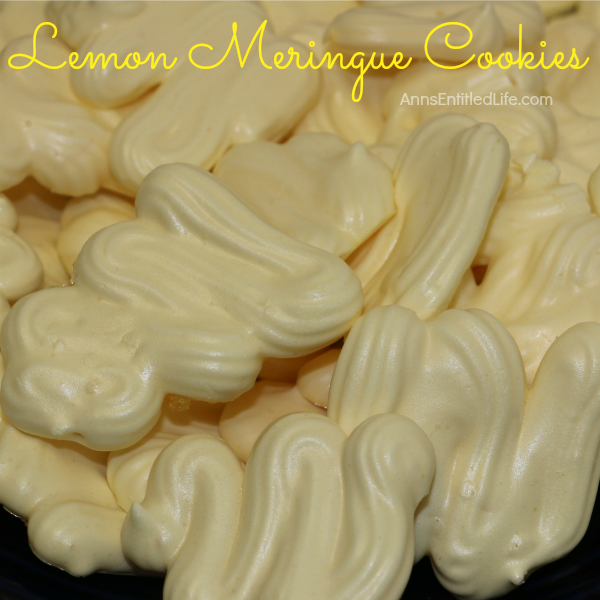 Ever wanted to make a cookie that is sophisticated, and seems like you slaved all day in the kitchen, but you really didn't? These are those cookies!
They take about 15-20 minutes to set up, then the oven takes over and dries them out. You do nothing after those first 15-20 minutes, the oven does all the work! I cannot emphasize enough how truly simple these cookies are to make.
They look snazzy due to the pastry piping, and a few drops of yellow food coloring.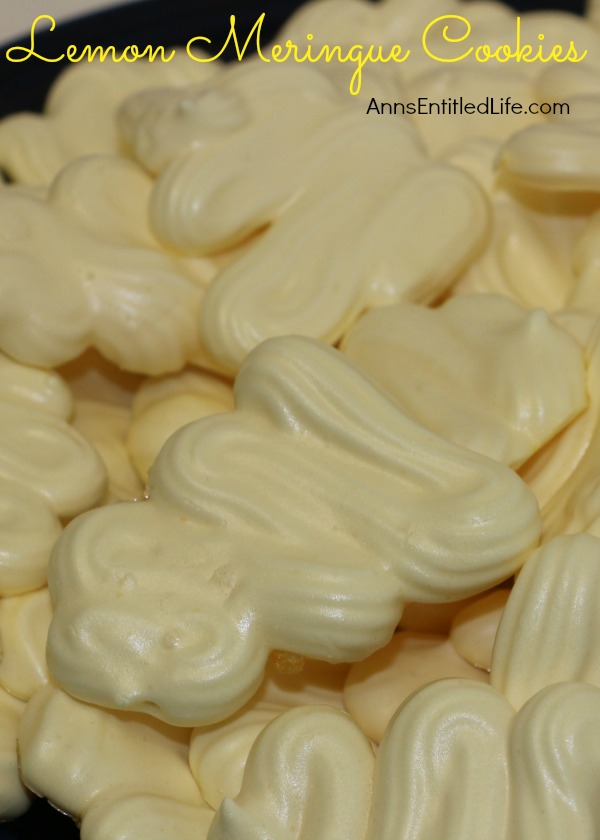 When you store them (I use a Ziploc bag), make sure you put parchment paper in between layers. You don't need it if you store as a single layer, but double or triple layers do. These are even better day 2 and 3!
● To print the Lemon Meringue Cookies Recipe, click here.
---
● If you enjoyed this post, be sure to sign up for the Ann's Entitled Life weekly newsletter, and never miss another article!
● For more Recipes on Ann's Entitled Life, click here.
---