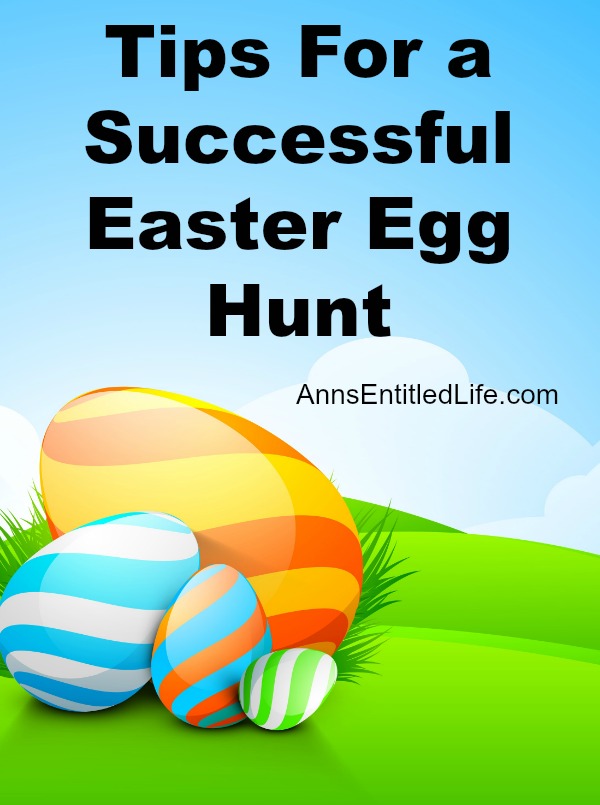 Tips For a Successful Easter Egg Hunt
Easter is fast approaching, and if you would like to have an Easter Egg hunt m- be it large or small- here are some great ideas for a fun, and successful event.
You can hide real hard-boiled eggs, the plastic eggs with items inside, or the entire basket. First, decide what it is you would like to hide. If you decide to hide hard boiled eggs, make it fun and dye the eggs first (a necessity if color coding)! If hiding plastic eggs, you may want to rethink candy inside, especially if you live in a warm climate. If you are hiding the entire Easter basket(s), make sure your children are old enough to search or play the game of clues to find those Easter Basket(s). Nothing is worse than a crying 2-year-old while the older siblings are crowing over their basket contents.
At my ex-in-laws, the Easter hunt stories are legendary (and not in a good way)! From finding a hard-boiled, colored egg months later (happened with mine one year, I swear I don't know how it wasn't found), to forgetting where the eggs were hidden (pro tip: write down ALL the hiding spots), to last-minute indoor hides (which is where my unfound egg was hidden) due to poor weather. My ex-FIL used to scratch our names into each egg while they were being dyed. We didn't get a prize, but the hunting was the "fun" part… well, at least for the grandchildren.
Check your expected weather conditions in advance to determine whether an indoor or outdoor Easter Egg Hunt is more appropriate on your planned date. And always have a contingency to move indoors if unexpected weather moves in.
When we had organized egg hunts for the kids at our church for many years, and that event was definitely weather dependent. The Easter Egg Hunt (they were always plastic eggs) moved indoors for bad weather and the Easter Egg Hunt was held outdoors when it was nice out. We also had a limit on how many eggs each child could find. I always found that older children would help the younger kids find eggs once they found a few themselves, but there was always one in the crowd that would have found a dozen if allowed.
Inside those plastic eggs were colored tickets, and the child took them over to a table where they could chose from an available prize. The prize boxes were sorted according to age and sex although since there were a fair amount if children hunting eggs, the prizes were pretty generic.
If you are hiding plastic eggs, fill them and hide the hours before the scheduled hunt. At the church, we did it the day before Easter. If there is a big difference in ages, hide eggs geared toward an age group in a different area if you have a large area to work with. If you don't have a large area (or even if you do), assign colors to age groups (or by sex). For instance, 1-3 year-olds find the green eggs, 4-6 year-olds blue eggs, 7-9 year-olds yellow eggs, etc. If your group is small, assign a color to each child. This will make it easier for a child to pick an age-appropriate prize (which you have presorted!).
Make it easier for small children to find their eggs or basket than it is for a 10-year-old to perform the same task. When our CYO ran the Easter Egg Hunts, the tall teenage boys always found it hilarious to hide eggs in plain sight, 6 feet off the ground.
Needless to say, the parent advisers were not as amused, and the eggs were always lowered to a more reasonable height before the Easter Egg Hunt began.
If you are using plastic eggs, having a color-coded piece of paper or numbered item instead of the prize itself can allow for bigger prizes to be given out, more age-appropriate prizes being chosen from a box, or perhaps one ticket with a "big prize".
If you have a small gathering of children (who can read), make it a mystery hunt! Start with clues. Hand them the first clue, and have the second clue inside the next plastic egg which leads to the third clue, the fourth clue being in the egg found after the third clue, etc. I don't advise real eggs for this game, but if it is your only option, tape the clue to the egg and use permanent marker on the clue-paper. The final clue should lead to their (named) baskets.
A map hunt works equally as well. You can draw an entire map out, or portions of a map where the start leads to the second map which leads to the third map, and fourth, etc. The final map leads to the Easter Baskets.
Age (and gender) appropriate prizes, easy to find eggs, a list of where the eggs are hidden, limits on the number of are all important Tips For a Successful Easter Egg Hunt.
Not holding your own Easter Egg Hunt? Check out this website for organized Easter Egg Hunts in your area.
Do you have any tips Tips For a Successful Easter Egg Hunt? What about suggestions for a non-traditional Easter Egg Hunt?
---
● 101 Non Candy Easter Basket Ideas For Kids
● For more Holiday posts on Ann's Entitled Life, click here.
● If you enjoyed this post, be sure to sign up for the Ann's Entitled Life weekly newsletter, and never miss another article!
---