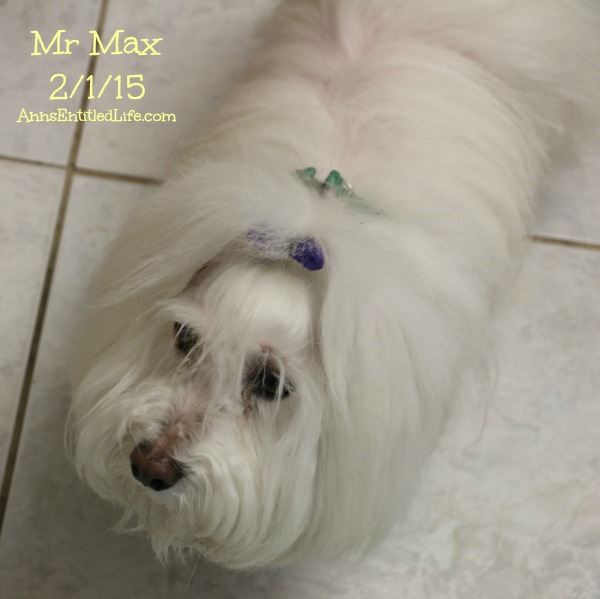 This past July, Max, our six year old Coton de Tulear was diagnosed with GME. I've written about his progress extensively, here and here and here and here, oh and here too! This is the original post where I detailed the trail to diagnoses and recovery.
A LOT has happened since my last update about Mr. Max in the beginning of January.
While we are down in Florida, Max is receiving chemo from North Florida Neurology in Orange Park. They administer by shot, two day in a row, and the dog does not stay in-clinic past a 20-30 minute observation period (for signs of an allergic reaction). This is very different than the drip Max has been receiving up in New York State which is administered over 20 hours. The first day after receiving a chemo shot Max was fine afterward – quite perky as a matter of fact! The second day brought with it diarrhea that went on for an entire day. Since we are in a third floor condo, that made for some accidents. He was also feeling poorly for a few days afterward. We "think" (we cannot know) the concentration of the drug hit him hard. He has one more round of chemo there, so we will know what to expect next time.
We thought we'd have a third round of chemo in Florida, but Dr Slanina (his Cornell neurologist who is in charge of Max's protocol) informed us Max is going to 6 week chemo treatments! YAY! She expects him to be off chemo at one year (July, assuming after 8 weeks from his last chemo treatment the numbers are steady), so if all goes well, that leaves him with four more chemo treatments total: one in Florida, three in New York. And Hubby and I are thinking of just doing all three at Cornell. The April one will definitely be at Cornell as Dr Slanina has not seen Max since October, and the final one would be there too, so what is one more trip to Ithaca for a June treatment?
Max's Prednisone was also cut in half! This resulted in some pretty quick changes including more energy, and his tail rose. Poor little Max used to have THE most beautiful plume of a tail (see my blog header). Since the GME struck and he lost a lot of hair (due to the Prednisone), and his tail is always dragging. The Prednisone reduction and tail rising may be a coincidence, or it may be a direct result. We honestly do not know.
Even though his Prednisone is reduced, Max still wants to eat, but now he isn't in the kitchen every time a bag is crinkled or the refrigerator is opened, just most of the time. Baby steps.
His liver pills were also discontinued. (Thank goodness!) These were big, honkin', horse-sized pills that needed to be cut in half and slipped into food for Max to even consider taking them. Now they actually were not supposed to be served with food at all, but Max is a horrendous pill taker, and it was either in food, or nothing. Dr Slanina decided we could take him off the liver pills for 6 weeks, then see what his liver readings were at that point.
Right now with his medication reductions Max is on Prednisone once per day, CycloSporine twice per day, Pregabalin twice per day, and a biotin tablet once per day (to aid hair growth). I cannot believe how much easier it is to give him these few pills and liquid!
Except for the "small" diarrhea issue, Max is doing much better. Here's hoping his numbers remain steady, and the next chemo treatment isn't as rough on the poor little guy.
---
Previous Max posts:
● An Update on Mr Max
● Last 2014 Trip To Cornell For Max
● Back To Cornell
● Max's First Cornell Follow-up Visit
● Max Exercises More Than I Do!
● Updating the Mr. Max Situation
● A Mr. Max Update
● Mr. Max, Mr. Max, Mr. Max
● It's A Mr. Max Post!
---