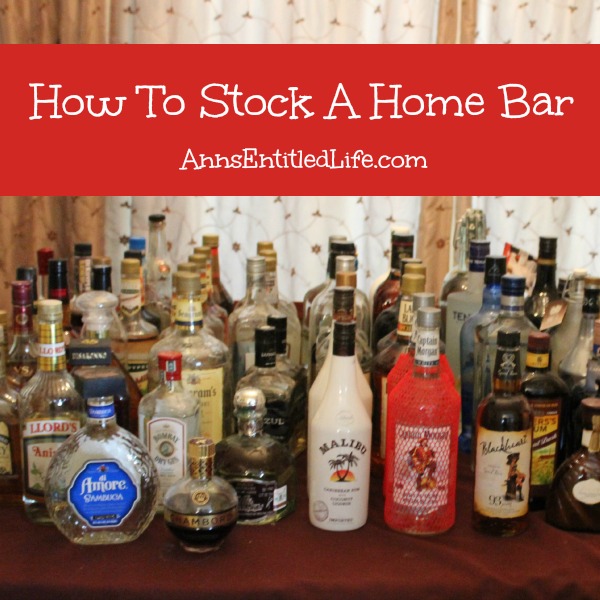 How To Stock A Home Bar
Whether you're hosting a few friends for dinner or planning the perfect party, a well stocked bar is essential to many people for entertaining. This list of adult libations is a great place to start when stocking your home bar as the liquors listed are used in many cocktail recipes, as well as many being classic sipping spirits. We recently had to set-up a bar at our Florida condo, and this is the list of liquors we chose to complete our home bar set-up:
● American Whiskey (Jim Beam Jack Daniels)
● Brandy
● Gin
● Rum (light, dark and spiced)
● Scotch
● Tequila
● Triple Sec
● Vermouth (dry and sweet)
● Vodka
● Whiskey (blended, rye, Irish)
When Hubby and I went down to Florida, we wanted to set up a home bar there. At our house in New York State we have an extensive collection of spirits as shown in this 72 bottles of liquor post! Our collection has since grown, but I was able to take stock and determine what spirits were necessary to make a decent bar.
As you can tell by many of my cocktail recipes, we like Rum and Whiskey. My mother and father like gin. Those were easy to include on a list. Hubby enjoys brandy (cognac) and scotch, so those five were simple. Vodka, triple sec (you'd be surprised how many cocktails call for orange liqueur!) and tequila were also pretty obvious. About the only other liquors that we used to make drinks regularly were bourbon and vermouth.
Now, Hubby and I have an extensive liquor cabinet up north. Down south we have stuck with the basics plus a few like the anisette, various brandies (blackberry and honey), and a variety of rums (because I like rum!!)
We have a spiced rum, 151, and a plain ordinary rum. Because they all taste different and have varying degrees of alcohol (that 151 can be set on fire!) and some are used to sip alone and some for mixed drinks, we have a variety of rums in our home bar. If you are not a rum drinker and only want to purchase one rum, make it a plain ordinary clear rum.
Different whiskeys also have different tastes, alcohol content, complexities, and er, smoothness. Some are mixed… a blended like Canadian Club is a good whiskey to have in a drink. Others, like an Irish whiskey may be sipped neat or on the rocks. If you only purchase one whiskey, I would choose a blended whiskey.
I love Tequila bottles. I'd go into a liquor store and pick and choose based purely on the bottle, and to heck with the tequila itself (I'd pick Mezcal anyway if I were honest). Instead of making a suggestion myself, I'd advise you to head over to the FAQ at Tequila.net for an in-depth analysis of tequila!
Hubby recommends a blended Scotch like Johnny Walker red to start as it is a decent quality blend for the money.
If you are looking for the whys and wherefores of what type of vermouth you may need, and what cocktails you would use vermouth in (besides a Manhattan, Rob Roy or Martini that is), I'd encourage you to check out Vermouth 101 for a lot of great information. I neglect Vermouth on Ann's Entitled Life, but really need to get into the spirit of making more cocktails featuring this great aperitif wine.
While there is always something to add to the old liquor cabinet (remember we have a lot of different liquors in ours) this list of basic bar spirit essentials.
BTW, these were some of the titles Hubby came up with for this post: Raising The Bar (which I actually liked!), Step Up To The Bar, How To Raise The Bar and Home Bar Starter Kit
After those er, suggestions, he mercifully stopped.
Don't forget the Ultimate Guide to Non-Alcoholic Bar Basics guide. It lists everything from glassware to cocktail making paraphernalia to non-alcoholic mixers to make your home bar complete!
---
As always, drink responsibly and please don't drink and drive.
● Ultimate Guide to Non-Alcoholic Bar Basics
● For more liquor and wine cocktail recipes, tips and reviews, click here.
● Be sure to follow my Cocktails board on Pinterest!
---