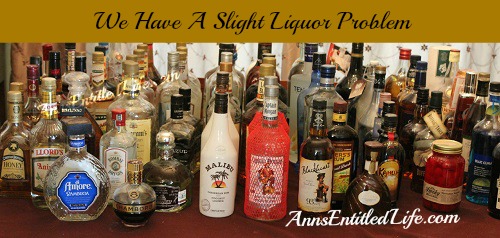 As many of you know, the last four years I have written up quite a few wine and liquor reviews. While I am in no way an expert, I like reporting from the layman's point of view what a wine taste like, or the a great drink recipe we've discovered.
One of the things Hubby and I have done, is purchased a lot of inexpensive liquors for these reviews as well as stock staples for the liquor cabinet. We also purchase items that "look interesting". And, if I had my way we'd have a tequila collection to rival a Mexican bar – I love the pretty tequila bottles!! Hubby reins me in though, or else this picture would look even worse.
This whole liquor cabinet cataloging started because I told Hubby we didn't have any rum. So, Hubby pulled out the liquor from the wet bar cabinet, and I brought down the duplicate and spare liquors we had upstairs, and grouped them to write up what was what.
I started placing the bottles on top of the credenza but quickly ran out of room. I ended up moving over to the dining room table, and made a good effort at covering that too! In all we had 72 bottles of booze! and 16 of those bottles were the rum that I could not find! The best thing we found were two bottles of Captain Morgan White Rum Rhum Blanc that Sonny-boy had purchased for us on his last cruise!
Other ridiculous amounts of liquor (besides the 16 bottles of rums) were 5 bottles of Triple Sec (wth will we do with FIVE bottles!?), 4 bottles of Margaritaville Passion Fruit Liqueur and 4 bottles of brandy – which we don't even drink!
Clearly our liquor cabinet is well stocked and either we don't drink enough, we don't entertain enough, we buy too much liquor, or all of the above. I did pack up 10 unopened bottled that we will take down to the Florida Condo. I also dumped a bottle that I knew we'd never drink again, and a bottle that had a half a sip left in it! That has all the hallmarks of a classic Hubby-move. He constantly puts away something with a mouthful or less left in it. Oh the stories I could tell…. and probably will!
We were then left with 60 bottles of liquor to put away. I separated out the "summer" liquors for the wet bar, and returned the "winter" liquors upstairs. Now we can find what we have.
Needless to say my liquor and wine reviews will be limited to repeat favorites, new drink recipes, or wines for the foreseeable future. My liquor buying days are over – unless I can get it free after rebate that is!
What's in your liquor cabinet? Do you too have a problem with too many bottles?