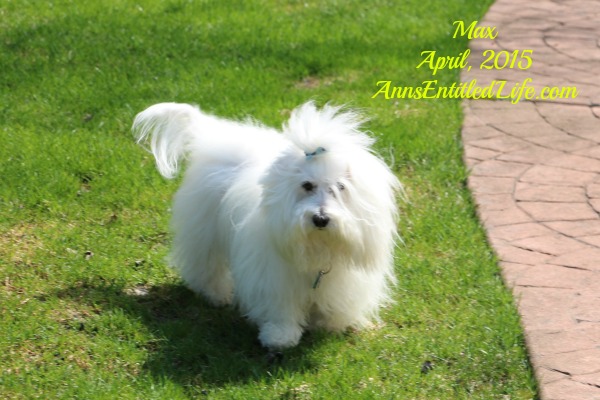 As I wrote last week, Hubby, Max and I took a road trip to Ithaca so Max could receive a chemo treatment at Cornell. This past July (2014), Max, our six year old Coton de Tulear was diagnosed with GME. I've written about his progress extensively, here and here and here and here and here. This is the original post where I detailed the trail to diagnoses and recovery.
We had originally booked two nights in a hotel, and were prepared to be gone the better part of three days. For some reason, Hubby emailed Dr. Slanina at Cornell, and she told him the treatment would be a little different this time; more compact. So, we arrived at Cornell around 3pm, Max was admitted, the blood tests done, and chemo was begun by 4pm. We picked him up at 4pm the next day, and were home by 8 o'clock!
The news from Cornell was nothing but positive. Max's kidneys are now nearly normal, his liver numbers (he got off the blue horse pill a few months ago) were normal, his white blood count was just a tad high… all in all, excellent news.
His Prednisone was dialed back to 1/4 of a pill once per day. He is apparently staying on the Cyclosporine for the rest of his life. We were given the option of the Cyclosporine or the Prednisone for a lifetime treatment with the Prednisone being once every other day, and we decided that when the times comes for a medicine to be eliminated, the Cyclosporine is a better option for us to keep. We can remember twice a day to give him the liquid, but every other day for a pill? We were concerned we would forget. Max has also stopped eating so voraciously, so getting pills into him has become more difficult. If we hide the pills in the food and then he eats around the pills… well that isn't a very effective way to get him medicated. Putting him on my lap and squirting the liquid into his mouth is just easier. And he enjoys the treat "reward"!
The cutback in Prednisone and Max's tapering off the "Prednisone-diet" has helped him lose a bit of weight. Before the GME, he weighed 13-13.5 pounds. At his height, he weighed 18 pounds, although he was so bloated at that point we suspect some of it was water weight. He's now down to 16.5 pounds (small differences in scales), and no one is complaining about his overall weight. Cornell actually thought he was in range!! As I mentioned last year, his rehab vet wants him at 14.5 pounds, and that may be doable once the Prednisone is eliminated.
If all goes well, Max will receive chemo locally in June. In July we will head back to Cornell for what we hope will be his final chemotherapy treatment. She has mentioned that she's like to see him 6-7 weeks after that for an evaluation and blood work (we would like to do the blood-work locally so she has the results when he walks in). If all goes well, he may be done with chemo.
Mr. Max is really doing quite well. The doggie we thought was going to have to be put down last July is now back to his PITA self, terrorizing ducks and geese, playing kick-the-ball, and generally not listening or behaving. Typical Max behavior.
---
Previous Max posts:
● An Update on Mr Max, March 2015
● Updating Max's GME
● An Update On Mr. Max
● Last 2014 Trip To Cornell For Max
● Back To Cornell
● Max's First Cornell Follow-up Visit
● Max Exercises More Than I Do!
● Updating the Mr. Max Situation
● A Mr. Max Update
● Mr. Max, Mr. Max, Mr. Max
● It's A Mr. Max Post!
---