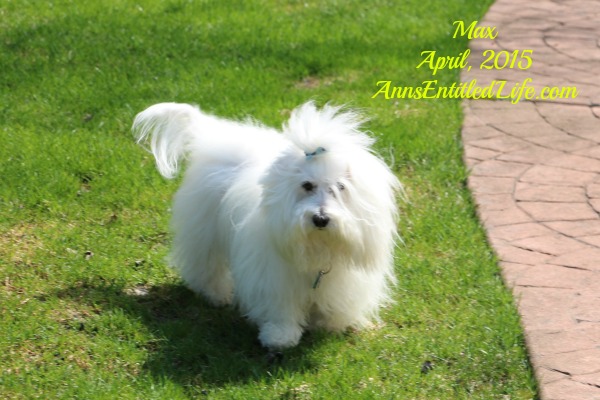 We were home a whole week and got antsy, so we decided to leave for a few days.
Ok, not really. Oh the part about leaving is true enough, but after being away for three months it isn't really true that we were looking to leave home. Heck, we have not even gotten through our "to do" list (that is actually a "must do" list) upon arriving home and we had to leave again.
Max is due for another round of chemotherapy. Since he has not been to Cornell since last October, Hubby and I made the decision to take him back to Ithaca for his first chemo once we returned from Florida. We wanted this neurologist to see how he was doing, and give us an update based on a physical exam. She has kept in touch and read his charts from all over (his Florida vet said he was just gonna take out an ad in the paper and save the fax time to all the vets on his list … that cracked us up!)
Going by the update after his last chemo session, Max should only have two more chemotherapy drips and be done with chemo. At that point, his GME should be "cured"? In "remission"? We aren't 100% clear on that, and hopefully we will understand more between this visit and next week's blood tests.
He still has one more Prednisone dose reduction he can do based upon what we were told long ago. Since the last dose of Prednisone was cut in half, Max's behavior has changed a lot. He is back to Max. And that is good and bad. He no longer listens immediately (bad, and wow we had gotten used to that!), he is more aggressive to other dogs (bad, he was always a yapper, and we didn't miss that either), he has tons more energy (good), he doesn't sleep as much (bad), he has cut down on eating (excellent).
I keep hoping another Prednisone drop will cure all the bad habits, but somehow I think that with a six and a half year old dog we are going to have to live with the bad… and the good. But we shall see.
Hubby and I have pulled him off biotin too. His coat is back, and now he is a hairy dog again. That Prednisone does wonders, but long term is can reek havoc too (weight gain, hair loss, lethargy).
Max was sick when we returned home from Florida. His belly wasn't feeling well, and he had the first ear infection of his life. We wondered what an immunosuppressed dog could take for meds, but it was no problem. He didn't mind the "tastes BAD" (that was listed on the label, tastes BAD) metronidazole, and he hated the "no dog dislikes this" FlotiFlora, because he is Max. Next to "contrary" in the dictionary, you should find his photo. Because Max was not eating, we had to use a pill shooter to give him all his meds (loads of fun), and hope he ate enough on his half a meal a day to get the FlotiFlora in him.
The stuff for the ear infections is now awesome! My last dog was a Samoyed/Irish Setter Mix (you want to talk fur… that dog would shed a Max sized fur-ball daily!) with floppy ears. He was a healthy dog, except he was prone to ear infections as dogs with floppy ears can be. We used to have to use a dropper to get the liquid in, and rub it around hoping he didn't shake out all the medicine before he could get it into his ear canal.
The ear-med Max got came in this fantastic 1-pump container. You inserted the pump into the ear, gave a pump and it went far down enough, and was oily enough, that no matter how hard Max shook, the medicine stayed in! Five days (and five pumps) later, his ear infections were gone. (I didn't save the box, but wow that was a great invention!)
I will write an update on Mr. Max in a few weeks, once we have the blood test results and after his exam. I bet his neurologist will be surprised when she sees him as he still looked a little rough in October when she saw him last. Now, he just looks like Max.
---
Previous Max posts:
● An Update on Mr Max, March 2015
● Updating Max's GME
● An Update On Mr. Max
● Last 2014 Trip To Cornell For Max
● Back To Cornell
● Max's First Cornell Follow-up Visit
● Max Exercises More Than I Do!
● Updating the Mr. Max Situation
● A Mr. Max Update
● Mr. Max, Mr. Max, Mr. Max
● It's A Mr. Max Post!
---