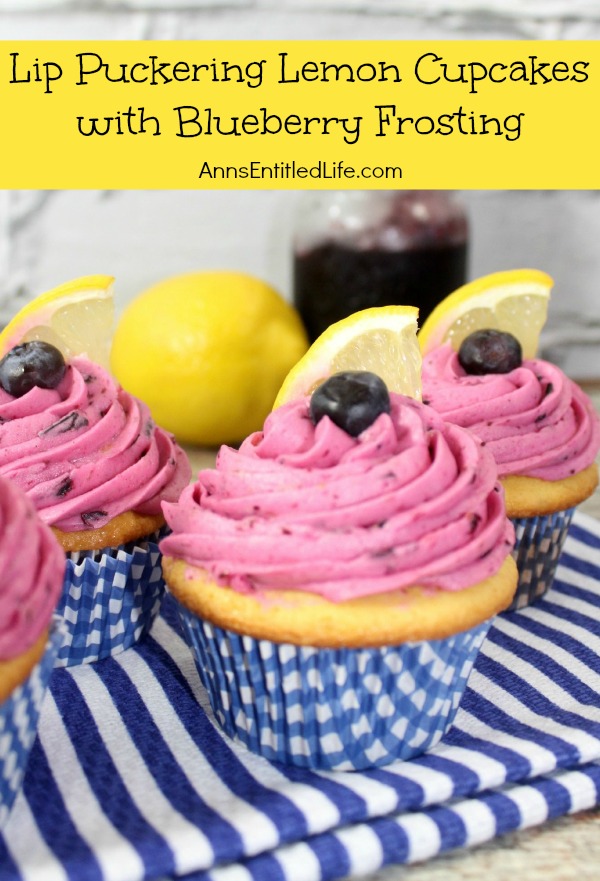 Lip Puckering Lemon Cupcakes with Blueberry Frosting
By Ann
These lemon cupcakes are deliciously moist, light, and flavorful; lip puckering good!
Prep Time: 30 minutes
Cook time: 18 minutes
Ingredients Lip Puckering Lemon Cake Recipe:
● 3 cups Flour
● 1/2 tsp Baking Powder
● 1/2 tsp Baking Soda
● 1 tsp Vanilla
● 1/4 cup Lemon Juice
● 3/4 cup Buttermilk, room temperature
● 2 cups Sugar
● 1 cups Butter, softened
● 1/3 cup Grated Lemon Zest
● 4 Eggs, room temperature
Ingredients Blueberry Frosting :
● 1 pint Fresh Blueberries
● 8 TBSP Unsalted Butter, room temperature (1 stick)
● 4 cups Confectioners Sugar
Directions:

● Cupcake direction:
● Preheat oven to 350°.
● Place your cupcake liners in your cupcake pan (24ct).
● In a medium bowl combine flour, baking soda, baking powder in a bowl; set aside.
● In a small bowl whisk together lemon juice, buttermilk and vanilla; set aside.
● In a large bowl using a stand mixer beat together sugar and butter until lightly and fluffy.
● Add lemon zest; combine
● Add eggs one at a time mixing well.
● Slowly add 1/3 your flour mixture to the butter mixture, then add 1/2 the buttermilk mixture. Repeat until all ingredients have been added and well combined.
● Fill lined cupcake compartments until 3/4 way full.
● Bake for 15-18 minutes.
● Remove from oven and allow to cool completely prior to frosting.
● Blueberry frosting directions:
● Lightly smash your blueberries.
● Using a stand mixer, beat butter 3-4 minutes until fluffy.
● Slowly add 4 cups of confectioners sugar and smashed blueberries; combine well.
● Makes 24 servings Lip Puckering Lemon Cupcakes with Blueberry Frosting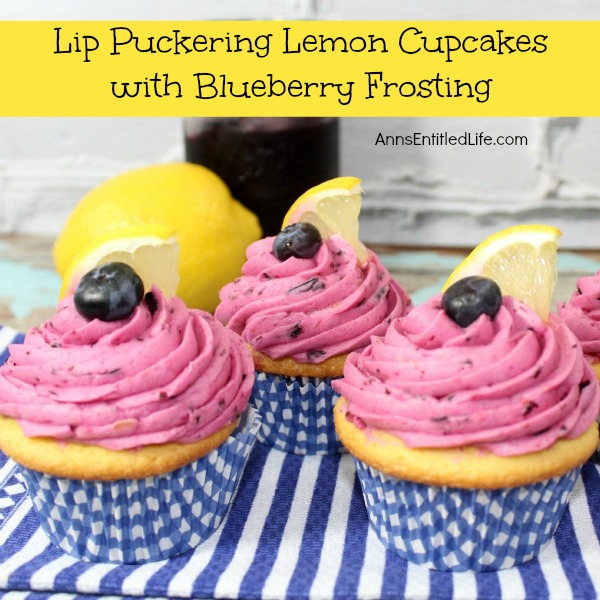 ---
---