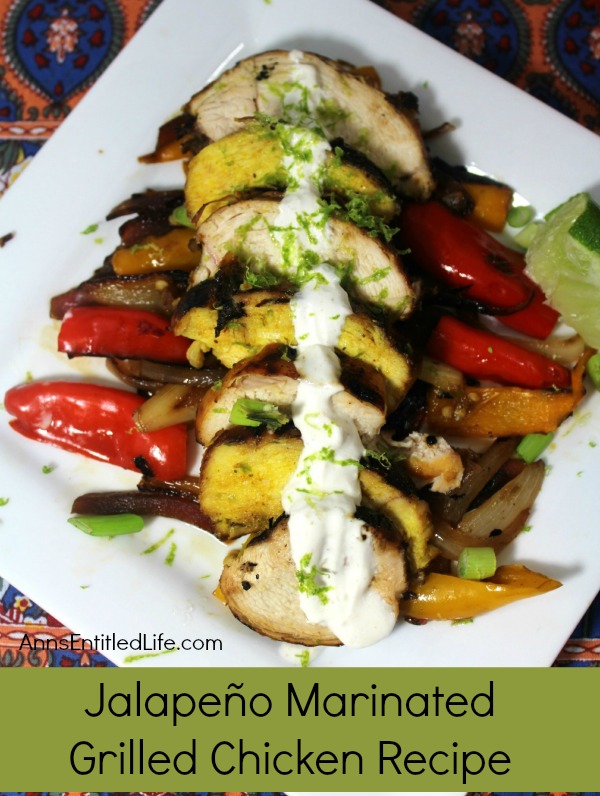 Jalapeno Marinated Grilled Chicken Recipe
By Ann
Try something new for dinner tonight. This Jalapeno Marinated Grilled Chicken with Chipotle Lime Creama is delicious, simple to make, and very satisfying.
Prep Time: 30 minutes plus 2-4 hours to marinate
Cook time: 45 Minutes
Ingredients Jalapeno Marinade:
● 1/2 lb Jalapeño Peppers
● 2/3 cup Cider Vinegar
● 2 cups Sugar
● Juice from 2 Limes
● 1 TBSP of Minced Garlic
● 1 tsp Chili Powder
● 1 tsp Cayenne Pepper
● 1 tsp Turmeric
● 1 tsp Celery Seed
● 5 large Boneless Chicken Breasts
Ingredients Chipotle Lime Creama:
● 1/3 cup Sour Cream
● 3 TBSP Lime Juice
● 1/2 TBSP Chipotle Oil
● 1/2 TBSP Tony Chachere's Seasoning
● 1/4 tsp Cumin
● Salt to taste
Directions:

● Slice the Jalapeños into ¼-inch thick rounds.
● Add the vinegar, sugar, and lime juice, turmeric, celery seed, cayenne pepper, chili powder and garlic in a saucepan, on medium heat.
● Bring the mixture to a boil; reduce the heat and simmer for 5 minutes.
● Add the sliced Jalapeños to the saucepan and bring the mixture back to a boil for another 5 minutes.
● Remove from heat. Let the sauce stand for 20 minutes to thicken.
● Marinate the boneless skinless chicken in the Jalapeño marinade in the refrigerator for up to 4 hours.
● To make the Chipotle Lime Creama:
● In a small bowl whisk together the sour cream, lime juice and chipotle oil. Add Tony Chachere's seasoning and cumin.
● Season to taste with salt; whisk.
● Refrigerate until ready to use.
● When marinating time is done, turn on your BBQ on to medium, lay the chicken on the grill, but not directly on the flame. Watch the chicken as not to burn the marinade.
● Turn the chicken over 3-4 times for even grilling.
● Remove from heat once cooked thoroughly.
● Plate and drizzle with Chipotle Lime Creama.
● Serve immediately.
● Makes 5 servings Jalapeno Marinated Grilled Chicken
● To print the Jalapeno Marinated Grilled Chicken Recipe, click here.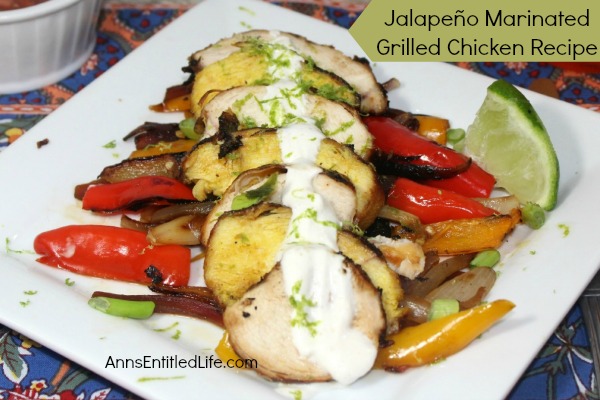 Want something a little spicy and a little different for dinner this week? Give this Jalapeno Marinated Grilled Chicken Recipe with Chipotle Lime Creama the a try. You will be glad you did!
---
● For more Recipes on Ann's Entitled Life, click here.
● If you enjoyed this post, be sure to sign up for the Ann's Entitled Life weekly newsletter, and never miss another article!
---