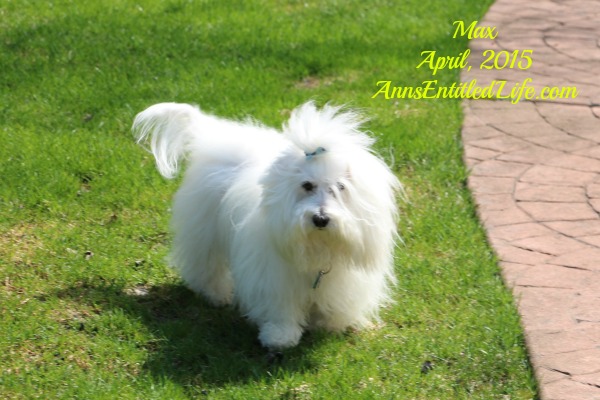 This past July (2014), Max, our six year old Coton de Tulear was diagnosed with GME. I've written about his progress extensively, here and here and here and here and here. This is the original post where I detailed the trail to diagnoses and recovery.
Max had chemo two weeks ago, this time we took him locally. We had just returned from our trip abroad, and didn't want to head down to Cornell. Locally, it is a 30 minute drive to the vet that will administer his chemotheraphy (ok, 50 minutes during morning rush hour), and then another 30 minutes home. We don't spend any time in the hotel, and then Max gets picked up the next afternoon. Hubby knew he was picking up Max the next day, so also scheduled a few appointments down in the area he had been putting off.
We received the results of Max's blood tests last week, and all was within normal range. Max has backed off the Prednisone, as I mentioned the last update, and he is now down to 15.1 pounds! I am hoping the next Prednisone drop gets him another pound down with the Prednisone removal getting him back to between 13 and 13.5 pounds. Since he lost so much weight, he is one happy little doggie! He's running, jumping, playing and walking like Max prior to GME.
Prednisone is a wonder drug that can also have some pretty bad side effects with long-term use. While completely necessary at the start of his treatment last July, I can't say I will be sorry to see him off the steroids. They call it the "Prednisone-diet" for a reason. Poor little Max was at 18 pounds at his peak, and he was just miserable weighing that much.
Hubby has an email in to Dr. Slanina (his neurologist at Cornell). As we understand it at the moment, Max only has one chemo treatment left, and we want his final treatment done at Cornell. If for some reason his neurologist decides that two treatments are necessary, we will do one locally, and then the final one at Cornell. Edited to add: Hubby just told me Max will be receiving two more chemo treatments, both done locally, however. After that, Dr. Slanina would like to see him 6 weeks after that final treatment.
This past year has been quite the experience with a sick dog. Max has really recovered well. His local vet that gave the chemo last week had not seen him since December, and she could not believe how wonderful he looked when I brought him in!! Like so many other people, she has commented that if she didn't know he was sick, she couldn't tell he was ill.
And, I agree with her.
It will be a year on July 4th that we noticed Max has issues. It will be a year on July 10th that he was diagnosed with GME. All the posts detailing his diagnosis and recovery are linked below (for anyone interested).
While we don't know the prognosis for his life expectancy – the CycloSporine he is on was only introduced into the GME regime in 2012 so there are no clinical results with average life expectancies – right now we are hopeful that he exceeds the old 3 year life-expectancy-maximum.
---
Previous Max posts:
● Max's GME Update
● An Update on Mr Max, March 2015
● Updating Max's GME
● An Update On Mr. Max
● Last 2014 Trip To Cornell For Max
● Back To Cornell
● Max's First Cornell Follow-up Visit
● Max Exercises More Than I Do!
● Updating the Mr. Max Situation
● A Mr. Max Update
● Mr. Max, Mr. Max, Mr. Max
● It's A Mr. Max Post!
---