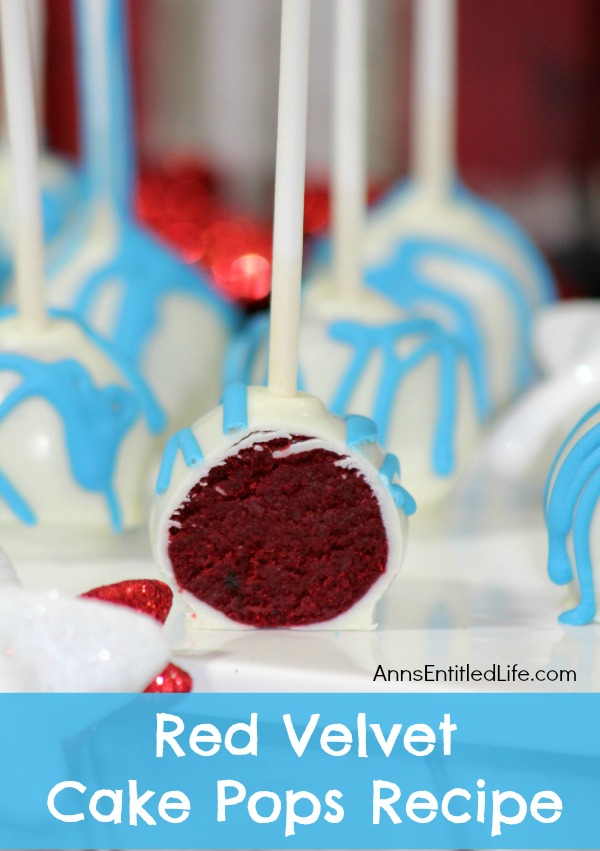 Red Velvet Cake Pops Recipe
By Ann
Turn moist and delicious red velvet cake into a fun cake pop! Perfect for parties, on the go, or as a great snack, these fabulous red velvet cake pops are a real crowd pleaser.
Prep Time: 60 minutes
Cook time: 20 minutes
Ingredients Red Velvet Cake Pops Recipe:
● 2 ½ cups Flour
● 1 TBSP Cocoa Powder
● 1 ½ tsp Baking Soda
● ¼ tsp Salt
● 12 TBSP Butter, room temperature
● ¼ cup Shortening, softened
● 1 cup Sugar
● 1 Egg
● 1 tsp Vanilla Extract
● 1 TBSP Red Velvet Extract
● 1 TBSP Red Gel Food Coloring
● 1 cup Buttermilk
● 1 cup Chocolate Frosting
● 24 Cake Pop Sticks
Ingredients White Chocolate Coating:
● 12 oz White Melting Wafers
Ingredients Royal Icing:
● 2 Egg Whites
● ¼ tsp Cream of Tartar
● 1 tsp Almond Extract
● 2 cups Confectioners Sugar
● Blue Gel Food Coloring
Directions:

● Preheat oven to 350°.
● Spray a jelly roll pan (12½" x 17½" x1″) with non-stick cooking spray; set aside.
● Sift together flour, cocoa powder, baking soda and salt in a bowl; set aside.
● Using an electric mixer, beat together butter, shortening and sugar until light and fluffy.
● Add the eggs, vanilla, red velvet extract and red gel food coloring; mixed well.
● Alternate adding half the flour mixture and buttermilk to the batter until completely combined.
● Spread the batter over the jelly roll pan, and bake for 20-22 minutes at 350° or until an inserted toothpick comes out clean.
● Allow the cake to cool completely.
● Spoon the cooled cake into a large bowl, add the chocolate frosting and mix well until you can form a ball with this mixture. You want your cake pops to be very moist and soft.
● Roll 24 cake balls; set aside.
● Line a cookie sheet with parchment paper; set aside.
● Using a double boiler, or a microwave melt the white melting wafers.
● Dip the tip of the cake pop stick into the melted white chocolate then directly into one end of the cake ball.
● Allow to cool.
● Dip the entire cake ball into the melted white chocolate and coat the entire cake ball. Place the coated ball on the parchment lined cookie sheet, and allow to dry.
● Make the royal frosting:
● In a large bowl, combine the egg whites, cream of tartar, almond extract, confectioners sugar and blue gel food coloring with a wooden spoon until smooth.
● Stripe the dry cake pops with royal icing using a #1 round piping tip to form lines. Do not overfill your piping bag. Allow the royal icing to fall naturally.
● Allow to dry before serving.
● Makes 24 servings Red Velvet Cake Pops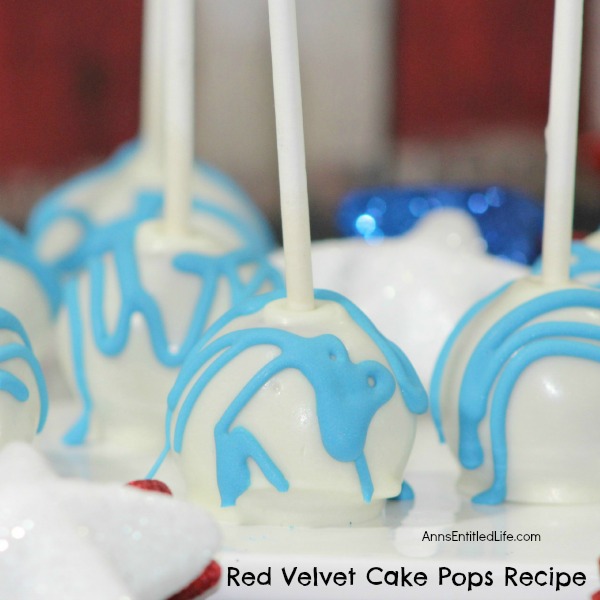 ● To print the Red Velvet Cake Pops recipe, click here.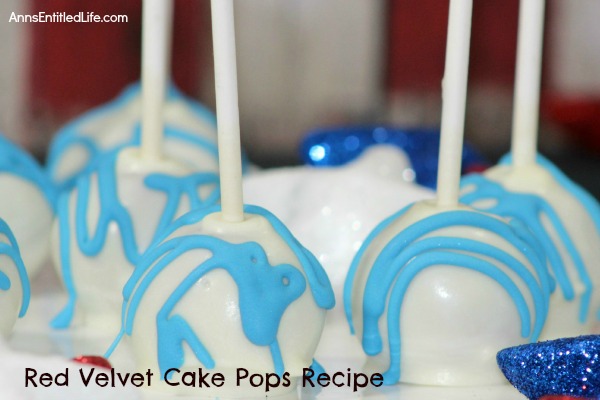 Here are a few tools used to make these cake pops:
● #1 Piping Tip Some people prefer a slightly thicker line, so use a 1.5 Piping Tip A more economical solution, if you plan on decorating cakes, cupcakes and cookies, is a Tips Kit.
● A Pastry Bag that is plastic, or if you prefer, Disposable Pastry Bags
● Cake Pop Sticks
● And while I didn't mention it in the post, if you are transporting the cake pops – for say a class birthday party for children, or a bake sale, wrap your cake pops.
---
● Disclosure: the links in this post may be affiliate links.
● If you enjoyed this post, be sure to sign up for the Ann's Entitled Life weekly newsletter, and never miss another article!
● For more Recipes on Ann's Entitled Life, click here.
---