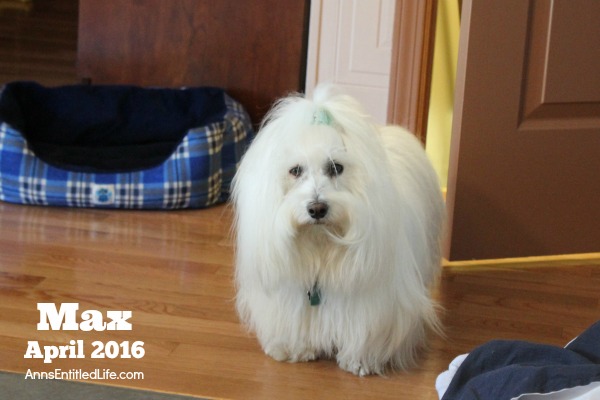 In July of 2014 Max, our (now) seven year old Coton de Tulear was diagnosed with GME. I've written about his progress extensively, here and here and here and here and here. This is the original post where I detailed the trail to diagnoses and recovery.
I posted a short update of Mr. Max's status last month here. This post will actually be my last update until October, unless something radically changes. You know what that means…
Max is doing very, very well!!
We took Max to Cornell a few weeks ago on April 1st for his semiannual check-up. We had planned on going at the end of April or the beginning of May, but when Hubby called for an appointment, they called back with an earlier opening and so we jumped on it.
Max's neurologist saw him for the last time. Dr. Slanina finished her full residency at Cornell, and is now taking a position in Cincinnati, Ohio. Hubby really considered us following her to her new practice (probably because he wants to shop at a Menards along the way), but I couldn't see it for the 7 hour drive there, and 7 hour drive home. We will continue on at Cornell, and have a new neurologist assigned to Max in October.
Max is now on ¼ of a Prednisone tablet every other day (1.25 mg). He seems a little lighter in weight with less steroids going into him, and his tail is definitely up a lot more often. We've actually watched him have more tail action every reduction in medication. I thought his tail was pretty high on twice this amount of Prednisone, but apparently not!
His blood test for his white blood cells actually came back a little low this time (lymphocytes were low). Considering Granulomatous meningoencephalomyelitis (GME) is a disease where the white blood cells attack the central nervous system, this was pretty amazing. The other blood test anomaly was his phosphate was low. Nothing to worry about on this one according to his neurologist.
As it stands now, Max isn't slated to ANY vet visits until October. This is actually odd to me since we've basically lived at one veterinary office or another since July of 2014. I can't say my pocketbook will miss it though.
Max is truly Max again. We are home, I am once again his servant, Hubby is one again his playmate, and all is right in his world – according to Max. I will say he looks and acts just like he did before he became ill in July 2014 (for good or for bad). He's approaching two full years of the disease, and to date, he has done better than we could have hoped or reasonably expected.
---
Previous Max posts (read in order from the bottom up):
● Max March 2016 Update
● Mr. Max Post Cornell Visit Information
● Max's Latest GME Update
● Max's GME Update, One Year Later
● Max's GME Update, Month 11
● Max's GME Update
● An Update on Mr Max, March 2015
● Updating Max's GME
● An Update On Mr. Max
● Last 2014 Trip To Cornell For Max
● Back To Cornell
● Max's First Cornell Follow-up Visit
● Max Exercises More Than I Do!
● Updating the Mr. Max Situation
● A Mr. Max Update
● Mr. Max, Mr. Max, Mr. Max
● It's A Mr. Max Post!
---