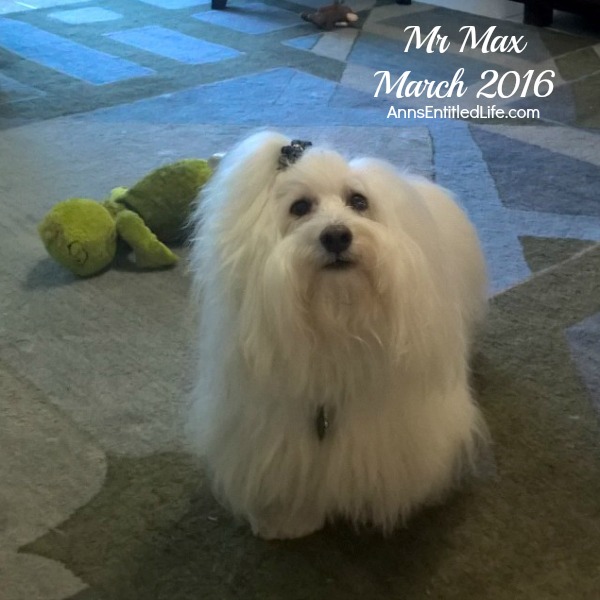 In July of 2014 Max, our (now) seven year old Coton de Tulear was diagnosed with GME. I've written about his progress extensively, here and here and here and here and here. This is the original post where I detailed the trail to diagnoses and recovery.
I last updated Mr Max's GME information in October of 2015. He had his last chemotherapy treatment on September 1, 2015, and had a follow-up at Cornell.
Since that last update, Max has been Rabies Titered (not sure if that is a word). That means no more rabies shots for Mr Max. He has a rabies titer test where it shows so many antibodies against getting or giving rabies (as I understand it). There is some research that supports most dogs having built up an immunity by age 5 to rabies. We were very fortunate (if you want to look at a bright spot) that Max was about 5 when being diagnosed with GME, and that he did come in with a "passing" rabies titer (no idea what that would be). His neurologist at Cornell had to sign a paper, and when he has his license come up, we had to send that paper in to the local licensing bureau in lieu of a rabies vaccine card.
The titer is good for one year, so my assumption is he has to pass again in October, or go back to shots (which they do not want to do since he is immuno suppressed, and a shot ramps up the immune system).
Max finished his last dose of cyclosporine oral last week. They had weaned him down from .3 ml twice a day to .2 ml twice a day to eventually .1 ml once per day, and now done. He still takes ¼ of a Prednisone tablet daily (so that equals 1.25 mg). And the plan is still on to have him eventually take that low dose 2-3x a week instead of daily.
We need to make an appointment to go back to Cornell in late April or early May, and since his neurologist is applying for jobs elsewhere, I am not sure who he will see.
Max's (and all other doggies) original GME prognosis was up to 3 years if the treatment worked. As of right now, we are at 1 year, 8 months. Max seldom circles at this point except when he is tired (like a normal dog finding a "spot"). If he circles too much (in our opinion because we are hyper aware of his circling), we call out "MAX!" and he stops. That is how we know it is normal behavior, and not GME; he couldn't stop if it was the GME.
His hair has completely comeback. He no longer looks like someone chewed on him.
His weight is better too. Last year when we were in Florida and he was still on chemo (and a lot more steroids and other meds) he was waddling around at 18 pounds. He's now at 15 pounds, so about a pound, pound and a half overweight. That is the same 15 pounds he weighed last October, so methinks that is as low as he will go until another decrease in the Prednisone. Believe me, I drag him around daily on walks down here! And when I say drag, it is pretty close to that at the beginning of a walk. When he sees me holding the leash, he runs and hides behind Hubby. LOL Once he gets out and out of sight of the condo building, he stops trying to turn around and go home.
I will update again after his trip to Cornell. For now, I will conclude that things are looking good, Max is a giant PITA, and things are back to "normal" (minus shots and plus Prednisone) from where he was two years ago at this time before the GME started.
---
Previous Max posts (read in order from the bottom up):
● Mr. Max Post Cornell Visit Information
● Max's Latest GME Update
● Max's GME Update, One Year Later
● Max's GME Update, Month 11
● Max's GME Update
● An Update on Mr Max, March 2015
● Updating Max's GME
● An Update On Mr. Max
● Last 2014 Trip To Cornell For Max
● Back To Cornell
● Max's First Cornell Follow-up Visit
● Max Exercises More Than I Do!
● Updating the Mr. Max Situation
● A Mr. Max Update
● Mr. Max, Mr. Max, Mr. Max
● It's A Mr. Max Post!
---