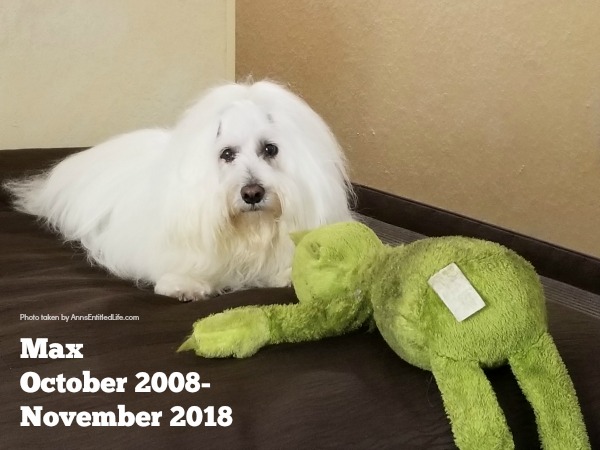 Mr. Max passed away on Saturday, November 3, 2018.
If you have been following his journey with GME the last 4+ years, you will recall he lived well in excess of the norm for GME patients (not leaving the hospital to 3 years is the prognosis).
Ironically, it wasn't the GME that did him in; it was most likely the steroids that controlled the GME. Max's gallbladder was not healthy and had not been this whole year. It was 60%+ full of sludge, becoming larger (again), and showing signs of forming a mucocele. If his gallbladder had formed a seal, it could have (would have) burst, leading to a very painful death.
We made the decision to have him have his gallbladder taken out. We dropped him off at Cornell on Tuesday, October 30, 2018. They did bloodwork and another sonogram. The surgeons were very encouraged by how (relatively) healthy he was compared to a "regular" dog with gallbladder disease that opted for this surgery.
On Wednesday, the surgeons attempted to remove his gallbladder laparoscopically. Since Max was immunosuppressed this would have given him small incisions, and (hopefully) an easier time to heal.
While attempting to remove the gallbladder, there was some (caustic) leakage, and they had to revert to the full-cut. We knew this (the full-cut) was a strong possibility as laparoscopic gallbladder removal in dogs is only successful in the best of cases about half the time. The leakage happened because his gallbladder was so friable (thin).
Max made it through surgery fine. He woke up after anesthesia and was doing relatively well in recovery. However, later that evening things took a turn for the worse (with his blood trying to form clots, his low blood pressure, and fast heart rate) and he was moved to the ICU section of the hospital.
The veterinarian doctors at Cornell worked on him for several days. Things were looking up for him on Friday, and I was cautiously optimistic he would make it. The plasma had done its job, the pressers were helping his blood pressure, and it appeared that he would be able to get some nutrition on Saturday.
Unfortunately, overnight Friday things took a turn for the very bad. We received news around noon on Saturday that they were going to try their last option to attempt to raise his blood pressure (human albumin as they do not have canine albumin on hand). Max ended up allergic to the human albumin, something we were warned was a possibility before it was administered.
At that point, there were no other options for him. As we got in the car to drive down to Cornell to say goodbye, the ICU doctor called to tell us his oxygen level was down to 27% (his organs were shutting down), and we made the decision to euthanize him.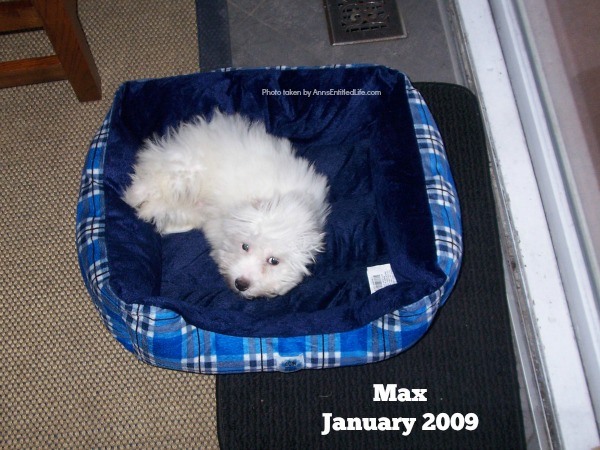 Max as a puppy.
There are no words to express our sorrow. It physically hurts to think of Mr. Max right now. I "know" he lived longer than he "should" have with that dreadful disease. I "know" we were lucky to have him as long as we did. I "know" he no longer is in any discomfort or pain. I "know" all this. And yet the pain of our grief is suffocating at times.
Those without pets probably think I am crazy or exaggerating. I am not. We are truly devastated to have lost the little guy.
We can't help the woulda, coulda, shouldas that led to the surgery decision. Our logical side knows that the gallbladder was a ticking time bomb, and he would have died a horrible death if it had ruptured. He had "a chance" – which is what exactly what his original neurologist told us we were giving him when he was diagnosed all those years ago and we decided to proceed with GME treatment.
But logic has very little to do with what we are feeling right now.
We want him with us. We want him healthy. We want another opportunity to appreciate every day we had with him. We want it all for him. And we are grieving because none of that is possible.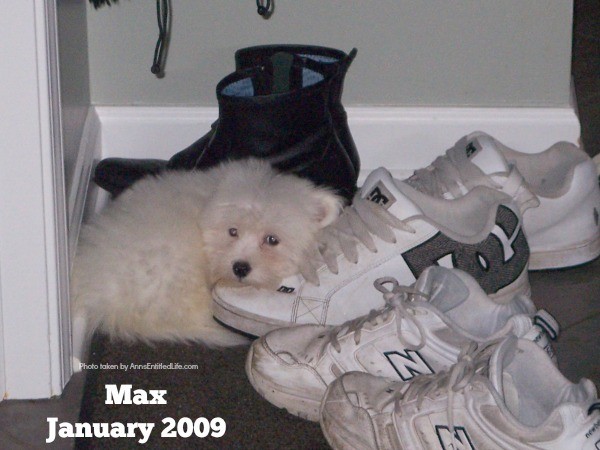 When Max was a puppy he used to snuggle up to Sonny-boy's sneakers.
Max was a PITA. He fought with me for 10 years for "pack" dominance. He always wanted to be the alpha. He was a small dog that lived large, and didn't realize he was little, fluffy, and cute.
He was a true fighter. He lived with a horrible disease for far longer than anyone guessed he could have. His spirit was truly indomitable.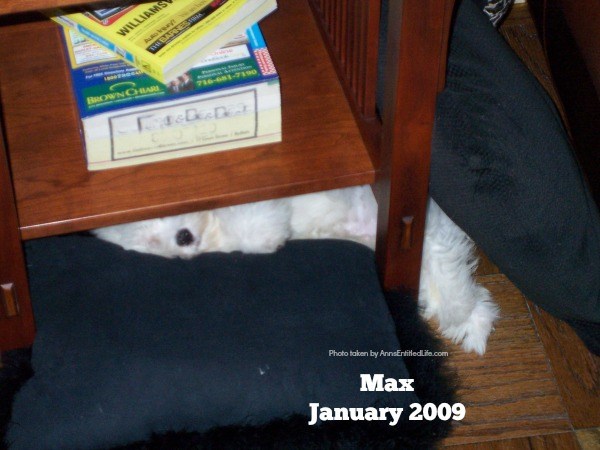 Erm…
We love him very much. The tears are still flowing and our hearts are still quite heavy – and will remain so for a long time to come. I know there will come a day when we recall all the Max stories with smiles instead of tears. Right now, we just miss him so much it physically hurts.
We will see you on the other side little buddy; we will see you on the other side.
---
Previous Max posts (read in order from the bottom up to follow his whole story):
● Max's GME Update: Distressing News
● Max's GME Update: Chemo Round 9
● Chemo Round 8 for Max
● FOUR YEARS!!
● Chemo Round 6 For Max
● Chemo Round 5 For Max
● Chemo Round 4 For Max
● Chemo Round 2 For Max
● Max is Back to Chemo for His GME
● Max Had a Relapse
● Mr. Max April 2016 Update
● Max March 2016 Update
● Mr. Max Post Cornell Visit Information
● Max's Latest GME Update
● Max's GME Update, One Year Later
● Max's GME Update, Month 11
● Max's GME Update
● An Update on Mr Max, March 2015
● Updating Max's GME
● An Update On Mr. Max
● Last 2014 Trip To Cornell For Max
● Back To Cornell
● Max's First Cornell Follow-up Visit
● Max Exercises More Than I Do!
● Updating the Mr. Max Situation
● A Mr. Max Update
● Mr. Max, Mr. Max, Mr. Max
● It's A Mr. Max Post!
---
● Disclosure the links in this post may be affiliate links.
● If you enjoyed this post, be sure to sign up for the Ann's Entitled Life weekly newsletter, and never miss another article!
---