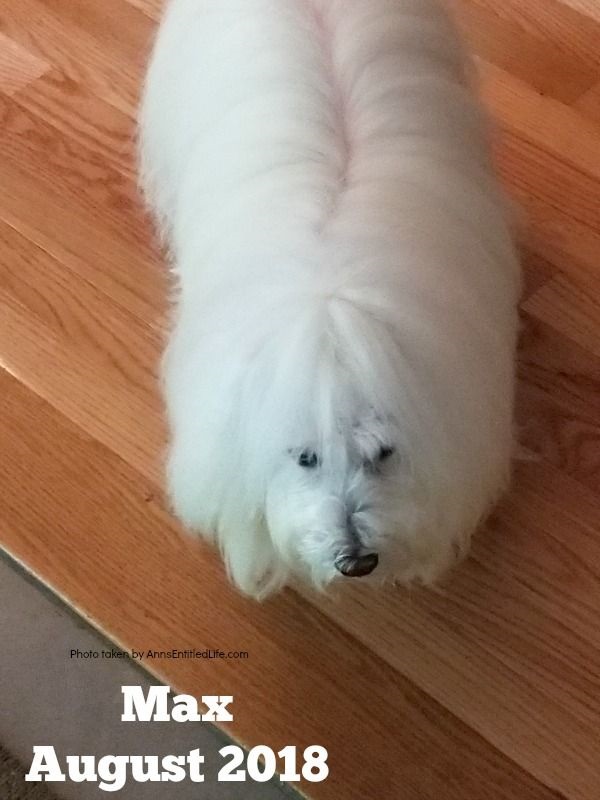 Last month I shared the very happy news that Max has made it FOUR YEARS!! past his diagnosis of GME.
For those of you unfamiliar with Granulomatous meningoencephalomyelitis (GME), it is a canine disease where the white blood cells attack the central nervous system. Max is well past historic longterm prognosis for this terrible disease. When he was diagnosed we were told his chances were "not leaving the hospital" – to – "up to three years".
Last week we were back to Cornell for more chemo for Max. There was again good news as his gallbladder was once again smaller, and his liver numbers, "perfect"! There was also potentially bad news as there was mention that there may be more sludge in his gallbladder. Max also has an ultrasound monthly to determine the size of his gallbladder, liver, and kidneys. There is sludge in his gallbladder, but no plug. They could not be sure if it was the same amount of sludge in a smaller place, or he if he has developed more sludge. There was also a mention of crystals (that concerns me as a stone would be bad news).
His meds were adjusted too. We had stopped the Metronidazole for a week to see if he could leave off one of his antibiotics. The white numbers were up in that week, so back he went on the Met.
Max was supposed to go back to Cornell in mid-September (four weeks) for more chemo, but his neurologist spread it out to five weeks. In June, this was the original plan, amended in July, and now back again in August. Sometimes, I can't keep up! It is such a delicate balance to keep the GME at bay.
Here is a list of Max's current medicines and supplements. They are all liquid except for the Pregabalin which is in pill form. Max is a horrible pill taker, so we long ago switched him to liquid forms of his drugs and supplements.
● Prednisone (.2 ml)
● CycloSPORINE (1 ml – .5 2x daily)
● Amantadine (1.5ml)
● Ursodiol (1.5ml, 2x daily)
● Metronidazole (1.2 ml, 2x daily)
● Sam-e (.1 ml, 2x daily) – this is one part of demamarin
● Milk Thistle (.8 ml) – this is the second part of demamarin
● Pregabalin (15 mg, 2x daily)
● LiverAid (3x daily)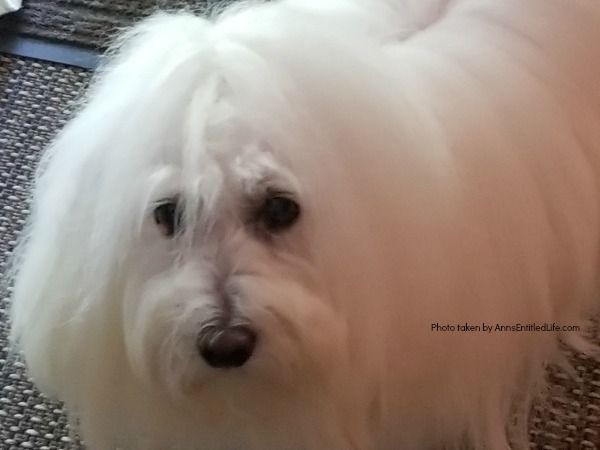 Max – who hates having his photo taken.
Hubby and I try and go out once per week for "date day". We started this several years ago when we realized we were not doing enough things together as a couple. Because Max is ill, we have dog walkers stop in when we are going to be gone for four hours or more. They will let him out, play with him, and sometimes take him for a walk!
The dog walker takes excellent photographs of Max with her cell phone. I want her secret. Phone or camera, as soon as Max sees me trying to take a photo he looks down, to the side, or takes off. Heavy sigh.
That is our update for the month. Max is clearly a canine wonder fighting this disease as long as he has. We continue to take one day at a time, and appreciate all the time we have with our marvelous little fellow.
---
Previous Max posts (read in order from the bottom up to follow his whole story):
● FOUR YEARS!!
● Chemo Round 5 For Max
● Chemo Round 5 For Max
● Chemo Round 4 For Max
● Chemo Round 2 For Max
● Max is Back to Chemo for His GME
● Max Had a Relapse
● Mr. Max April 2016 Update
● Max March 2016 Update
● Mr. Max Post Cornell Visit Information
● Max's Latest GME Update
● Max's GME Update, One Year Later
● Max's GME Update, Month 11
● Max's GME Update
● An Update on Mr Max, March 2015
● Updating Max's GME
● An Update On Mr. Max
● Last 2014 Trip To Cornell For Max
● Back To Cornell
● Max's First Cornell Follow-up Visit
● Max Exercises More Than I Do!
● Updating the Mr. Max Situation
● A Mr. Max Update
● Mr. Max, Mr. Max, Mr. Max
● It's A Mr. Max Post!
---
● Disclosure the links in this post may be affiliate links.
● If you enjoyed this post, be sure to sign up for the Ann's Entitled Life weekly newsletter, and never miss another article!
---