Normally this is just an update of Max's GME chemo and meds, but this post has something extra special to celebrate – Mr. Max has made it four years past his original GME diagnosis!!
For those of you unfamiliar with Granulomatous meningoencephalomyelitis (GME), it is a canine disease where the white blood cells attack the central nervous system. Max is well past historic longterm prognosis for this terrible disease. When he was diagnosed it was "not leaving the hospital" – to – "up to three years".
And Max has lived FOUR YEARS past that original diagnosis date!!
That is simply amazing. I attribute it to Max's strength, Cornell's medical care, and crazy owners.
Yup, Hubby and I are absolutely nuts when it comes to Max's care. In addition to the daily medications, the chemo, and regular vet visits, Max also has PT (once or twice a week depending on when chemo is scheduled) and a regular masseuse (she also does more PT with him and more laser).
Hubby has done a ton of research on every supplement out there to help Max's liver and gallbladder, as well as changed Max's dry dog food to help with liver function. Max may not eat dry very often, but when he does it is gonna be good for him!
And, for two months in a row, Max's liver numbers have come back "perfect".
On his monthly trip to Cornell last week for chemo, Max again had an ultrasound to check liver/kidney/gallbladder size. Unlike last month when the gallbladder reduced in size (a total shock), this month it "merely" held steady.
These days? That is a win!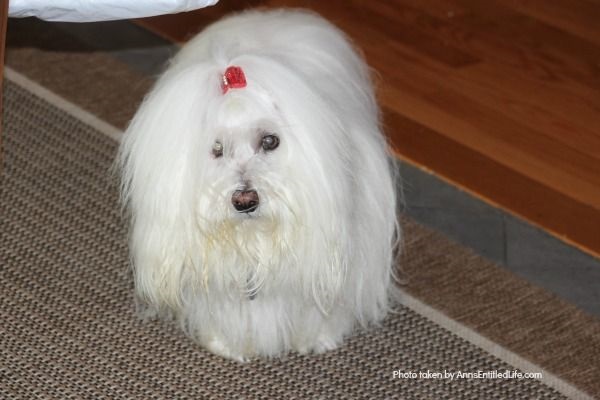 Max staring at me like "WTH do YOU want!?"
We've been of the notion that Max's gallbladder will be what does him in for a while now. It being "friable" and gathering sludge (but no plug) is ominous. Steriods are both a blessing and a curse. While they have helped keep him alive the last four years, they are also tough on a body.
Max is now off one of the medications I listed a few months ago – the Enrofloxacin. He has also had the Metronidazole reduced to 1.2 ml, 2x daily as he lost some weight. The Met goes away on August 10th which will allow for some time befor the blood test. When that next blood test is taken a week later, we shall see if his infection is totally gone.
Hubby asked if Max could/should stay on the Metronidazole on some sort of maintenance dose. After checking with the internist, his neurologist said no. Max is immuno-suppressed so they do not want to ramp his system unnecessarily, and they do not want him to build up a tolerance to the Met in case he develops an infection again.
Max's Pred was also reduced to .2 ml. It will never go lower, although it may be raised in the future. In converting the liquid amount to his lowest prior pill dosage (where he has relapsed in the past) this keeps him just above any maintenance dose (so the hope is because this is a tad higher than a maintenance dose, it will do well for him).
Currently he is on:
● Prednisone (.2 ml)
● CycloSPORINE (1 ml – .5 2x daily)
● Amantadine (1.5ml)
● Ursodiol (1.5ml, 2x daily)
● Metronidazole (1.2 ml, 2x daily – more on this above – ends 8/9/18)
● Sam-e (.3 ml, 1x daily)
● Milk Thistle (.8 ml)
● Pregabalin (20 mg, 2x daily)
● LiverAid (3x daily)
● Canine Hepatic Support (1/8 tsp, 3x daily)
● Ginko (.5ml, 2x daily)
● Gentian (.1ml, 2x daily)
The Sam-e + Milk Thistle are the liquid replacement for Denamarin.
As you can see, he is taking a combination of supplements and prescription drugs.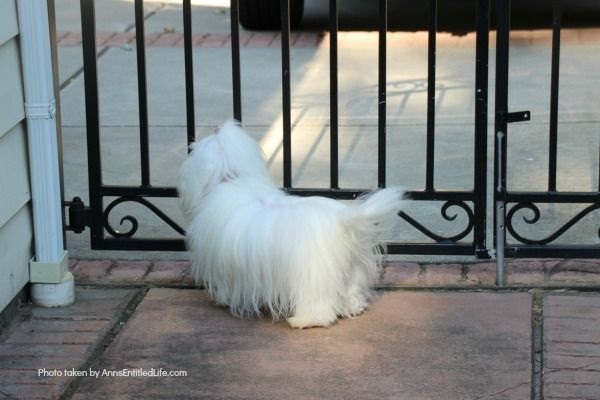 Mr. Max checking out the street-action before heading off to Cornell.
We return to Cornell in four weeks for another chemotheraphy treatment. If all goes well, his neurologist suggested the treatment after that would lengthen to five weeks.
I honestly have no idea how long the little guy can keep battling this terrible disease. We are in uncharted territory as far as his longevity. Everything being done now is on "hope". The chemo as a monthly is definitely aggressive treatment.
I do feel we have been very fortunate to have had Max with us as long as we've had. When he was first diagnosed, I had no expectations of his even leaving the veterinary hospital. I certainly didn't think we would still have him with us four years later!!
Every day with Max is a gift. And we are most appreciative of our time with him. He's shown us you don't have to be large in size to be large in heart. And this little guy has plenty of heart.
---
Previous Max posts (read in order from the bottom up to follow his whole story):
● Chemo Round 6 For Max
● Chemo Round 5 For Max
● Chemo Round 4 For Max
● Chemo Round 2 For Max
● Max is Back to Chemo for His GME
● Max Had a Relapse
● Mr. Max April 2016 Update
● Max March 2016 Update
● Mr. Max Post Cornell Visit Information
● Max's Latest GME Update
● Max's GME Update, One Year Later
● Max's GME Update, Month 11
● Max's GME Update
● An Update on Mr Max, March 2015
● Updating Max's GME
● An Update On Mr. Max
● Last 2014 Trip To Cornell For Max
● Back To Cornell
● Max's First Cornell Follow-up Visit
● Max Exercises More Than I Do!
● Updating the Mr. Max Situation
● A Mr. Max Update
● Mr. Max, Mr. Max, Mr. Max
● It's A Mr. Max Post!
---
● Disclosure the links in this post may be affiliate links.
● If you enjoyed this post, be sure to sign up for the Ann's Entitled Life weekly newsletter, and never miss another article!
---