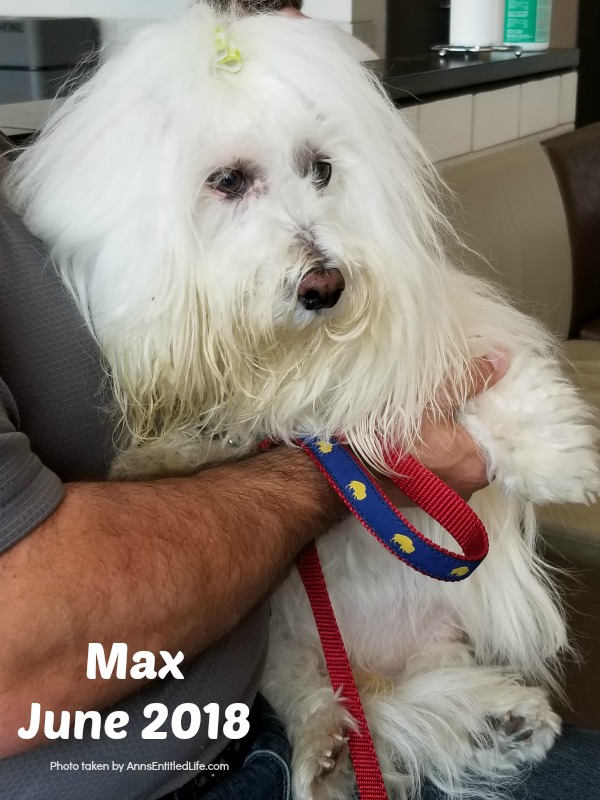 This is an update of the chemotherapy protocol of our dog, Max, who is battling Granulomatous meningoencephalomyelitis (GME). This is a canine disease where the white blood cells attack the central nervous system.
Chemo Round 6 For Max
To recap:
In July of 2014 Max, our (now) nine year old Coton de Tulear was diagnosed with GME. I've written about his progress extensively, here and here and here and here and here. This is the original post where I detailed the trail to diagnoses and remission.
In January I relayed the sad news that our pooch, Max, had relapsed on his GME. We went to Cornell for the first of four planned chemotherapy treatments to try and push his Granulomatous meningoencephalomyelitis back into remission. I did not do an update post on chemo round three (although I probably should have). He's already had five chemo rounds and a sixth-round is planned for later this month (so much for 4 rounds!).
Above is a photo of Mr. Max sitting on Hubby in the Cornell waiting room. He was funny this time in that the second we let him down off the benches, he hid underneath them hoping the resident vet wouldn't see him.
It didn't work.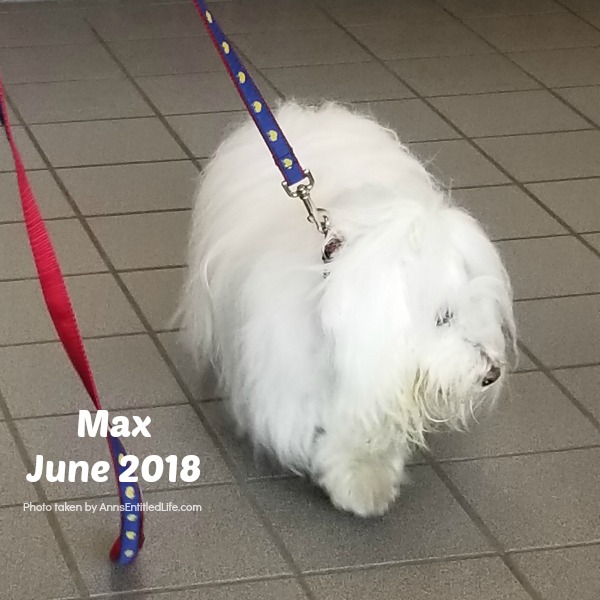 For the first time in a long time, we got some good news about Mr. Max!!
His liver numbers were "perfect" this round. I could not tell you the last time he had "perfect" liver numbers! And, his gallbladder was the size it was several months ago. We had hoped it would stop growing, instead, it got smaller! I would never have thought that possible.
This whole round was pretty smooth. We got there Monday afternoon, about half an hour early. They took him in, did his bloodwork, got the results before 5 (this rarely happens), and started him on chemo right after that. He finished was by the 8 am call (the resident call us with updates at 8 pm and 8 am daily), went in for an 11 am sonogram, and we were able to pick him up by 4 on Tuesday! 24 hours in and out with a chemo treatment!!
Summers at Cornell are vastly different than when school is in session.
We never even saw his neurologist this time. That is also a first. We couldn't blame her though as Max was going home a full 22 hours early and she had surgery scheduled (no one expected him to be out early).
Reducing his Prednisone (to .3mL 2 weeks ago) seems to have been the biggest reason for the great liver numbers, and the reduced gallbladder size.
Everything is a balance. Max needs the Pred + CycloSPORINE + chemo to keep the GME in check. However, the Pred causes issues with his liver and gallbladder. It truly is a balancing act to keep one at bay while keeping the organs healthy.
All-in-all though, we were extremely happy with the news this time.
If Max makes it to the 4th of July, it will be 4 years he's had noticeable GME symptoms. He was diagnosed with GME on July 10, 2014. I mention this because the prognosis is not-leaving-the-hospital to 3 years. Mr. Max is well past that mark now. His neurologist at Cornell told us months ago that Mr. Max is the longest living diagnosed GME patient they currently have. Every single day with him is a gift – even the days when he is being a PITA.
---
Previous Max posts (read in order from the bottom up to follow his whole story):
● Chemo Round 5 For Max
● Chemo Round 4 For Max
● Chemo Round 2 For Max
● Max is Back to Chemo for His GME
● Max Had a Relapse
● Mr. Max April 2016 Update
● Max March 2016 Update
● Mr. Max Post Cornell Visit Information
● Max's Latest GME Update
● Max's GME Update, One Year Later
● Max's GME Update, Month 11
● Max's GME Update
● An Update on Mr Max, March 2015
● Updating Max's GME
● An Update On Mr. Max
● Last 2014 Trip To Cornell For Max
● Back To Cornell
● Max's First Cornell Follow-up Visit
● Max Exercises More Than I Do!
● Updating the Mr. Max Situation
● A Mr. Max Update
● Mr. Max, Mr. Max, Mr. Max
● It's A Mr. Max Post!
---
● Disclosure the links in this post may be affiliate links.
● If you enjoyed this post, be sure to sign up for the Ann's Entitled Life weekly newsletter, and never miss another article!
---