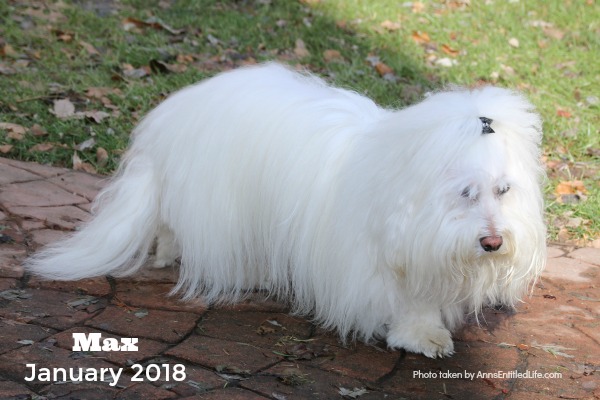 This is an update of the chemotherapy protocol of our dog, Max, who is battling Granulomatous meningoencephalomyelitis (GME). This is a canine disease where the white blood cells attack the central nervous system
Max is Back to Chemo for His GME
In July of 2014 Max, our (now) nine year old Coton de Tulear was diagnosed with GME. I've written about his progress extensively, here and here and here and here and here. This is the original post where I detailed the trail to diagnoses and remission.
I have not had a blog post update on Max's GME since October, 2016. As they say, "no news is good news" and he had been doing quite well until October, 2017. If you subscribe to the Ann's Entitled Life newsletter, you have read a few updates about little Max.
In October 2017 he again suffered what was thought to be a GME relapse. We made a trip to Cornell, his Prednisone was increased, his CycloSporine was raised a touch, and we hoped all would be well.
A few days into January 2018 we began to notice increased circling from Max. He would still stop if I commanded him to, but the circling did not abate. We took him to Cornell on January 11, 2018, and his resident neurologist – Dr. Sarah Stephan – as well as her neurology supervisor (a chief of neurology), indicated a relapse.
Max was sent home with a huge increase in Pred (10mg), Pregabalin (for the pain), and instructions for us to watch him, and lower his Prednisone dose to 7.5mg in 5 days. The hope was we would reduce that 7.5mg dose to 5mg, and we would reduce the Pregabalin to one per day when he dropped to the 7.5mg, and less than that at 5mg.
Well, the best-laid plans…
The positive to the Prednisone – which is a synthetic corticosteroid drug – is that it is particularly effective as an immunosuppressant drug. And Max's immune system needs to be suppressed at all times. He does not get any shots, and he does not receive kennel cough. Nothing to ramp up his system in any way.
Since Prednisone is a steroid it can have longterm side effects including bacterial infections (he had a nasty skin infection last year which he needed to have a pet dermatologist treat), and weight gain. As anyone who has ever taken a steroid knows, you want to eat and eat and eat and eat. Max is here.
Now along with a voracious appetite, Max also gains weight while on the Pred. It takes a while to get that excess weight off him once the Pred decreases, and he is an unhappy doggie at 17 pounds or more. This time, with the pred increase we had him weighed at physical therapy (where he is weighed weekly) as well as his regular vet (where he went for a blood test). They both showed him losing weight with the steroid increase.
On the higher doses of Pred Max was not responding as he has in the past. The circling increased and got tighter. There were neck stretches (a sign that he was trying to relieve the pain), and when we tried to reduce the Pregabalin there were obvious (and loud) signs of pain from him when we tried to give him oral medication (he flails his head to get away from me every time (3.5+ years now)) and was now causing himself pain in doing so.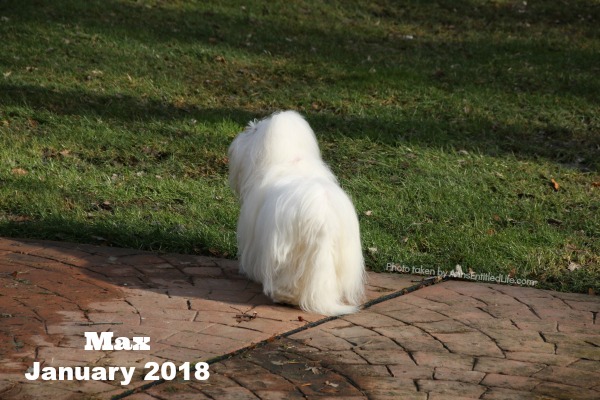 Mr. Max surveying his domain before we left Sunday morning.
We called Dr. Stephan and last Friday she suggested that we come in and start Max up on chemo again. We drove down to Cornell, and he received a treatment on Monday through to Tuesday. Cornell administers the Cytosar as a drip which is less "harsh" to his system. (Max had injection chemo in Jacksonville a few years ago… let's just say that was a crappy experience.)
Some of the protocols have changed. In the past, we would have a blood test for Max one week after chemo treatment to check his white blood cells. That is no longer necessary. He goes back for another chemo treatment in a month, and they suggested we do the full panel ahead of time again so he can get right to the treatment. (We did it prior to this treatment not knowing he was going to have chemo… the tests were to check the immune system with the pred ramp-up.)
As to the non-weight-gain with the Pred? We were told it wasn't as unusual as we assumed.
I am keeping Max home from physical therapy this month. We had planned a long road trip for the end of January and February, so I had nothing scheduled for him anyway. (That trip was canceled when the chemo became necessary.) His next PT isn't until March, and by then he will have several chemo treatments behind him and should be feeling more like himself (I hope).
One of the things I keep telling Hubby – and that was reinforced (kindly) by the two neurologists we saw at Cornell this month – is that Max is well past historic longterm prognosis for this terrible disease. When he was diagnosed it was "not leaving the hospital" – to – "up to three years". Max is now at 3.5 years. Both neurologists also made mention of how remarkable this is.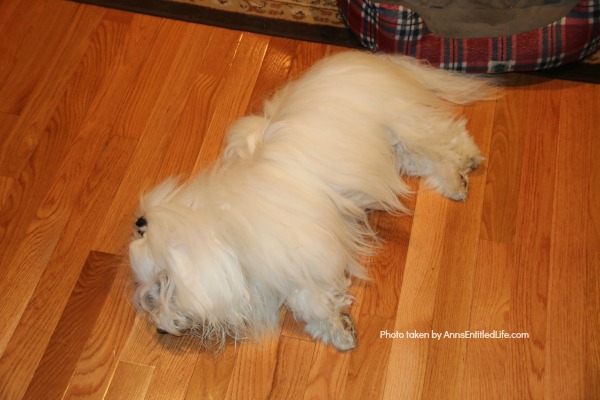 Mr. Max resting comfortably inches away from one of his (many) beds, Wednesday morning.
I have no idea how much longer we will have the little guy with us. To date, he has been extremely tough in battling this truly terrible disease. He's set for several more chemo treatments, and we are hopeful this will zap that crushing inflammation and Max will truly be a medical marvel. We do know that, since Cornell is a teaching veterinary hospital, his treatment therapy could be of help to future dogs that come down with Granulomatous meningoencephalomyelitis (GME).
We are just thankful for every day we have with him.
---
Previous Max posts (read in order from the bottom up to follow his whole story):
● Max Had a Relapse
● Mr. Max April 2016 Update
● Max March 2016 Update
● Mr. Max Post Cornell Visit Information
● Max's Latest GME Update
● Max's GME Update, One Year Later
● Max's GME Update, Month 11
● Max's GME Update
● An Update on Mr Max, March 2015
● Updating Max's GME
● An Update On Mr. Max
● Last 2014 Trip To Cornell For Max
● Back To Cornell
● Max's First Cornell Follow-up Visit
● Max Exercises More Than I Do!
● Updating the Mr. Max Situation
● A Mr. Max Update
● Mr. Max, Mr. Max, Mr. Max
● It's A Mr. Max Post!
---
● Disclosure the links in this post may be affiliate links.
● If you enjoyed this post, be sure to sign up for the Ann's Entitled Life weekly newsletter, and never miss another article!
---