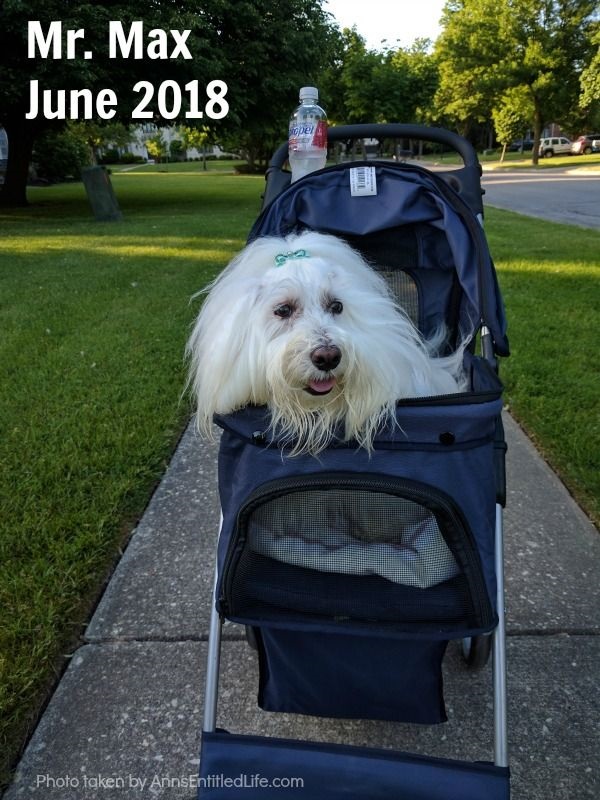 This is an update of the chemotherapy protocol of our dog, Max, who is battling Granulomatous meningoencephalomyelitis (GME). This is a canine disease where the white blood cells attack the central nervous system.
Chemo Round 5 For Max
To recap:
In July of 2014 Max, our (now) nine year old Coton de Tulear was diagnosed with GME. I've written about his progress extensively, here and here and here and here and here. This is the original post where I detailed the trail to diagnoses and remission.
In January I relayed the sad news that our pooch, Max, had relapsed on his GME. We went to Cornell for the first of four planned chemotherapy treatments to try and push his Granulomatous meningoencephalomyelitis back into remission. I did not do an update post on chemo round three (although I probably should have). He's already had five chemo rounds and a sixth-round is planned for later this month (so much for 4 rounds!).
Above is a photo of Mr. Max in his stroller. His stamina isn't that great, so we have been taking him for walks in his stroller. He either starts the walk (see photo below) or ends the walk on his paws, but for much of it he gets pushed around by us.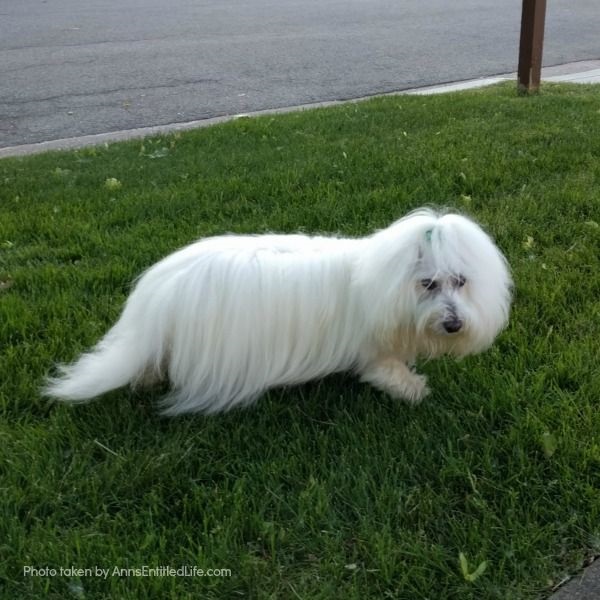 He does continue with PT twice per week where he does the water treadmill for 20 minutes, although at a lower incline these days. He also does agility over some bars. He continues to get massage therapy 2-3 times per month.
Last month I recounted all the meds Mr, Max is currently on. It is a lot. A real lot.
This month the update is all about his gallbladder.
We have noticed that GME-wise Max showed a marked improvement from April to May. And, it is continuing into June. He still circles to the right all the time. Habit? Learned behavior? Brain lesion? no one knows, but it is safe to say it is GME related and it probably isn't going to abate.
Each time Max has gone to Cornell this year, in addition to the round of chemo, he is also getting a sonogram. They want to measure the size of his liver, kidneys, and gallbladder. They also take a blood test panel to see how his "numbers" are doing.
After each sonogram, we have received word that his gallbladder had grown. It has stretched. It was called "fried". (Sounded weird to us too.) And this is concerning as Max is not really a candidate for surgery.
Since he is immuno-suppressed healing would be tricky, assuming he survived the surgery. Hubby is now into homeopathic supplements to try and aid Max's liver and gallbladder (in addition to the pharmacy medications he receives). I am fine with it as none are contraindicated, and at this point what do we have to lose? Max needs that gallbladder to get smaller. It doesn't have a plug, but it could rupture due to how thin it is stretched. Trying to slow or stop (and hopefully reverse) the stretching, may be Mr. Max's best chance for survival.
I did make the comment to Dr. Laura Scoda (who has has been seeing recently at Cornell): "So it isn't the GME that is going to get him, it is his gallbladder?" and she responded in the affirmative. Poor little guy.
His Pred was cut back a tad when we left this time. We cut back again this Friday. Steroids can do marvelous things, and be evil at the same time. Max's steroid use has suppressed his white blood cells the past (nearly) 4 years. But, the same steroid use has also taken a toll on some of his organs. By reducing his Prednisone to first .4 ml, and then .3 ml, it is hoped that it will help the gallbladder. It certainly has helped returned his appetite to "fussy eater" status!
We head back in a few weeks for round 5 of Max's chemo. If he makes it to the 4th of July, it will be 4 years he's had GME. He was diagnosed with GME on July 10, 2014.
I mention this because the prognosis is not-leaving-the-hospital to 3 years. Mr. Max is well past that now. His neurologist at Cornell told us months ago that Mr. Max is the longest living diagnosed GME patient they currently have. Every single day with him is a gift – even the days when he is being a PITA.
---
Previous Max posts (read in order from the bottom up to follow his whole story):
● Chemo Round 4 For Max
● Chemo Round 2 For Max
● Max is Back to Chemo for His GME
● Max Had a Relapse
● Mr. Max April 2016 Update
● Max March 2016 Update
● Mr. Max Post Cornell Visit Information
● Max's Latest GME Update
● Max's GME Update, One Year Later
● Max's GME Update, Month 11
● Max's GME Update
● An Update on Mr Max, March 2015
● Updating Max's GME
● An Update On Mr. Max
● Last 2014 Trip To Cornell For Max
● Back To Cornell
● Max's First Cornell Follow-up Visit
● Max Exercises More Than I Do!
● Updating the Mr. Max Situation
● A Mr. Max Update
● Mr. Max, Mr. Max, Mr. Max
● It's A Mr. Max Post!
---
● Disclosure the links in this post may be affiliate links.
● If you enjoyed this post, be sure to sign up for the Ann's Entitled Life weekly newsletter, and never miss another article!
---