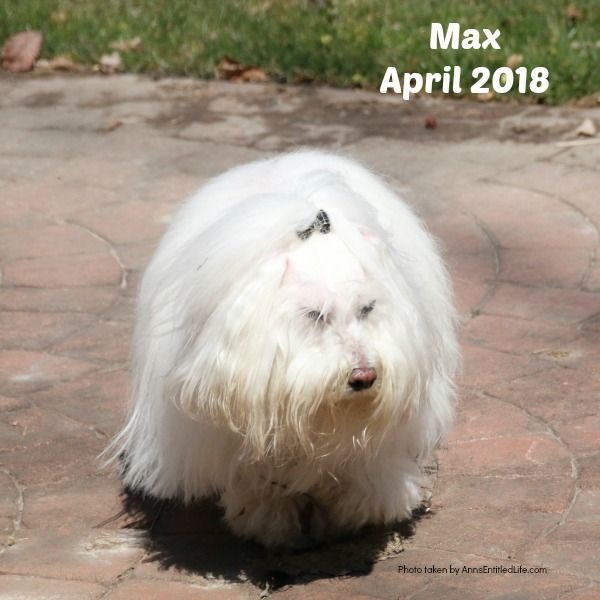 This is an update of the chemotherapy protocol of our dog, Max, who is battling Granulomatous meningoencephalomyelitis (GME). This is a canine disease where the white blood cells attack the central nervous system.
Chemo Round 4 For Max
To recap:
In July of 2014 Max, our (now) nine year old Coton de Tulear was diagnosed with GME. I've written about his progress extensively, here and here and here and here and here. This is the original post where I detailed the trail to diagnoses and remission.
In January I relayed the sad news that our pooch, Max, had relapsed on his GME. We went to Cornell for the first of four planned chemotherapy treatments to try and push his Granulomatous meningoencephalomyelitis back into remission. I did not do an update post on chemo round three (although I probably should have).
The last month has been a bit of a rough ride for Mr. Max. In March, he was put on several new medications in an oral form. He's a terrible pill-taker, and we wanted to make certain he gets all the meds he needs. Since he is a small dog it is fairly easy for me to lift him up on my lap, tap his teeth, and inject his meds.
Currently he is on:
● Prednisone (.5 ml)
● CycloSPORINE (1 ml – .5 2x daily)
Those are specifically to fight the GME symptoms.
Since we began chemo in January, Max has also had a sonogram each time to check the size of his liver, gallbladder, and pancreas. They are also checking for stones. An infection of the liver/gallbladder was also suspected. They are enlarged, and it could be for one of two reasons – infection or steroids. To be safe, they prescribed new medications. For this area he is taking:
● Amantadine (1.5ml)
● Ursodiol (1.5ml, 2x daily)
● Metronidazole (1.3 ml, 2x daily – more on this below)
● Enrofloxacin (.5ml)
● Sam-e (.1 ml, 2x daily)
● Milk Thistle (.8 ml)
● Pregabalin (15 mg, 2x daily)
● LiverAid (3x daily)
This past week was the first time they labeled Max has having gallbladder disease. They are watching for a mucus plug to make sure his gallbladder does not rupture.
Max had several episodes of collapsed back legs in mid-April so we took an emergency trip to Cornell. While there, it happened again. We had videoed his weakened left leg (ataxia), but the ability for them to see the collapse was "helpful".
Hubby discovered that the Metronidazole can cross the blood-brain-barrier and lead to the weak back leg problem. The neurologists are unconvinced, but within 24 hours of pulling him off the Metronidazole, his legs stopped collapsing.
Unfortunately, his blood test numbers for his gallbladder came back elevated, and they had us put him back on the Metronidazole on the 21st. We are watching it closely as this in conjunction with the Enrofloxacin are to combat his (presumed) infection. They want to pull him off the Enrofloxacin when the infection clears, but are open to pulling him off the Metronidazole instead (first) if the leg issue arises again.
Max is a terrible pill taker. Simply awful. As his Pred is dialed back, he reverts back to his fussy-eater persona. That means getting pills in him becomes even more difficult. This isn't like your regular pooch that will eat anything – Max is more cat-like in his eating habits.
Sooooo that meant the denamarin he needed to clear up his liver was not always getting into him. Denamarin is an over the counter medication. Hubby found the main components in liquid form, and asked is we could give those instead of the pill. We were given the go on that, and the Milk Thistle and Sam-e in liquid form replace that pill (and his liver numbers are very close to normal now!)
As I mentioned in my last Max post Mr. Max is in uncharted territory. He's survived many months past the original prognosis of three years. Giving him chemo again to get him back into remission is not well documented – dogs living this long with GME are just is not common.
So, instead of four rounds spaced four weeks apart and then lenthening the interval between the fourth annd fifth round, we are heading back for a fifth round of chemo in four weeks again. His first time through the chemo he was lengthened to five weeks, then six through 18 months. It appears the idea is to be more aggressive this time. I have no idea if it will work. Honestly, I am not positive that the neurologists at Cornell know if it will work. But, as his original neurologist said nearly four years ago when I asked if we were torturing him, "you are giving him a chance". And we will continue to give him a chance.
Max is a tough little guy. As long as he is not in pain and can have a reasonable quality of life, we will continue with his treatment. Our concern is the steroids doing him in or his immune-suppression allowing an infection to kill him. Right now, he wants to play, interact with us, and enjoy life.
---
Previous Max posts (read in order from the bottom up to follow his whole story):
● Chemo Round 2 For Max
● Max is Back to Chemo for His GME
● Max Had a Relapse
● Mr. Max April 2016 Update
● Max March 2016 Update
● Mr. Max Post Cornell Visit Information
● Max's Latest GME Update
● Max's GME Update, One Year Later
● Max's GME Update, Month 11
● Max's GME Update
● An Update on Mr Max, March 2015
● Updating Max's GME
● An Update On Mr. Max
● Last 2014 Trip To Cornell For Max
● Back To Cornell
● Max's First Cornell Follow-up Visit
● Max Exercises More Than I Do!
● Updating the Mr. Max Situation
● A Mr. Max Update
● Mr. Max, Mr. Max, Mr. Max
● It's A Mr. Max Post!
---
● Disclosure the links in this post may be affiliate links.
● If you enjoyed this post, be sure to sign up for the Ann's Entitled Life weekly newsletter, and never miss another article!
---