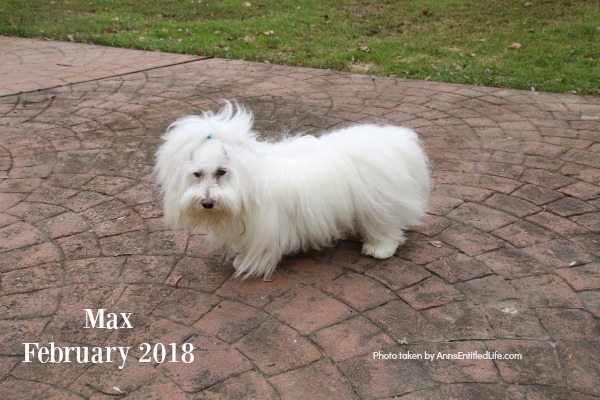 This is an update of the chemotherapy protocol of our dog, Max, who is battling Granulomatous meningoencephalomyelitis (GME). This is a canine disease where the white blood cells attack the central nervous system
Chemo Round 2 For Max
In July of 2014 Max, our (now) nine year old Coton de Tulear was diagnosed with GME. I've written about his progress extensively, here and here and here and here and here. This is the original post where I detailed the trail to diagnoses and remission.
Last month, I relayed the sad news that our pooch, Max, had relapsed on his GME. We went to Cornell for the first of four planned chemotherapy treatments to try and push his Granulomatous meningoencephalomyelitis back into remission.
So many things have changed for Mr. Max:
His circling decreased and got wider. The small, tight circles of January were not as prevalent – only a few times this past month were they small and tight. Less circling is a good thing!
A few days before he was to have his chemo treatment, we went to our local vet and had his panel done. The blood test showed elevated white blood cells, and a decrease in his liver numbers (a good thing). He was put on denamarin in January after his liver enzymes came back elevated – a result of the huge Prednisone dose he has been taking for the last two months. This happened before, so we again hoped the denamarin would work… and it did.
When we got to Cornell they ran new bloodwork. His white blood cells had returned to normal range, so his neurologist thinks they were elevated was because he was feeling poorly last week.
However, on doing his physical testing she noticed the area around his stomach was showing pain. They did an ultrasound for his gallbladder. His gallbladder is enlarged, but there is no sign of mucus blockage or sediment. Because of this, we did get another medication – ursodiol – to try and make his gallbladder happy (so the plug doesn't happen and so sediment doesn't form a stone).
In January we were concerned because Max had lost weight while on a high dose of Prednisone – this month we are concerned because he gained almost TWO pounds!! For a small dog (15#) that is a huge weight gain. Because of this, and the discomfort surrounding his abdomen, Hubby was pushing for a decrease in the Prednisone. He wanted to go from 7.5mg to 5mg. Originally, Dr. Stephan agreed to that, but then she changed her mind and just dropped him to 6.25mg. I asked if it was because she was not convinced he was yet in remission, and she responded in the affirmative.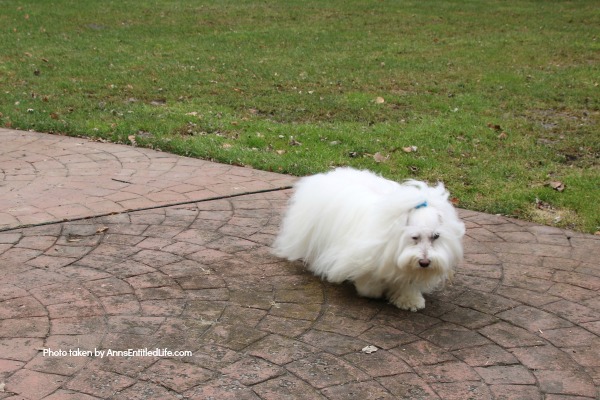 Hubby and I sat down with Dr. Stephan to talk about Max's future. The three-year longevity span came and went last July. As I said last month, we were (nicely) reminded that Max is well past that point. So, I asked how many dogs were past the three-year mark: she knew of FIVE (Max is one of them!). It was actually four now as one of those five pooches developed diabetes due to the high Pred, and was put to sleep.
Of the four dogs with GME currently being treated at Cornell that have survived longer than three years, Max is the one with the longest survival. By that I mean he was diagnosed the longest ago and is at the 3 years (nearly) 8-month mark – none of the other dogs are that far over the 3-year mark.
One of the questions I asked was about a necropsy. Like Alzheimer's in humans, GME can only be 100% completely diagnosed in dogs after death. All the symptoms are there, the MRI says THIS, but the diagnosis confirmation happens after the pet has died. Since this may not happen on a visit to Cornell, I wanted to be certain Max could help future pets with this horrible disease (his local vet can arrange it). He's clearly a fighter, and obviously, his treatment has been superior for his survival. If other pets (and their owners) can benefit from Max's diagnosis and treatment, we want that to happen.
While Max may continue to beat all the odds and again enter remission for his GME, we are at the point where we know it is just a matter of time. Every day with him is a gift we will cherish. It is amazing to me how a little 13-pound dog (his natural weight before all this happened) could be so tough. The little guy is a real fighter.
---
Previous Max posts (read in order from the bottom up to follow his whole story):
● Max is Back to Chemo for His GME
● Max Had a Relapse
● Mr. Max April 2016 Update
● Max March 2016 Update
● Mr. Max Post Cornell Visit Information
● Max's Latest GME Update
● Max's GME Update, One Year Later
● Max's GME Update, Month 11
● Max's GME Update
● An Update on Mr Max, March 2015
● Updating Max's GME
● An Update On Mr. Max
● Last 2014 Trip To Cornell For Max
● Back To Cornell
● Max's First Cornell Follow-up Visit
● Max Exercises More Than I Do!
● Updating the Mr. Max Situation
● A Mr. Max Update
● Mr. Max, Mr. Max, Mr. Max
● It's A Mr. Max Post!
---
● Disclosure the links in this post may be affiliate links.
● If you enjoyed this post, be sure to sign up for the Ann's Entitled Life weekly newsletter, and never miss another article!
---