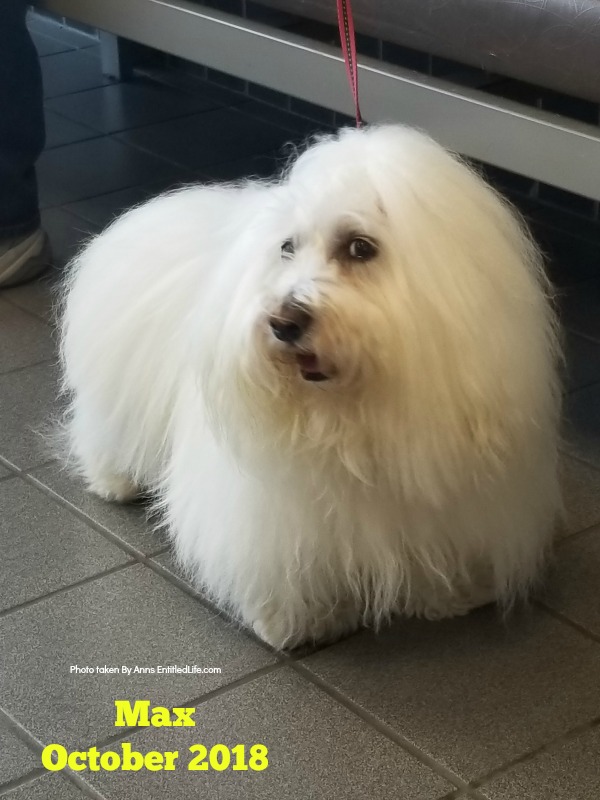 Our dog, Max, suffers from GME – Granulomatous meningoencephalomyelitis. He was diagnosed with this terrible disease in July 2014 and continues treatment to keep the symptoms at bay. GME is incurable, so managing the symptoms for a good quality of life is the best that can be done with the poor dogs with this disease.
For those of you unfamiliar with Granulomatous meningoencephalomyelitis (GME), it is a canine disease where the white blood cells attack the central nervous system. Max is well past historic long-term prognosis for this terrible disease. When he was diagnosed we were told his chances were "not leaving the hospital" – to – "up to three years".
We were back in Ithaca earlier this week for round 10 of Max's chemo (2018). We walked in with Max having had a bug, or gallbladder issues, or something the last few weeks.
Hubby and I took a trip to Las Vegas late last month/early this month to go through his Mom's house. Hubby's Mom passed away in September, and as the executor of her will, he needed to deal with her possessions and house. We went out to take care of the personal possessions, and for Hubby to engage an estate liquidator and Real Estate agent.
While gone, Sonny-boy stayed at our home with Mr. Max.
Even though Sonny-boy is 30 years old, holds a number of degrees (including two masters), has been on his own for 10 years AND has a SO who is a NICU nurse (and she stayed over a number of days), Hubby still demanded proof-of-life photos and video daily.
SMH
Max did great with Sonny-boy, but Sonny-boy indicated Mr. Max was off his feed the day before we came home.
Max ate less and less the week after we got home, and he definitely was not feeling well.
We took Mr. Max to his regular vet who prescribed Cerenia, and wow did that help! He stopped throwing up and started to eat pretty regularly.
On the return check-up, he had his wellness exam. His blood test showed a very elevated white blood count, and that was a concern. Was it a bug? Was it the GME? (This was last Thursday.)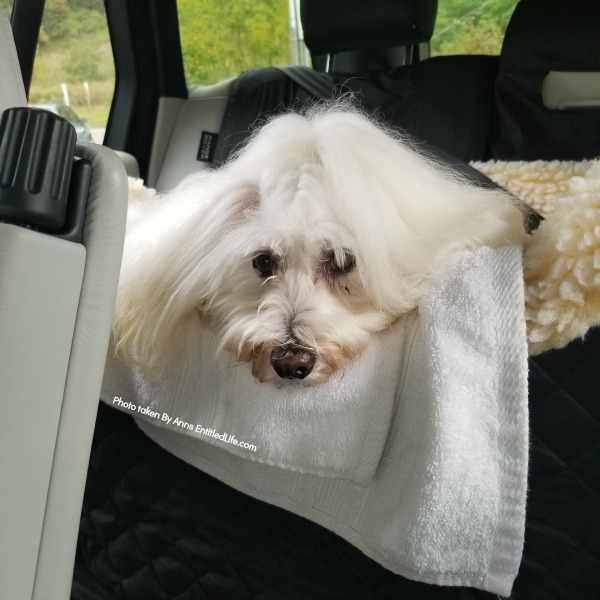 Max driving to Cornell.
We went back to Cornell earlier this week (Monday) – they used that blood test and started his chemo immediately. While there, he also had a sonogram (ultrasound) for his gallbladder, and an additional blood test to check his white blood cells and liver enzymes.
If you have been following along the last few years (particularly this year) you know Max's gallbladder has sludge in it, and the doctors at Cornell were worried it would form a mucus seal. Those worries are coming to fruition.
Max has "tentacles" (we saw the sonogram, that is as good a word as any) that are now looking to form a plug. No one knows when that will happen. When (probably not "if") the mucus seal (plug) develops, his gallbladder could (will) burst leading to a very painful death.
We now have a choice… to put Max down, or to have the surgeons at Cornell perform gallbladder removal surgery.
For myself, I always felt the mucus seal (plug) was the end-game. Hubby, however, feels differently.
And so, Max will be having surgery at the end of the month. There are many, many concerns all centered on his being immune-suppressed. Will he survive the surgery? Will he be able to heal? Will he develop an infection he cannot fight off (because he is immune-suppressed)?
Hubby's thought process is surgery gives him a chance. My thought process is "is this humane"?
I will say that if Max survives the surgery, does heal well, and does not develop sepsis, he will probably feel a whole lot better. His gallbladder has definitely led to gastric distress and discomfort this year. He will still have GME, and that will continue to be treated, but his other issues will be (should be) gone.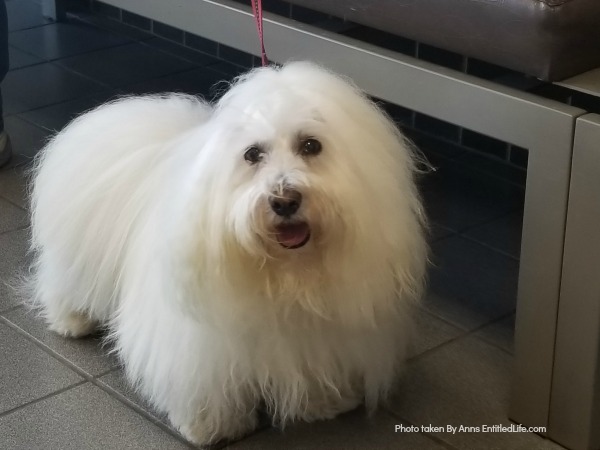 Max in the Cornell waiting room.
The fact that he is the longest survivor with GME at Cornell actually plays in his favor – he has shown he can tolerate GME management longterm. No one knows how long he can continue to do so (we've been in undocumented territory for about a year now).
Please wish Mr. Max luck. This is the most dire things have been for him since he first came home after his first chemo treatment over four years ago. He may or may not survive his surgery, but I know this little guy is a fighter. If there is a chance, he will be fighting like crazy to get better.
Here is hoping things go well, and out little PITA will be with us for a longtime to come.
---
Previous Max posts (read in order from the bottom up to follow his whole story):
● Max's GME Update: Chemo Round 9
● Chemo Round 8 for Max
● FOUR YEARS!!
● Chemo Round 6 For Max
● Chemo Round 5 For Max
● Chemo Round 4 For Max
● Chemo Round 2 For Max
● Max is Back to Chemo for His GME
● Max Had a Relapse
● Mr. Max April 2016 Update
● Max March 2016 Update
● Mr. Max Post Cornell Visit Information
● Max's Latest GME Update
● Max's GME Update, One Year Later
● Max's GME Update, Month 11
● Max's GME Update
● An Update on Mr Max, March 2015
● Updating Max's GME
● An Update On Mr. Max
● Last 2014 Trip To Cornell For Max
● Back To Cornell
● Max's First Cornell Follow-up Visit
● Max Exercises More Than I Do!
● Updating the Mr. Max Situation
● A Mr. Max Update
● Mr. Max, Mr. Max, Mr. Max
● It's A Mr. Max Post!
---
● Disclosure the links in this post may be affiliate links.
● If you enjoyed this post, be sure to sign up for the Ann's Entitled Life weekly newsletter, and never miss another article!
---